The cost of rail upgrades between Aberdeen and Inverness could have ballooned to £330million.
An expert report has said the price-tag of the project could have almost doubled from £170million.
Local MSP Alexander Burnett said the analysis – produced by Ernst and Young (EY) – showed the price of the upgrade work was "spiralling out of control".
But the Scottish Government said the figures from the accounting firm were the "subject of an ongoing challenge" by the administration.
The infrastructure improvements are designed to allow for a half-hourly commuter service between Aberdeen and Inverurie, as well as additional peak services between Moray and Inverness.
Aberdeenshire West MSP Mr Burnett said: "This is an eye-watering and alarming increase in the estimated cost of the project, which according to the EY analysis has almost doubled to £330million.
"Transport Scotland may be disputing the figure, but there are serious questions to be answered here, not least why Network Rail appears to have provided very short notice of cost increases.
"If the project was on budget as recently as March 2016, then that begs the question of what has happened since then?"
A series of improvements are being carried out on the track, with engineers tasked with double-tracking the 16 miles of line between the Granite City and Inverurie.
In addition, the works include a brand new station at Forres and extensions to platforms at Insch and Elgin to accommodate longer trains.
Signalling systems are also be upgraded.
The EY report into the works suggests that the project will now cost £330million, or the equivalent of £280million in 2012/13 prices.
Mr Burnett added: "These rail improvements are long overdue and will be welcomed by many passengers, but the cost cannot be allowed to simply spiral out of control without explanation.
"The Transport Minister does not have his troubles to seek at the moment, but this is another issue that he needs to get a grip on – and fast."
A spokeswoman for the Scottish Government said they had "repeatedly" argued for control of Network Rail – the body responsible for managing rail infrastructure in the UK – to be devolved.
She added: "Scottish Ministers and indeed passengers up and down the country quite rightly have high expectations of our railway.
"At the heart of our £5billion programme of improvements is an underlying need to provide best value for the public purse while delivering a first class service.
"This includes the Aberdeen to Inverness improvements, for which the increased costs and programme are subject to ongoing challenge by Transport Scotland."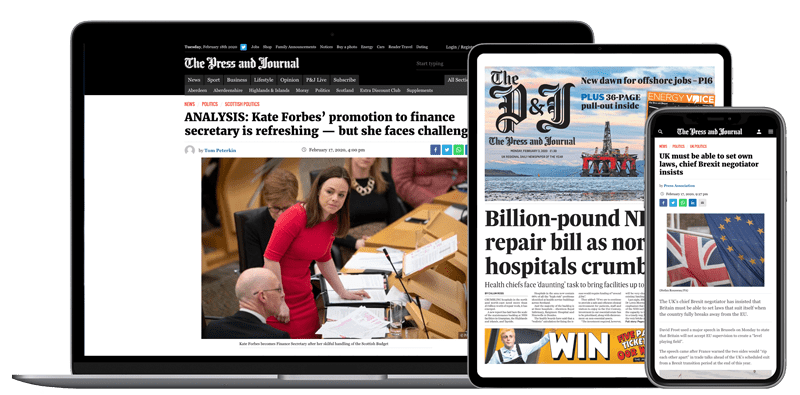 Help support quality local journalism … become a digital subscriber to The Press and Journal
For as little as £5.99 a month you can access all of our content, including Premium articles.
Subscribe