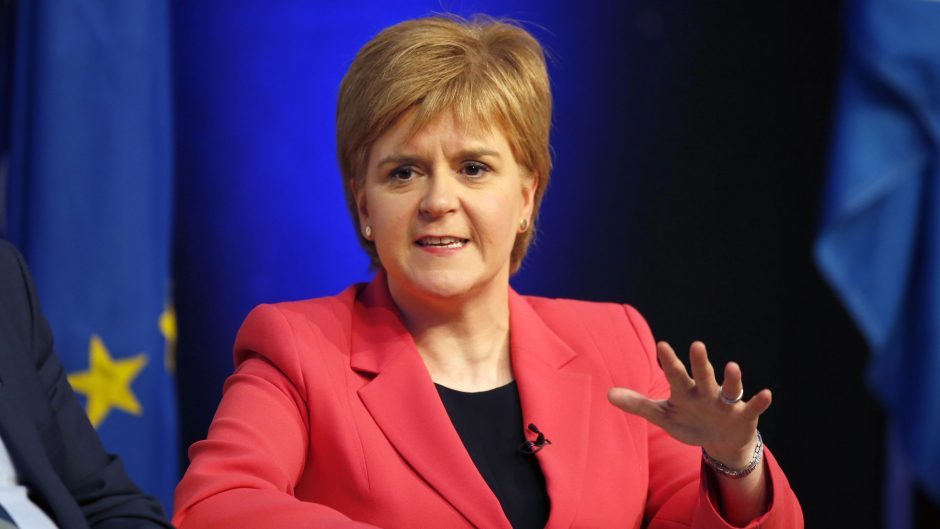 Nicola Sturgeon has said "nobody should be surprised" if the Tories "sold out" Scottish fishermen as part of their Brexit deal.
The first minister raised concerns about the prospect of a "mutually beneficial" arrangement with Spanish seafarers as part of the UK deal to leave the EU.
The SNP leader argued that the UK Government has deserted the fishing industry "on plenty of occasions" before and may do so again.
But Scottish Conservative rural affairs spokesman Peter Chapman MSP dismissed the claims as "blatant scaremongering".
The comments came after Banffshire and Buchan Coast MSP Stewart Stevenson raised concerns about a "blank cheque" Brexit, which could see fishing rights used as a bargaining chip by the UK Government.
Speaking at First Minister's Questions, he said: "Did the first minister note that, last night, the Labour Party signed a blank cheque to the prime minister to allow her, without further democratic reference, to determine the terms of leaving the European Union?
"Does she also note that paragraph 8.16 of the UK Government's white paper says that there should be a "mutually beneficial" solution for the Spaniards and the UK in relation to fishing, clearly confirming a sell-out of our interests by the Tories once again?"
Ms Sturgeon agreed that rights to fish Scottish waters could be under threat in negotiations.
She told MSPs: "Nobody should be surprised if the Tory Government is preparing to sell out the Scottish fishing industry, because it has done that on plenty of occasions before."
The SNP leader said it was "deeply regrettable" that safeguards had not been put in place through amendments to the Brexit bill.
But Tory North East MSP Mr Chapman said: "This is nothing more than blatant scaremongering from the SNP.
"Brexit Secretary David Davis confirmed in parliament a little more than a week ago that the interests of the fishing industry would be protected.
"Let's not forget that the SNP wants an independent Scotland to be a member of the EU.
"Not only would that stop our fishermen charting a new course away from the disastrous Common Fisheries Policy, but it would prevent the industry asserting control over its Exclusive Economic Area.
"Keeping us tied to the EU – which the SNP wants – is exactly the opposite of what our fishermen voted for in the referendum.
"Having been caught on the wrong side of the argument, the SNP are now desperately scrambling to regain credibility. Our fishermen will not be so easily fooled."