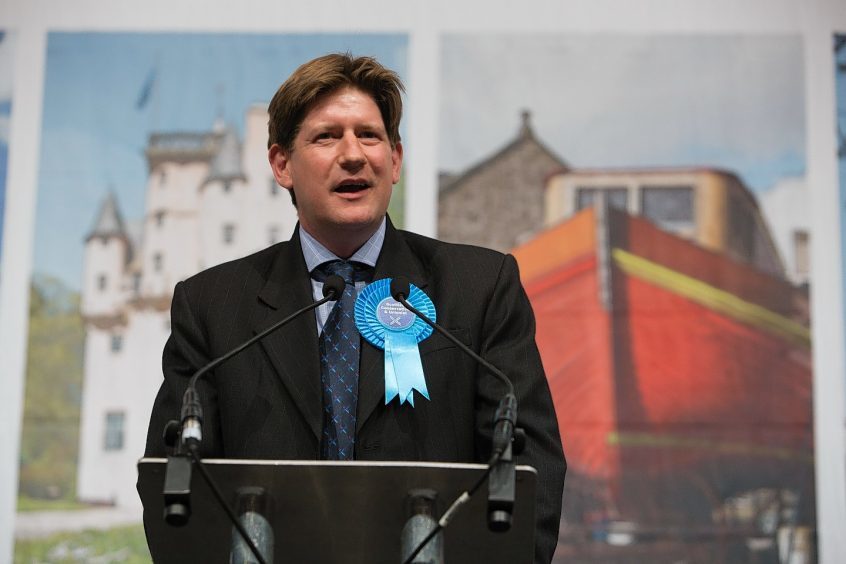 Aberdeenshire West MSP Alexander Burnett should be banned from submitting parliamentary questions, Holyrood's standards committee has recommended.
The Scottish Parliament's richest MSP was admonished earlier this month over a separate complaint of failing to declare business interests in parliamentary questions.
Now a second complaint, this time from former north-east MSP Christian Allard, SNP, has been upheld, which again involves a failure to declare business interests.
Mr Allard complained Mr Burnett, who owns Bancon construction company headquartered in Banchory, lodged a series of parliamentary questions lobbying the government against a rival firm's property development at Auchattie/ Braehead in the town.
The Commissioner for Ethical Standards in Public Life in Scotland investigated and upheld the complaint, which related to five submitted questions.
The committee unanimously agreed and has recommended full Parliament agrees a sanction for the Conservative MSP of a two-week prohibition on lodging written Parliamentary Questions.
Standards committee convener Clare Adamson, SNP, said the committee, which includes two Tory MSPs, agreed the failure justified the imposition of a sanction.
She said: "The final decision on whether to issue a sanction lies with the Parliament.
"The Committee will recommend Alexander Burnett be prohibited from lodging Parliamentary Questions for written answer for a period of two weeks.
"I would like to take this opportunity, on behalf of the Committee to remind all MSPs that they are obliged by law and by the Code of Conduct to make the appropriate written and oral declarations if they have a declarable interest before taking part in any proceedings of the Parliament."
Mr Burnett said he had advised his Conservative colleagues to support the sanction.
He said: "I have made a full and open declaration of my business interests in accordance with parliamentary rules.
"It was my judgement at the time that there was no conflict of interest as I was simply acting on behalf of several hundred very concerned constituents.
"However, I accept the decision of the committee in this case and will not contest any sanction that is imposed.
"I will also be advising my party colleagues to support the recommendation of the committee when it comes to the chamber for a final decision."
Mr Allard called for apologies both from Mr Burnett and Scottish Conservative leader Ruth Davidson over the matter.
He said: "This is a very serious matter indeed, but it's not a first for Alexander Burnett. In fact, it's the second time in two weeks he's been reprimanded for playing fast and loose with parliamentary rules.
"These rules are in place for good reason – to ensure fairness, transparency and to reassure the public that MSPs are putting their constituents first, not their own business interests.
"This behaviour is the worst kind of self-serving politics, which not only seriously undermines trust in Mr Burnett, but also damages the credibility of the Scottish Parliament itself."