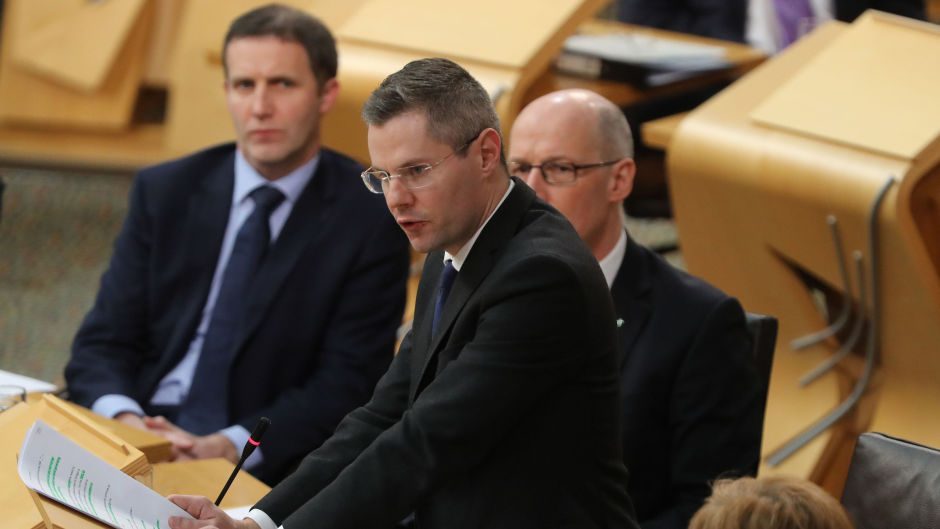 The Scottish Government defended its budget yesterday amid claims a looming economic slowdown would cost public services £2billion.
Opposition parties seized on a warning from the Scottish Fiscal Commission (SFC) this week that growth in Scotland will remain below 1% to 2021, well below the average rate since the early 1960s.
Professor Graeme Roy, director of the Fraser of Allander Institute, described it as "arguably the big story of the budget", although he said forecasts for tax revenue growth were "more optimistic".
Yesterday, Scottish Conservative shadow secretary for finance Murdo Fraser said it would create a "black hole", adding: "Thanks to the coming Sturgeon slowdown, the Scottish Government is projected to raise £2billion less than expected over the remainder of this parliament.
"That's £2billion less going to schools and hospitals because of the failure to match levels of growth we are seeing elsewhere in the UK.
"The SNP's answer is to introduce a new Nat Tax – but these figures show if we had higher growth, there would be no need to do so."
However, Scottish Labour's finance spokesperson James Kelly said the government's income tax shake-up did not go far enough, adding: "This SNP budget simply tinkers around the edges with tax rather than delivering the real change Scotland needs."
Gillian Martin, SNP MSP for Aberdeenshire East, said: "The SNP has set out a draft budget for a fairer, more prosperous Scotland – where taxpayers get the best deal anywhere in the UK and get the very best public services in return.
"All of this in the context of continuing Tory austerity and substantial cuts to Scotland's budget by Westminster."
And a Scottish Government spokesman said: "There is no black hole. The independent Scottish Fiscal Commission – who provide these figures for the budget – clearly state that revenues rise year-on-year.
"Under the Fiscal Framework, all forecasts of the income tax revenues are founded on revenues in 2016-17, the year before devolution of full Scottish income tax powers.
"The SFC forecast that growth in income tax revenues will outstrip growth in the rest of the UK and provide extra support for public services. Far from their being a black hole, therefore, Scotland is on course to outperform the rest of the UK."