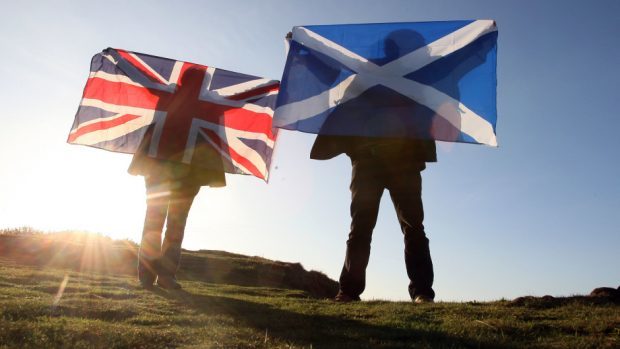 Independence could boost the Scottish economy by the equivalent of £4,100 per person if it follows the example of other successful small nations, a new study will conclude.
The SNP's long-awaited Sustainable Growth Commission report will find that over the last 25 years small economies have performed better than larger ones consistently by around 0.7 percentage points, per year.
And it will say that Scotland "can match the success" using existing and new powers.
Chaired by former MSP Andrew Wilson, the study assesses the economies of a dozen smaller countries, but focuses on the "lessons learned" from Denmark, Finland and New Zealand.
The report is also expected to make recommendations on the future currency of an independent Scotland, after the issue became a key focus in the 2014 referendum.
First Minister Nicola Sturgeon has already said that the 354-page report, due to be published tomorrow, will "restart the debate" on independence.
Titled Scotland – The New Case for Optimism, it will say that emulating the world's 12 best performing, small, advanced economies could boost output by the equivalent of £4,100 per person.
The 12 small advanced economies considered by the commission are Austria, Belgium, Denmark, Finland, Hong Kong, Ireland, Netherlands, New Zealand, Norway, Singapore, Sweden and Switzerland.
Mr Wilson said: "Learning from 12 successful small nations, our report will present a framework that demonstrates how Scotland can emulate the best performing economies and societies in the world.
"Our sincere hope is that this can raise the content and quality of debate at a time such a focus is sorely needed.
"As a first step there must be an acceptance that small nations can be successful and that Scotland can be one of those countries."
Scottish Labour leader Richard Leonard said: "The people of Scotland will rightly be wary of fantasy numbers plucked from thin air by the SNP and promised to every man, woman and child in the country in the event of Scotland leaving the UK."
Scottish Conservative deputy leader Jackson Carlaw said: "This is exactly the kind of nonsense that turned people off separation the first time round."
Scottish Liberal Democrat leader Willie Rennie said: "The whole plan involves the SNP piling up chaos upon chaos. They compound the chaos of Brexit with independence on top."