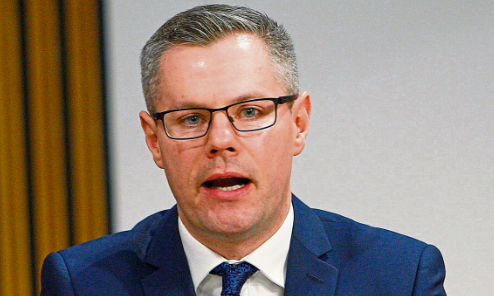 Public trust in the Scottish and UK governments has fallen amid declining confidence in the state of the economy, education and the NHS.
The latest Scottish Social Attitudes Survey data for 2017 shows that 61% trusted the Holyrood administration to act in Scotland's best interests, down from 65% in 2016 and the record high of 73% in 2015.
However, the SNP government's rating continued to soar above that of Westminster, with trust in the UK Government having fallen from 25% to 20% between 2016 and 2017.
The drop in confidence may be explained by other results, with 56% of the 1,234 people surveyed saying the standard of living in Scotland had fallen over the past year, and half of them attributing it to UK policy, compared to 16% who blamed Holyrood.
The survey, conducted by ScotCen Social Research, also revealed a drop in the percentage of respondents who were satisfied with the way the NHS was being run, down from 60% to 55%.
And of the 49% who thought standards in the health service had fallen over the past year, 46% blamed the UK Government, despite health policy being devolved.
Meanwhile, half of those surveyed thought the economy had weakened in the past year, compared with 54% in 2016.
Education was selected as people's top priority for the Scottish Government for the first time last year, replacing the economy, which was the key priority from 2009 to 2016.
The percentage of people identifying cutting crime as a priority has fallen from 27% in 2007 to just 6% a decade later.
SNP Finance Secretary Derek Mackay said: "These figures show we are maintaining the trust of the Scottish people.
"They demonstrate without question that our priorities and budget decisions are in line with what the public expect – improving education, growing the economy and protecting frontline health service."
Scottish Conservative shadow education secretary Liz Smith said: "The Scottish Conservatives were – and remain – willing to work with the SNP government to restore standards in Scottish education.
"The problem is that Nicola Sturgeon won't allow her party to work with the Scottish Conservatives, however, so schools are made to suffer."
Scottish Labour MSP Rhoda Grant said: "Faith in both the Tory and SNP governments is deteriorating. It is clear people are increasingly tired of austerity, cuts to services and Theresa May and Nicola Sturgeon's politics of division."