Ruth Davidson has quit as Scottish Conservative leader, saying the thought of leaving her family to fight another election filled her with "dread".
She said leading the Tories in Holyrood – the job which took on in November 2011 – had been the "privilege of my life".
As she quit, Ms Davidson fired a parting shot at Prime Minister Boris Johnson and urged him to "get as a deal" on Brexit.
The MSP, who led the Scottish Tory revival, said new her role as mother had made a huge contribution to her decision to stand down.
But Ms Davidson – who campaigned for Remain in the 2016 European referendum – was unable to disguise the "conflict" she felt over Brexit.
"You all know – and I have never sought to hide – the conflict I have felt over Brexit," she said.
"Despite that conflict, I have attempted to chart a course for our party which recognises and respects the referendum result, while seeking to maximise opportunities and mitigate risks for key Scottish businesses and sectors. I hope and believe that industries as diverse as our fishing fleets and whisky producers have felt well represented by the Scottish Conservatives during this time."
Starting a family, however, had been the "biggest change" in her life and she said the thought of going through a snap general election and a Scottish election no longer appealed to her.
Son Finn arrived in October, and Ms Davidson admitted it had been the "biggest change" in her life.
"Having led our party through seven national elections and two referenda, I know the efforts, hours and travel required to fight such campaigns successfully," Ms Davidson said.
"I have to be honest that where the idea of getting on the road to fight two elections in 20 months would once have fired me up, the threat of spending hundreds of hours away from my home and family now fills me with dread. That is no way to lead.
"I fear that having tried to be a good leader over the years, I have proved a poor daughter, sister, partner and friend. The party and my work has always come first, often at the expense of commitments to loved ones. The arrival of my son means I now make a different choice."
But her fundamental difference of opinion with the prime minister over his insistence that a no-deal must be kept on the Brexit negotiating table also contributed to her departure.
Ms Davidson informed Mr Johnson of her intention to quit during a phone conversation on Wednesday night.
When asked what her message to him was, she answered: "I am happy to say the same thing as I said in our conversation last night – prime minister get us a deal."
She added that MPs should "for God's sake get behind it".
Ms Davidson did attempt to downplay her differences of opinion with Mr Johnson at a press conference at Edinburgh's Holyrood Hotel, and her spokesman said their meetings had been constructive. He added that her decision to quit was made before Mr Johnson's bid to suspend parliament, a move that she backed.
Ms Davidson had first confided to close colleagues that she was thinking of resigning after May's European election. She was urged to think again over the summer.
But the outgoing leader's spokesman admitted her opposition to Mr Johnson's Brexit strategy had "weakened her position when it came to making the case for Tory policy".
He added that the "scrutiny and glare" of leadership had also worn her down.
Mr Johnson paid tribute to Ms Davidson saying she should take "immeasurable pride" in the "pivotal role" played in the Scottish referendum.
"She has dedicated so much time and energy to the role and has been instrumental in the revival of our electoral fortunes in Scotland," the prime minister said.
First Minister Nicola Sturgeon tweeted: "I wish Ruth well for the future. I know well the toll political leadership can take on family life, and no-one will grudge her more time with her young son.
"There will be opportunity later to discuss the politics of her decision – but for now, I'll simply send my best wishes."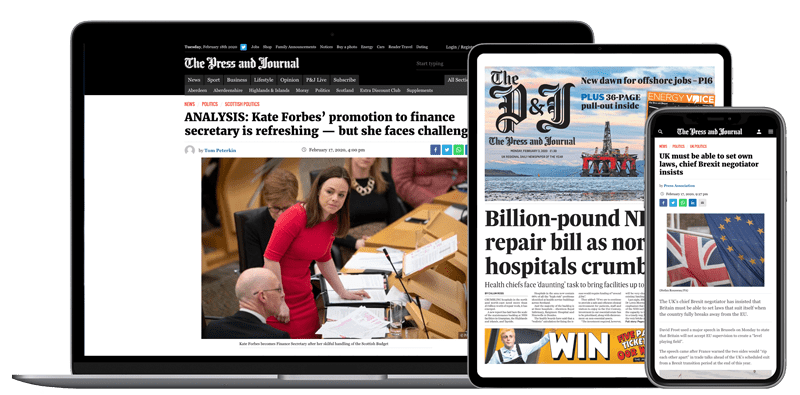 Help support quality local journalism … become a digital subscriber to The Press and Journal
For as little as £5.99 a month you can access all of our content, including Premium articles.
Subscribe