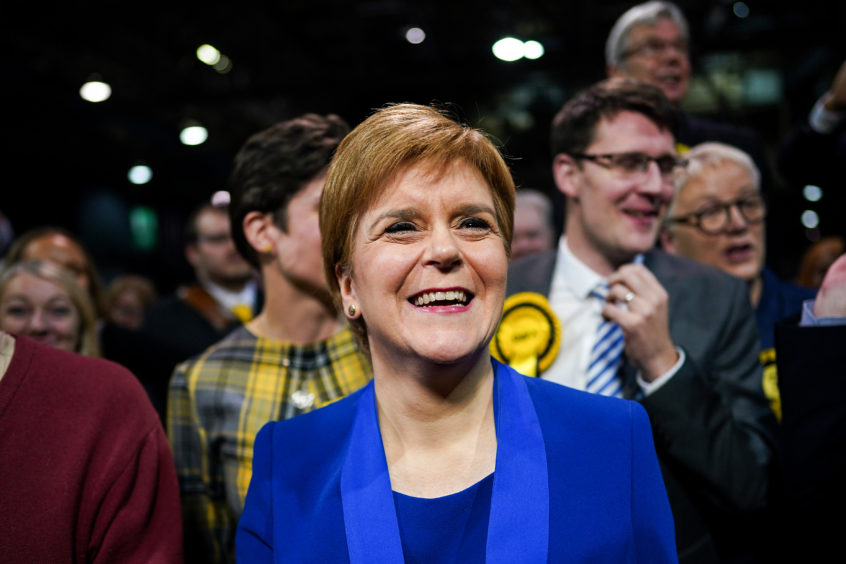 Nicola Sturgeon will step up her drive for a independence referendum next week by publishing a document making the "democratic" case for Holyrood to hold a poll.
The SNP leader laid out the next steps in her fight for a vote when she claimed her party's convincing Scottish win was an "overwhelming" endorsement of her plan for a second referendum.
Shortly after the Scottish Government document is published Ms Sturgeon will make a formal request to Boris Johnson for the Section 30 Order required to transfer the powers to hold a vote from Westminster to Holyrood.
Mr Johnson has said he will reject Ms Sturgeon's indyref2 demand, putting the UK and Scottish governments on a constitutional collusion course.
In a victory speech in Edinburgh, Ms Sturgeon said: "This stunning election win last night for the SNP renews, reinforces and strengthens the mandate we have from previous elections to offer the people of Scotland a choice over their future.
"That mandate says it is for the Scottish Parliament – not a Westminster government –  to decide whether and when there should be a new referendum on independence.
"So, given the verdict of the people of Scotland last night, the Scottish Government will next week publish the detailed democratic case for a transfer of power to enable a referendum to be put beyond legal challenge.
"I have been clear that a referendum must be the responsibility of the Scottish Parliament. This is not about asking Boris Johnson or any other Westminster politician for permission. It is an assertion of the democratic right of the people of Scotland to determine their own future. "
Ms Sturgeon added that as the leader of a "defeated party in Scotland" Mr Johnson had "no right" to stand in the way of her referendum plans.
The SNP's expectations were exceeded in the General Election with the Nationalists increasing their number of Scottish seats from 35 to 48 out of a possible 59.
The SNP succeeded in retaking many of the seats it won in its 2015 landslide, but had subsequently lost in Theresa May's snap election of 2017.
The Scottish Government document will say the result reinforces the SNP's mandate to hold a second independence vote, arguing that while England had voted for Brexit Scotland had voted to remain in the EU.
"It is time for Boris Johnson to start listening," Ms Sturgeon said. "I accept – regretfully – that he has a mandate for Brexit in England. But he has no mandate whatsoever to take Scotland out of the EU.
"If he presses ahead he will drive a coach and horses through the very idea that is supposed to underpin the UK – the idea that this union is a partnership of equal nations."
Ms Sturgeon acknowledged that not everyone who voted SNP supported independence. But she claimed that Scots did agree that the independence question should be settled by them.
Mr Johnson did not mention Ms Sturgeon's referendum demand during his victory speech outside Number 10. But he said he would "bring together" this "incredible United Kingdom" and "unleashing the potential of the whole country".
Scottish Tory leader Jackson Carlaw said his party would make sure her plan would not get off the ground because it would bring "more division and chaos".
Mr Carlaw said: "I've heard Nicola Sturgeon already demand the powers to hold a second referendum on independence.
"Of course, up until 10pm last night, that was not the story told by the SNP. It was, they said, about stopping Brexit. Nonetheless, the SNP has reverted to form and decided to take every vote it won yesterday as a free pass for a referendum next year.
He added: "What we will not be supporting is any request for a second independence referendum. We clearly will not now be fighting any second Brexit referendum."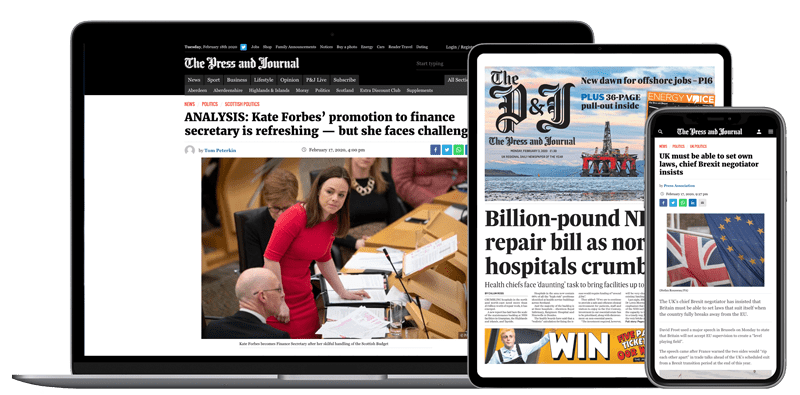 Help support quality local journalism … become a digital subscriber to The Press and Journal
For as little as £5.99 a month you can access all of our content, including Premium articles.
Subscribe