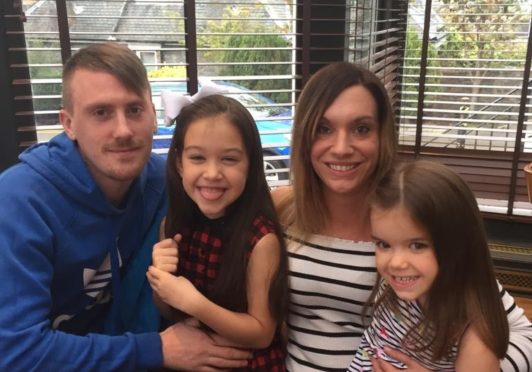 A grieving Aberdeen mother who claims the NHS failed her five-year-old daughter is preparing to step up her fight for new safety protocols.
Angela Bain, who is campaigning on behalf of her late daughter Amy, has been invited to the Scottish Government in Edinburgh next month to discuss her proposal.
Ms Bain, 34, believes doctors failed to diagnose her five-year-old daughter's brain tumour until it was too late.
Following her daughter's death in September, Ms Bain has been campaigning for Amy's Rule – a formal process that would allow patients and families to raise concerns if they feel loved ones are not being treated properly.
First Minister Nicola Sturgeon indicated ministers would consider Amy's Rule when the matter was raised in parliament last month by North East MSP Liam Kerr.
Since then Ms Bain has received a letter from Health Secretary Jeane Freeman inviting her to Edinburgh to meet Professor Jason Leitch, the Scottish Government's national clinical lead, senior clinicians as well as government officials.
Ms Freeman said the government representatives wanted to talk to Ms Bain about Amy's death, "what happened to her and how we can help prevent this from happening again".
Amy's Rule would be applied if a patient or family member was unhappy about their treatment or lack of it. It would involve a three-step escalation process that would be followed to raise the alarm.
Yesterday Ms Bain said: "It is all about highlighting what needs to be done if you're worried. We all deserve to be listened to, because it is really life and death."
Ms Bain claimed doctors failed to heed her warnings when she repeatedly told them her daughter's condition was deteriorating.
When Amy began being sick in April last year her GP said she had a bug. Doctors suggested her condition might be down a urine infection, an allergy or reflux.
After many weeks her bouts of sickness eventually led to her being taken to the Royal Children's Hospital in Aberdeen.
On her second night in hospital she went into respiratory arrest and was only saved by her mother's actions at her bedside.
Amy finally had a MRI scan which showed a two-inch tumour and a bleed on the brain.
She received emergency surgery to relieve the pressure on her brain and was flown to Edinburgh Sick Kids intensive care, where doctors removed the tumour. But Amy did not wake up because the bleed had severely damaged her brain.
A NHS Grampian spokesman said: "We are currently reviewing the circumstances around Amy's tragic death.
"We are in regular dialogue with her family and met with her mother recently to offer an update. As the review is ongoing we cannot comment further and we offer our sincerest condolences to Amy's family, friends and all affected by her death."​