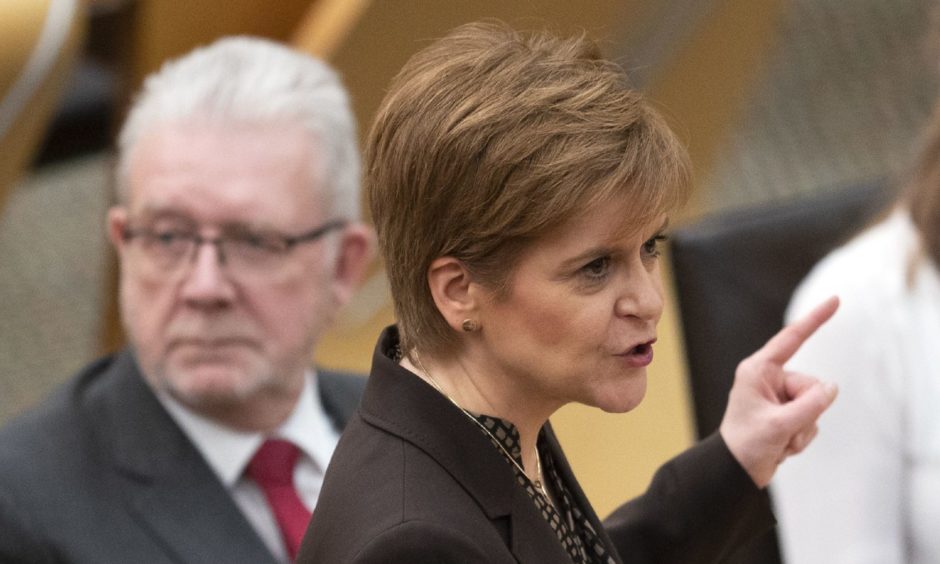 MSPs have voted by 64 to 54 for holding a Scottish independence referendum this year in a Scotland's Future debate – but a 2020 poll remains elusive.
Why did Nicola Sturgeon stage a Holyrood debate on a second independence referendum today?
Nicola Sturgeon's SNP won 48 of 59 Scottish seats in the General Election on the basis that she would demand a second independence referendum this year.
But with Boris Johnson refusing to grant powers to hold indyref2 Ms Sturgeon faces an insurmountable hurdle. Despite all her arguments that the SNP has a "clear mandate" for another vote, deep down she knows it will not take place in 2020.
Nevertheless, she called the debate in the knowledge that the SNP and Greens would combine to produce a Holyrood majority in favour of Holyrood, rather than Westminster, having referendum powers.
By getting MSP to vote for a 2020 referendum just days before the UK leaves the EU, she is trying to keep the issue at the forefront of the political agenda.
What does Ms Sturgeon hope to achieve from the debate?
Ostensibly the first minister will argue that a majority Holyrood vote for a 2020 indyref means that there should be one. But she knows that will do nothing to overcome the prime minister's intransigence. Therefore, she will use the vote to stir up more constitutional clashes between Holyrood and Westminster. Getting a majority of MSPs to support indyref 2020 in a formal vote enables her to argue that Holyrood's will is being thwarted by Westminster.
Who is Ms Sturgeon's target audience?
A key target will be Ms Sturgeon's core vote, who are growing impatient about her lack of progress on independence. Much of the debate was aimed at trying to persuade her supporters that there will be progress on independence in the short term.
But even the most ardent SNP supporters would concede that holding a 2020 referendum is an extremely long shot, so it is unlikely that the rhetoric designed to appeal to them will end their frustration.
Another demographic is the undecided voters or those the SNP believe they can switch from No to Yes. These voters are key, given that polls suggest the SNP has not seen the surge in independence support hoped for after the Brexit vote.
A third target is Boris Johnson and the UK Government. Ms Sturgeon wants to send the message that she is still agitating for indyref2.
How did Ms Sturgeon make her case for indyref2?
The first minister said the debate was about the "fundamental principle" that it was the Scottish people's right to choose their own future.
She said Scotland would be removed from the EU against its will on Friday because of the "Brexit obsession" of the Tory party.
She said Brexit would have consequences for trade, public services, the economy and opportunities for young people. There would be a "practical and emotional impact" on 200,000 EU nationals in Scotland.
The impact on population levels would make it difficult for businesses to recruit workers and for public services to be sustained.
Post-Brexit trade negotiations would be conducted by a UK Government that was "completely deaf" to Scotland's interests.
Independence, she argued, was the only protecting Scotland's interests when faced with the "democratic outrage" of being forced out of Europe.
What did the opposition parties say?
Several MSPs disputed Ms Sturgeon's claim that the General Election result had strengthened her mandate for a referendum. Despite the SNP's general election result, they pointed out 55% of the Scottish electorate voted for pro-Union parties.
But the overwhelming argument used against the SNP leader was that the debate was a pointless waste of parliamentary time when the country is facing so many challenges.
Tory leader Jackson Carlaw described it as a "ridiculous charade". He said that Ms Sturgeon was so interested in "mollifying" her own supporters that Scotland's interests were set aside.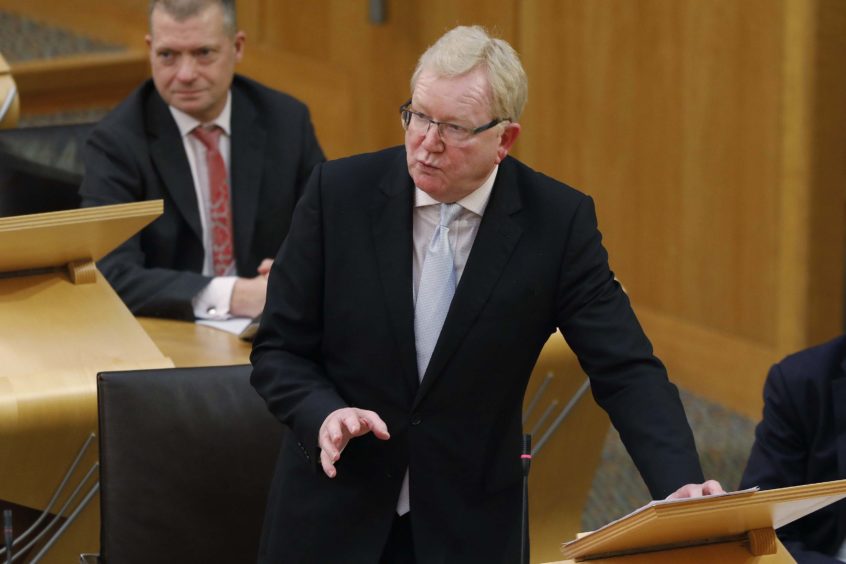 Mr Carlaw said people outside the Holyrood chamber wanted parliament to tackle the drugs deaths crisis, the record low Higher attainment rate in schools, the four-year rise in violent crime, police officer numbers protected and move invested in police stations.
Instead, Mr Carlaw said, civil servants were being tasked with drawing up more independence plans.
Scottish Labour leader Richard Leonard said no-one at Holyrood believed there would be a referendum this year, so Ms Sturgeon was asking MSPs to vote for a "falsehood".
Mr Leonard said: "The First Minister claims to be speaking for Scotland. But she is not even speaking to Scotland. Nicola Sturgeon is using this Parliament to speak to her own party, and she is not even telling them the truth."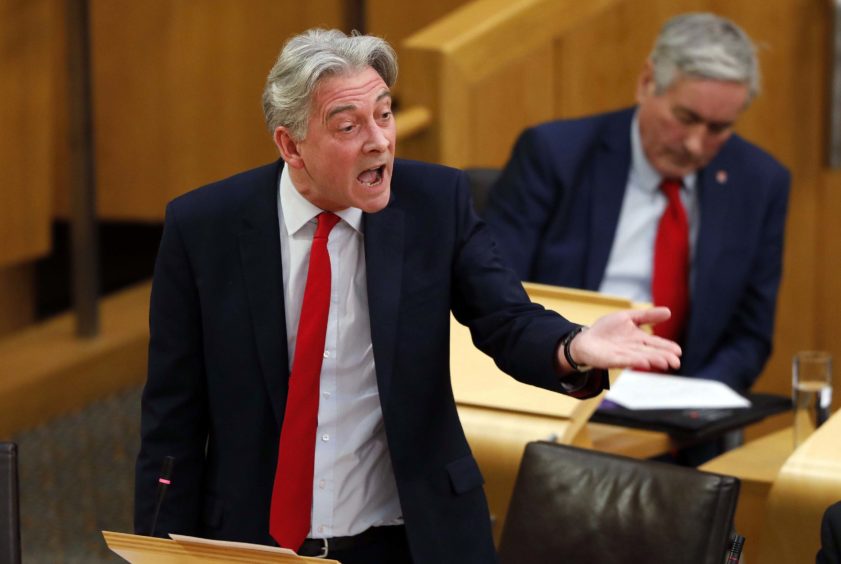 Was the debate a success for Ms Sturgeon or otherwise?
Ms Sturgeon won the vote. But the question of whether or not the exercise was a success is a different matter entirely. The first minister may feel that formalising the parliament's position in support of a 2020 vote means she has achieved something. But given Holyrood's arithmetic, the result was a formality. In terms of a 2020 referendum becoming a reality, there has been no progress whatsoever.
What's more, Ms Sturgeon and the SNP themselves do not appear to be geared up for a vote any time soon.  'Yes' activists may on high alert, but campaign organisations remain dormant. The question has yet to be decided.The formal preparations required to hold a referendum have yet to be triggered.
And perhaps most importantly, big questions over the currency and the Anglo-Scottish border remain.
What happens next?
A matter of hours before the UK leaves the EU on Friday, Ms Sturgeon will outline her "next steps" on independence in a keynote speech.
Senior SNP figures like Alex Neil MSP and Joanna Cherry MP have already raised the possibility of a 'wildcat' – unauthorised – referendum this year. But that looks an incredibly messy road to go down. With talk of Unionist boycotts, it would not settle the constitutional question.
On Friday, Ms Sturgeon will have to find a form of words that satisfies her impatient supporters but reflects the reality. That will be extremely challenging. In the meantime, eyes will be looking beyond this year to the 2021 Scottish election for a more meaningful staging post in the constitutional battle.