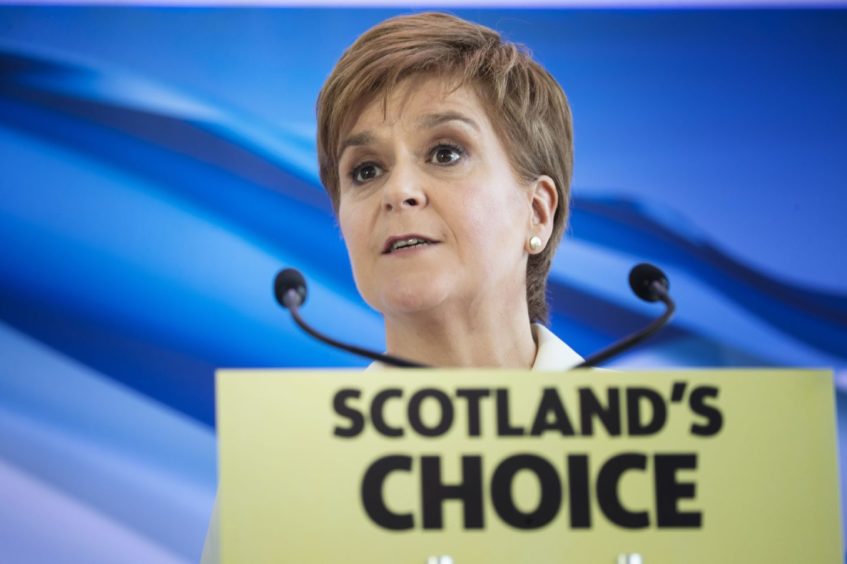 Nicola Sturgeon insisted that she still wants an independence referendum this year but in the same breath acknowledged that a vote would not take place until after the 2021 Scottish election.
That was just one of the contradictions of her keynote speech on Friday morning, which was billed as the "next steps" towards an independent Scotland and delivered just a few hours before the UK leaves the EU.
On the one hand, the first minister said the best way to achieve independence was for the UK Government to transfer referendum powers to Holyrood. But on the other she quite deliberately held the door open for legal action to get the Scottish Parliament to hold its own "consultative referendum".
As impatient independence supporters clamour for a swift referendum, the SNP leader made a series of announcements to give the impression action is being taken. The reality, however, is that Boris Johnson is still standing in the way of the SNP's dream.
Faced with that obstacle, Ms Sturgeon was hoping to create the illusion of progress to satisfy her supporters while trying to chip away at Boris's brick wall.
Did her words advance her cause?  Here is an analysis of the key extracts from her speech at Dynamic Earth, Edinburgh.
A message to her supporters
Nicola Sturgeon said: "What we in the independence movement must not do is allow a sense of frustration – understandable though it is – to take us down dead ends or weaken our sense of purpose…this isn't caution talking. It's realism.
"For me to pretend that there are shortcuts or clever wheezes that can magically overcome the obstacles we face would be to do the independence cause a disservice."
Analysis: Ms Sturgeon knows many within the independence movement believe she is being too cautious and want her to take a more gung-ho approach. This is a plea to those people for patience and to play the long game. But already the backlash has begun on social media with prominent independence supporters indicating their displeasure at the lack of action.
Quite a moment. Wings Over Scotland is quitting until Nicola Sturgeon and Peter Murrell are gone. That could be a while. Here's Rev Stu's sign off message from the biggest and wealthiest independence website. pic.twitter.com/F2GZVfVZ7H

— Iain Macwhirter (@iainmacwhirter) January 31, 2020
For example, the pro-independence blogger Wings over Scotland launched a furious attack on Ms Sturgeon and the SNP in an article titled 'The Betrayer'.
Indyref2 won't happen this year
Sturgeon: "To achieve independence, a referendum, whenever it happens – whether it is this year as I want, or after the next Scottish election – must be legal and legitimate. That is a simple fact…The best way to achieve that, even though it may not be ideal, is to reach agreement with UK Government on a transfer of power to the Scottish Parliament, just as we did for 2014."
Analysis: There it is in black and white – an admission from the first minister that her demand for a referendum this year might not be met. In her heart-of-hearts she knows a 2020 referendum is pretty much an impossibility. She restates her preference for a legitimate vote with the Scottish Government's permission. Although she goes on to keep the option of a Scottish Parliament 'consultative' referendum open in the hope that may offer some comfort to those desperate for another vote.
A 'consultative' referendum
Sturgeon: "The issue of whether the specific constitutional reservation in the Scotland Act puts any form of independence referendum outside the powers of the Scottish Parliament – or instead leaves open scope for a non-binding consultative vote – has never been tested in court.
"That means it cannot be said definitively that it would not be legal, but equally it cannot be described as being beyond legal doubt…should the UK Government continue to deny Scotland's right to choose, we may reach the point where it is necessary for this issue to be tested. I am not ruling that out.
"But I also have to be frank. The outcome would be uncertain. There would be no guarantees. It could move us forward – but equally it could set us back."
Never fathomed why the Scot Gov waited a year AND until after an Gen Elec to move on a Sec30, persisting with Sec30 and the Boris Veto is now hard to fathom.
Surely Consultative Referendum route should be pursued without delay & if necessary cleared up in court one way or other.

— Angus B MacNeil MP (@AngusMacNeilSNP) January 31, 2020
Analysis: An extract of the speech, which will generate many headlines. Basically, the first minister is raising the prospect of taking legal action to see whether Holyrood could hold its own 'consultative' referendum. Senior SNP figures like Edinburgh South West MP Joanna Cherry QC have suggested Ms Sturgeon do this.
After the speech, Ms Cherry said she was "absolutely delighted" that the first minister had "stated clearly, for the record, that route is not ruled out". Independence hardliners Angus MacNeil MP and Councillor Chris McEleny took to twitter to call for Ms Sturgeon to take the 'consultative' vote option.
"To request the Scot Gov asks the lord advocate whether he agrees that holding an advisory referendum on Scottish independence would be legally competent"

Guess nothing stopping that now? If he answers yes it would be for the UK Gov to take Scot Gov to court to prove otherwise

— 🏴󠁧󠁢󠁳󠁣󠁴󠁿CHRISTOPHER McEleny (@SNPChris) January 31, 2020
But they will almost certainly be disappointed. The first minister goes on to suggest that a consultative referendum without Westminster permission could set the independence cause back. So that brings her back to her favoured position for referendum powers to be transferred from Westminster to Holyrood – a demand that won't be met by Downing Street.
The referendum question
Sturgeon: "I will continue to do all that I can to secure a referendum this year…To that end, we have informed Parliament this morning, that following the passage of the Referendums Bill at the end of last year and this week's vote in favour of a referendum, we will ask the Electoral Commission to re-test the question – 'should Scotland be an independent country'."
Analysis: This is the first of the initiatives announced by Ms Sturgeon to create the impression of progress. Sources close to the first minister suggested that having the referendum question re-examined was a "concession". Previously SNP ministers have said an indyref2 question should be in the same format as 2014. Others, including Labour, have suggested that equating a Yes answer with independence gives the SNP an unfair advantage. Critics of the 2014 format have suggested a Leave/Remain question as in the EU referendum would be fairer.
A modern Claim of Right
Sturgeon: "We will invite Scotland elected representatives – MSPs, MPs, the MEPs elected last year and council leaders – to come together to endorse a modern Claim of Right for Scotland through a new Constitutional Convention. To declare that it is for the Scottish Parliament to decide whether and when there should be an independence choice and build support for that principle amongst civic Scotland."
Analysis: This is Ms Sturgeon's attempt to broaden the independence message to beyond her core support. It is envisaged that organisations like the STUC, churches and other faith organisations would also be involved. Cynics, however, might question why there is a need for another Claim of Right given that the original one that led to the birth of devolution has already declared the sovereignty of the Scottish people. And given that the 1989 Scottish Constitutional Convention lasted for around a decade, the creation of a new one seems to be an admission that independence is still a long way off.
Another White Paper
Sturgeon: "The "New Scotland" series of papers" will seek to provide the information and answers people want… They will provide detail on how Scotland can make the transition from a Yes vote to becoming an independent country."
Analysis: These papers have been characterised as Ms Sturgeon's attempt to update Alex Salmond's 2014 White Paper, which outlined his prospectus for independence. Again, this part of Ms Sturgeon's strategy to show that she is serious about indyref2. Scottish Government sources say the individual papers will cover policy themes in a similar way that the UK Government's policy papers did in the run up to the 2014 vote.
Ramping up the campaign
Sturgeon: "Our party campaign is therefore ready to ramp up. We aim to double the SNP campaign budget this year to support new independence materials, local newspaper adverts and a new campaign film focused on undecided voters. And it is vital that as we campaign we listen and engage respectfully."
"There are many people out there who voted No in 2014 now thinking about independence differently in light of Brexit.
"We must show that we understand the complexity of the issues they grapple with and that for many emotions will be mixed. So we must make our case with passion but also with patience and respect."
Analysis: Stepping up pro-indy campaigning has become a staple of SNP strategy when faced with Westminster intransigence. This is a tactic aimed keeping the grassroots enthused even when a referendum is beyond the horizon. But it has been deployed so often since 2014 that it is unlikely to satisfy the independence hardcore.
---

BREXIT DAY: How EU referendum result crashed through the political establishment and set us all on an uncharted course
BREXIT DAY: Why Lord Menzies Campbell believes 'Leaving the EU is completely against our better interests'
BREXIT DAY: 'Brussels lined up with London' – former SNP deputy leader Jim Sillars says EU exit helps independence campaign
BREXIT DAY: Protesters taking to the streets in Aberdeen ahead of tonight's EU exit
---