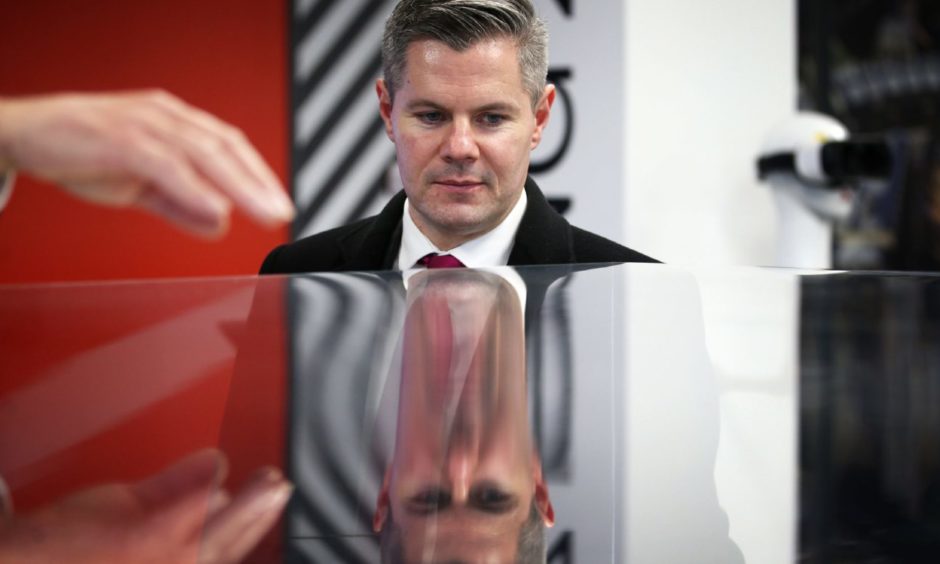 The sudden downfall of Derek Mackay has led to renewed calls for the Scottish Parliament to give voters the power to get rid of unwanted MSPs between elections.
Although Mr Mackay has resigned as a finance minister and had the whip withdrawn by the SNP there is no mechanism to remove him as MSP for Renfewshire North and West, the constituency he has represented since 2011.
SNP depute leader Keith Brown has said it is "difficult" to see how Mackay, who sent hundreds of unsolicited messages to a 16-year-old boy, can stay on as an MSP but it will be up to Mr Mackay whether or not he stands down.
Only MSPs who are jailed for more than 12 months automatically lose their seats.
It means some scandal-hit politicians have continued as MSPs even after losing the support of their party.
Aberdeen Donside MSP Mark McDonald was suspended by the SNP in 2017 over allegations he had sent an inappropriate text to a colleague. He resigned from the party the following year but continues to sit as an independent.
Former SNP MSP Bill Walker also continued to sit in parliament for nearly a year after being accused of domestic abuse.
He only stood down after MSPs backed a motion urging him to do so.
Walker was later jailed for his crimes but spent just six months in prison.
The Scottish Parliament's standards committee has warned it may be difficult to create a recall system that covers constituency, list and independent MSPs.
Things are simpler in the House of Commons where by-elections can be triggered if the MP has broken the law, been found guilty of misconduct or submitted false expense claims.
A petition is opened in their constituency and if enough voters – one in 10 of the electora – sign up then a by-election will be called.
As in Scotland, any MP jailed for 12 months or a year will lose their seat automatically.
So far, three MPs have faced a by-election as a result of Westminster's Recall Process — and only one has retained their seat.
Ian Paisley Jr
The DUP MP became the first MP to face a Recall petition after he suspended by the House of Commons for 30 days in 2018.
He had accepted hospitality from the Sri Lankan government without declaring it to the House of Commons.
But only 9.4% of voters signed the Recall petition, meaning he avoided facing a by-election.
Fiona Onasanya
Ms Onasanya was elected as Labour MP for Peterborough in June 17 but was jailed for lying to police about a speeding ticket.
The solicitor had denied being behind the wheel of her car when it was seen driving at 41mph in a 30mph zone the month after her election.
She was jailed for three months and, when her appeal against her conviction was rejected, she was subject to a Recall Petition.
More than a quarter of voters – 27.3% – backed calls for a by-election.
Mr Onasanya, who had been dropped by the Labour Party, did not contest the seat, which was won by Labour's Lisa Forbes.
She lost the seat to the Conservatives in December's General Election.
Chris Davies
Conservative Brecon and Radnorshire MP Chris Davies admitted forging expenses claims in March 2019 and was sentenced to 50 hours' community service and fine £1,500 after appearing at Southwark Crown Court.
The conviction triggered the Recall Petition process and 19% of voters backed the call for a by-election.
Although he ran as the Conservative candidate, he lost his seat to Welsh Liberal Democrat leader Jane Dodds on August 1.
But she held the seat for just a few months as Fay Jones won the seat back for the Conservatives in the December General Election.