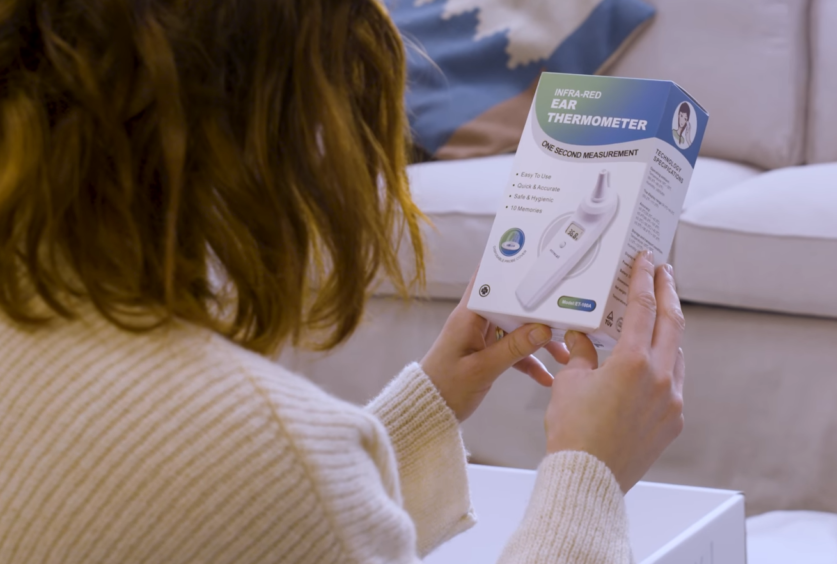 Tens of thousands of ear thermometers have been sent to families in baby boxes despite Scottish Government officials being made aware of "safety concerns".
Emails released to us under freedom of information laws have revealed how bosses were repeatedly informed of a potential issue with the devices.
Questions were raised about the inclusion of the thermometers as early as December 2016 after official NHS advice highlighted the increased chances of parents receiving "misleading" results if they were used on babies.
The emails also show that officials privately admitted last year that they "haven't been able to identify any definitive advice" on the issue, although they stressed that no healthcare expert raised concerns about the devices during the "rigorous" selection process.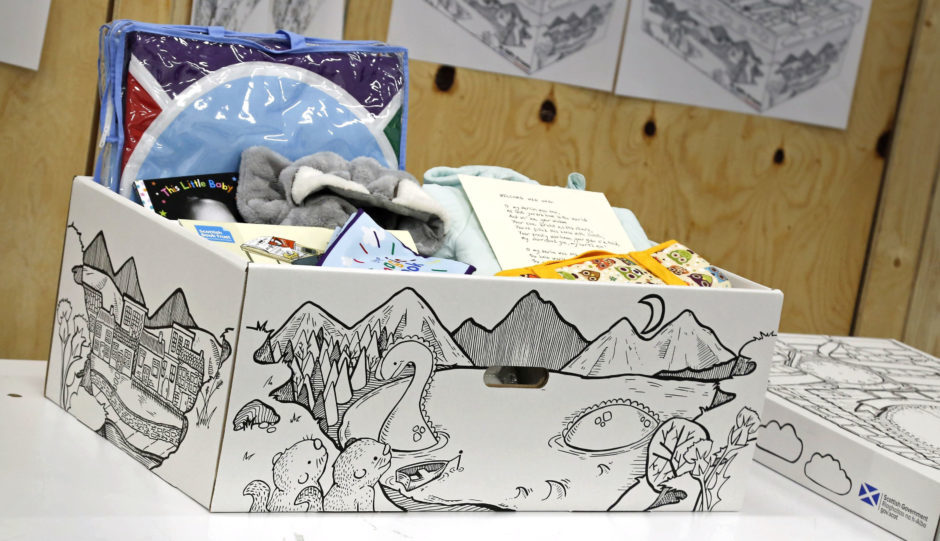 And the communications reveal how at least one family has reported being sent to hospital over a "ridiculously high" temperature reading which turned out to be normal.
A spokeswoman for the government said it was "reviewing baby box guidelines to emphasise the importance of reading all instructions before use".
The memos show that the concerns were highlighted in the weeks before the launch of the baby box initiative in January 2017, and that they were raised again last year.
NHS advice recommends using digital thermometers under a child's armpit.
It states that ear thermometers "can give misleading readings if you don't put them in the ear correctly, which is more likely to happen with babies because their ear holes are so small".
Despite the NHS advice, the Scottish Government's Parent Club website states that the devices are "suitable for all ages".
Scottish Conservative health spokesman Miles Briggs questioned why the government had "neglected to mention this vital piece of information" about thermometers amid the "fanfare" surrounding the baby box.
The emails
In December 2016, just two weeks before the launch of the first baby boxes as part of a pilot project, one unnamed official sent an email to colleagues to highlight the NHS stance.
It said:
"Our contractors have raised a safety concern about the use of in-ear thermometers based on this NHS advice.
"Please can you and yours let us know if you're happy for them still to be included bearing in mind that we've bought them for the Pilot Boxes and they're in all our marketing images!"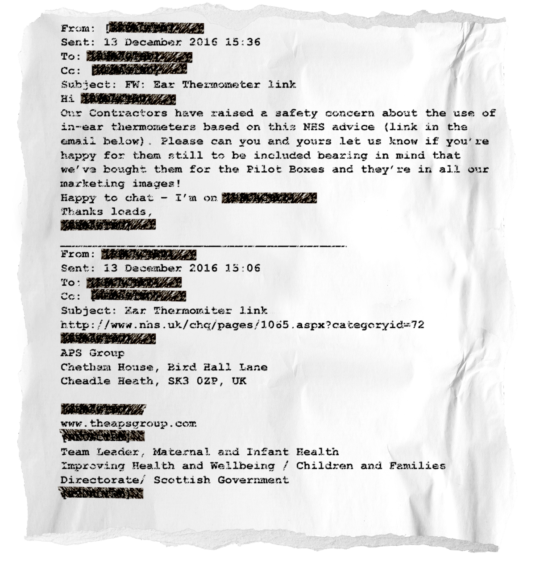 Another email from the time, believed to be in response, said:
"Who suggested them? Was it one of the reps on the reference group?
"[REDACTED] and I spoke about this yesterday and thought it was a really useful addition to the box.
"I don't think there is anything in the link (to NHS advice) that concerns me or flags up advice not to use them so I'd say go with that.
"I've spoken with John and suggested to him that parents tell us what they think about the thermometer in the evaluation.
"You can breathe again."
The communications from December 2016 were found by Scottish Government staff in March last year after the potential issue with the ear thermometers was flagged up again.
In a note taken of a meeting of the baby box stakeholders group in March last year, it was highlighted under a section headed "questions/concerns".
It said:
"There was a slight concern around directions on the thermometers explaining that they should not be used on babies under 28 days detailing safety concerns from health professionals.
"APS (baby box contractors) have confirmed that they will be checking if this instruction is displayed within the directions on the packaging and within the contents of the baby box. APS will confirm with Scottish Government colleagues in due course."
In another communication at the time, officials wrote:
"At our baby box stakeholders meeting last week one of the attendees highlighted that some paediatricians don't recommend using digital ear thermometers for babies under six months. This is on the instructions inside the box containing the thermometer.
"We haven't been able to identify any definitive advice on this online (some links suggested some paediatricians don't recommend use under 12 months)."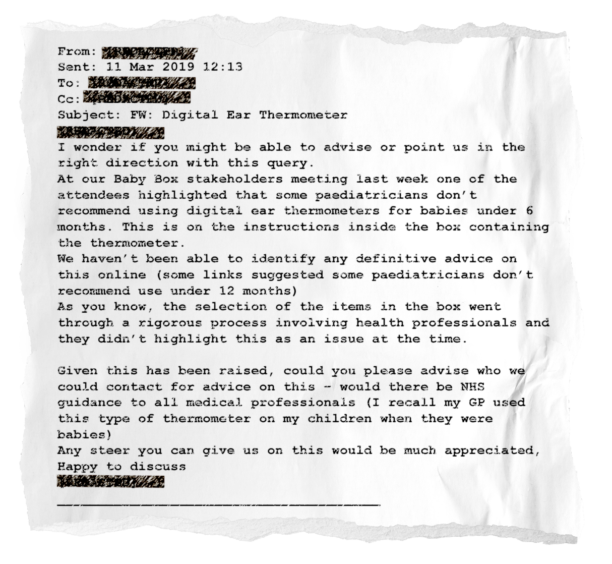 After a check of the device, it was found that the thermometer box stated that "the product is suitable for all age groups" but the instructions noted that "many paediatricians suggest use of ear thermometers for children older than six months".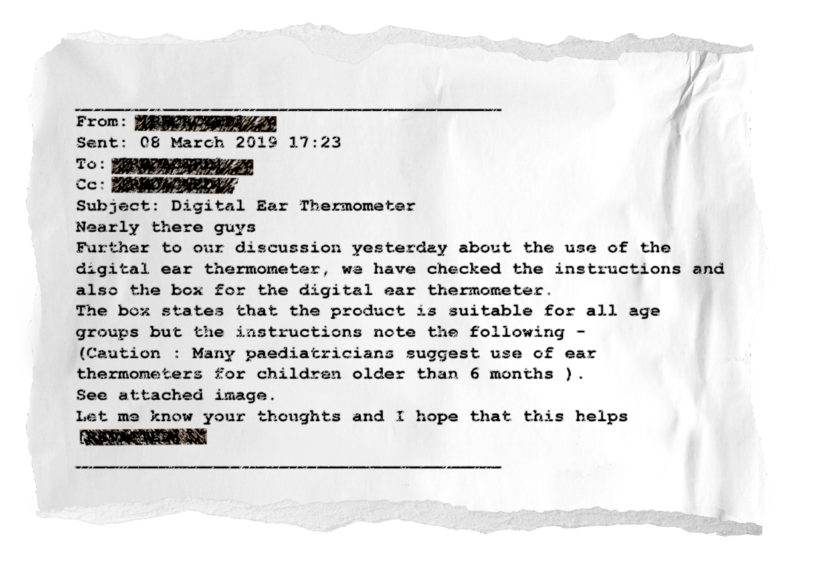 Amid the behind-the-scenes questions last year, one government official suggested asking about the thermometers in evaluation forms, and that "this can then inform the future box contents", before they added that "we have committed to stock up to 2021".
'Ridiculously high temp readings'
In April last year, the safety issue was raised again by a member of the public in a social media conversation involving officials.
The mother said her "baby was a couple of weeks old and this (thermometer) was giving ridiculously high temp readings".
They were sent to a doctor who in turn told the family to attend accident and emergency, where they were informed that the child's temperature was normal, and that such misreadings are "common with this thermometer from the baby box".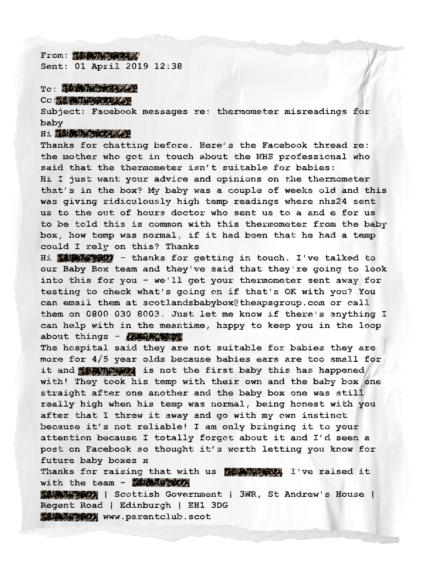 The mother added:
"The hospital said they are not suitable for babies, they are more for 4/5 year-olds, because babies ears are too small for it and [REDACTED] is not the first baby this has happened with!"
In a description of the device found on the government's Parent Club website this week, it states: "Suitable for all ages, the easy to use ear thermometer comes with disposable covers for the end bit so you can check your baby's temperature safely and hygienically."
After the emails and communications emerged, Scottish Conservative health spokesman Miles Briggs said: "Amid all the SNP's fanfare about the baby box, it neglected to mention this vital piece of information.
"It's obviously important for new parents to know that a key piece of equipment within the box may not give accurate readings.
"But as ever with the SNP government, this has been glossed over and anyone who dares to question that is accused of talking Scotland down."
The baby box scheme
Based on a project that was running in Finland, the Scottish Government launched the initiative in 2017, at an estimated cost of £6m per year, after a pilot scheme.
Last month, the government revealed that there was now a 96% take-up rate of the baby box, with 45,558 delivered across Scotland in 2019.
The box, which can be used as a safe sleeping space itself, contains essential items such  as clothes, a blanket, towels and nappies.
A Scottish Government spokeswoman said: "All decisions on Scotland's baby box contents were agreed in discussions with health professionals, and medical experts stress there is no reason not to include digital ear thermometers.
"Like all types of equipment, inaccurate readings may occur if used incorrectly, and we are reviewing baby box guidelines to emphasise the importance of reading all instructions before use.
"At its heart, Scotland's baby box strongly signals our determination that every child, regardless of their circumstances, should get the best start in life by ensuring that every family with a newborn has access to essential items.
"More than 123,000 expectant parents have taken the opportunity to receive a baby box since their launch in 2017 and the most recent parent survey showed 100% satisfaction with the box and all contents."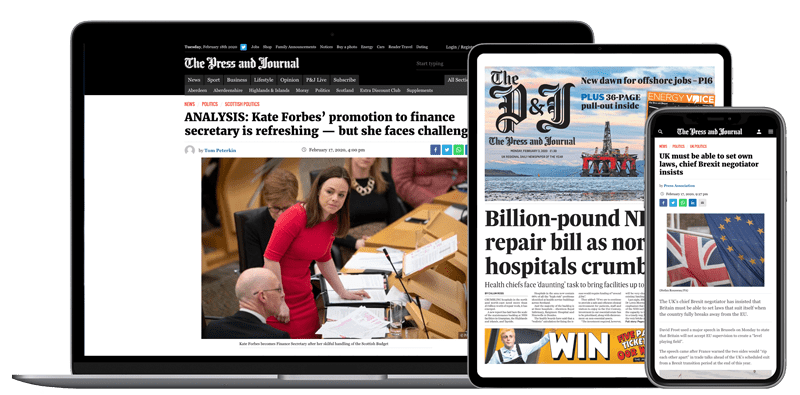 Help support quality local journalism … become a digital subscriber to The Press and Journal
For as little as £5.99 a month you can access all of our content, including Premium articles.
Subscribe