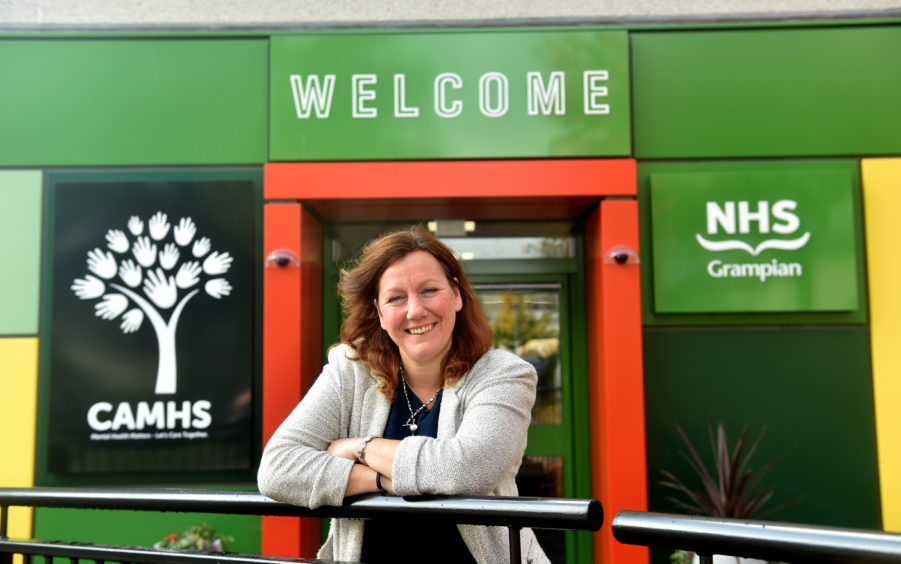 Newly published figures reveal NHS Grampian is in reach of meeting a national target for children and young people requiring mental health support.
The health board has faced a well-documented struggle to meet the Scottish Government waiting time targets for children who need access to mental health services.
But new figures released by ISD Scotland show NHS Grampian has made significant improvements to the service, from seeing just 39.1% of patients within 18 weeks in the last quarter of 2017 to 80.1% of patients during the final quarter of last year.
Further analysis of the figures show that in December, the health board saw 91% of patients (91 patients) within the 18-week target, above the Scottish Government's target of 90%.
A total of nine patients were seen outwith the 18-week target time in December 2019, down from 32 patients in October and 20 in November.
Health chiefs have put the success down to a redesign of the service and move to a new facility at the Links Unit at City Hospital, Aberdeen.
Dr Lynne Taylor, child and adolescent mental health service (CAMHS) clinical director, previously said the creation of the dedicated unit had helped tackle the issue, bringing together three teams that previously worked across three different sites.
An NHS Grampian spokeswoman said: "Recent figures put the board's CAMHS compliance for starting treatment in December at 91%, exceeding the target of 90% and well above the Scottish average of 71.5%.
"The service is continuing to prioritise those most in need and has a plan to target longest waits for those requiring ongoing treatment.
"Our board has agreed to commit £200,000 extra per year to CAMHS for the next four years but much of this will be required to pay for currently unfunded posts following withdrawal of monies to CAMHS some years ago by local authorities.
"Joint planning is ongoing with local authorities to ensure there is further development of services in the community going forward."
The service is continuing to prioritise those most in need and has a plan to target longest waits for those requiring ongoing treatment.
'Huge Difference'
North-east Labour MSP Lewis Macdonald praised the team for their efforts and move to reorganise services.
He said: "A lot of credit goes to the team at CAMHS and the way the services have been reorganised.
"I think the Links Unit as a centre for young people and where all the services can be accessed in one place makes a huge difference and eases the amount of time staff are travelling from site to site.
"Congratulations are in order and it shows that thinking through how to deliver services better can make a huge difference in quite a short period of time."
'Severe lack of funding'
Scottish Conservative north-east MSP Liam Kerr  also praised the "dedicated staff" at the health board for "vastly improving" waiting times but called for more funding.
He said: "The health board has had to battle back from the crisis it faced as a result of being abandoned by the SNP Government due to a severe lack of funding.
"NHS Grampian remains one of the worst-funded health boards in Scotland and in order for CAMHS to work towards meeting its 90% target, the SNP Government must take mental health treatment in the area seriously.
"The staff have done a fantastic job in reducing waiting times which has resulted in a lower number of vacancies within the service."
The health board has had to battle back from the crisis it faced as a result of being abandoned by the SNP Government due to a severe lack of funding.
An Aberdeenshire Council spokeswoman said the local authority will "continue to work collaboratively" with the Health and Social Care Partnership and CAMHS on future service developments.
Meanwhile, NHS Highland also failed to meet the 90% target, seeing 75.2% of children and young people in 18 weeks, during the last quarter of 2019.
But this does show improvement from the previous reporting period, between June to September 2019, when 64.1% were seen.
A spokesman for the health board said: "CAMHS management are currently working with the Scottish Government on capacity and demand modelling, which will lead to a clearer picture of the need for further investment in CAMHS.
"This will enable NHS Highland to have a clearer trajectory to reach the 90% target."
NHS Western Isles was one of just three health boards across the country who met the 90% compliance target, seeing 93.7% of patients in 18 weeks.
Nationally, almost 600 children have been waiting for more than a year for specialist mental health care.
NHS data from the end of December 2019 reveals 589 youngsters had been on the waiting list for 52 weeks or more to get an appointment with Child and Adolescent Mental Health Services (CAMHS).
The Scottish Government has set the target for 90% of patients being seen within 18 weeks – but in 2019 there were 5,027 children and young people who waited longer than this to start receiving help.
In the final three months of the year, the target was was achieved for just two-thirds (66.4%) of youngsters – down from the 72.8% who were seen within this time in the last quarter of 2018.
Mental Health Minister Clare Haughey said: "We want to make sure anyone who has been identified as needing support can get services that are appropriate to their needs.
"To shorten waits for treatment, we are making significant changes to meet increasing demand and to ensure everyone gets the right treatment, at the right time and in the right place.
"Since 2007, CAMHS staffing has increased by 76%, and in the past year, we have seen an increase of 1.3% – the majority of which was in psychology staff – while we continue to create new posts in this area.
"We are also strengthening the support available in communities and schools with mental health first aid training for local authorities, ensuring every secondary school has access to a counselling service by September 2020 and training 250 additional school nurses over the next three years, with 50 already in place this year.
"This year's Programme for Government builds on this progress even further.
"That includes putting in place community wellbeing services for children and young people aged 5-24 and their families across the whole of Scotland, a new 24/7 crisis support service for children and young people and a new Adult Mental Health Collaborative so public services, the third sector and communities can work closer together to improve support to people suffering from mental ill health."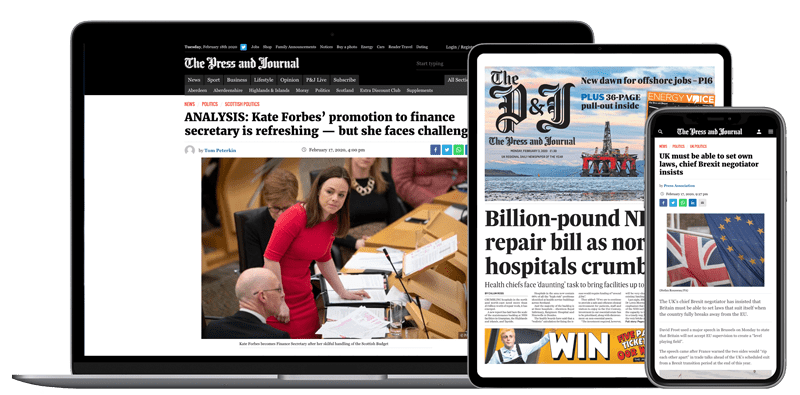 Help support quality local journalism … become a digital subscriber to The Press and Journal
For as little as £5.99 a month you can access all of our content, including Premium articles.
Subscribe