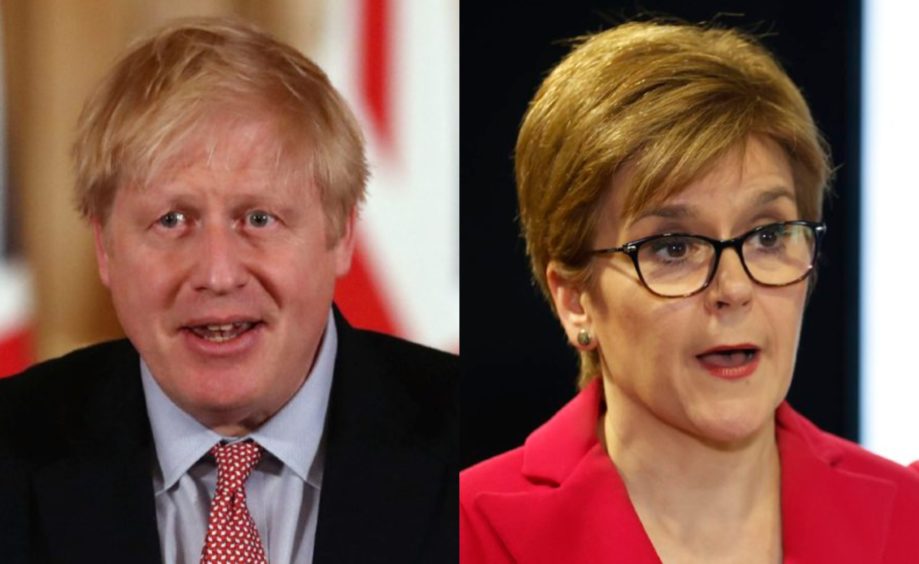 It was a day when the true scale of the coronavirus crisis was laid bare.
A Prime Minister warning that "more loved ones will be lost before their time" confirmed that we are witnessing extraordinary circumstances that will require concerted and measured efforts to prevent them becoming a catastrophe.
In updates north and south of the border, Prime Minister Boris Johnson and First Minister Nicola Sturgeon sought to ensure the public have the advice they need to help limit pressures on health services in what both made clear remains just the very early part of what will be a long-term public health emergency.
But while the message from both was broadly similar, there was one main area of divergence — and it was one which led the Prime Minister to make what was perceived by some to be a barbed comment on the "resilience" of public services in Scotland (see video below).
Here's what we learned today.
Why schools are not yet closing
On this issue, the UK and Scottish governments are closely aligned. The summary from both was that closing schools can do more harm than good — children mixing out of school but with no supervision of hand hygiene; key workers having to stay off work to look after youngsters or grandparents being asked to help with childcare when transmission from children to more elderly members of society remains a concern.
Ireland's decision to close its schools and childcare facilities, despite having far fewer cases, appeared to add pressure on the UK to act.
However, while stressing that all of these decisions are subject to constant review, London and Edinburgh maintained a consistent line.
What Ms Sturgeon said
"It is not the advice right now that schools should close or that colleges or universities require to close. That is not what we are advising at this stage. Although that is an issue that will be kept under regular review.
"Closing schools has a very direct effect on the ability to keep key workers at work. There is also a view that closing schools will lead to children gathering in more informal settings, which will actually make more a risk of contracting the infection. Unlike in schools where hand hygiene protocols can be followed.

"If it gets to the stage where the advice is to close schools, this will not be for a week or two weeks. This would be something that was advised to last throughout the peak of this infection and that is potentially until the summer period.
"So this would be something that was not brief and therefore it underlines the importance of having a position. If this position becomes necessary to advise we don't do that earlier than science is advising to do."
What Mr Johnson said
"We are not, repeat not, closing schools now.
"The scientific advice is that this could do more harm than good at this time but of course we are keeping this under review and this again may change as the disease spreads."
Why different advice on large gatherings?
When it comes to controls on large gatherings, Scotland and the UK have taken different approaches at this stage.
Ms Sturgeon said that effectively banning gatherings of 500 people or more from Monday is in part to try to limit infections, but it is also to reduce the need for key public service workers (police, ambulance crews etc) to be present at these events when they could be more usefully employed in other roles.
But that reference to public services also led to perhaps the clearest sign of tensions between the two governments over who should share advice with the public, and when.
Nicola Sturgeon is playing stupid political games here. She's deliberately making her statement in advance of the UK government. I genuinely thought she was better than this.

— (((Dan Hodges))) (@DPJHodges) March 12, 2020
A thoroughly robust statement and Q&A with Scotland's First Minister, Health Secretary and Chief Medical Officer. If you watch it and conclude it's a problem that they have dared to update Scotland before the Prime Minister speaks, then you are indeed a brainless idiot.

— Stewart McDonald MP (@StewartMcDonald) March 12, 2020
What Ms Sturgeon said
"I'm articulating a Scottish Government position, not a UK-wide position. Other administrations will set out their own positions.
"We will from the start of next week advise the cancellation of mass gatherings of over 500 people that have the potential to have an impact on frontline emergency services.
"This is not a move because it will have a significant impact on the spread of the virus. On the contrary, the science tells us it will not have a significant impact (but that) does not necessarily equate to no impact at all.
"Consistency of public messaging at a time like this if advising people to stay at home….advising people to change behaviour it is inconsistent to have a business-as-usual message around large gatherings.
"Certain events have an impact on policing and frontline ambulance and accident and emergency services and at a time when pressure on those services is going to be considerable. Our public services like all areas of economy will have higher absences. It is incumbent on government to remove unnecessary burdens."
What Mr Johnson said
"It is very important that we're guided by the science. There is very little epidemiological or medical reason at the moment to ban such events, as I think Nicola Sturgeon has also made clear.
"But in Scotland they do have particular issues with the resilience of their public services and we'll be wanting to keep that issue under review here across the UK as well.
"In scotland they have a particular issue with the resilience of their public services", says @BorisJohnson. Hello @NicolaSturgeon

— Robert Peston (@Peston) March 12, 2020
"Let's be clear: that may become a factor for all of us and we may also be wishing to go forward with stopping those kinds of events as well.
"So we're not saying no to that sort of measure — we're keeping it up our sleeve. But it's very important in order to maximise the benefits of our interventions that we get the timing right."