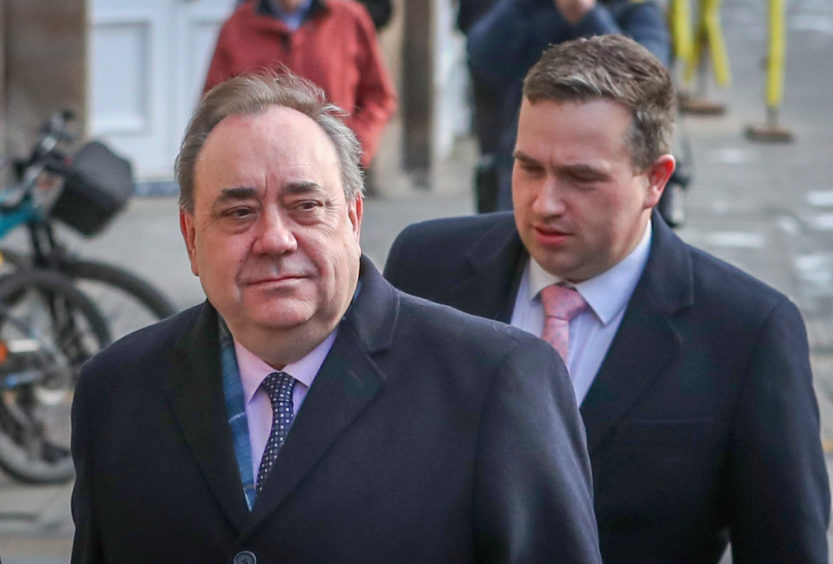 A civil servant has told a court that Alex Salmond once told her she was one of only three women he feared – with the others his wife and Nicola Sturgeon.
Woman B was giving evidence at the High Court in Edinburgh yesterday about an alleged attack in Bute House in October or November 2013 where she described attempts at keeping Salmond's hands off her as resembling "wrestling with an octopus".
The woman was the final complainer to give evidence before the Crown closed their case against Salmond.
Afterwards, the prosecution dropped one allegation of sexual assault. Salmond denies the remaining 13 charges against him.
Woman B told the jury concerns had been raised by staff about the design for the first minister's official 2013 Christmas card – describing the Ae Fond Kiss design by artist Jack Vettriano as featuring a "scantily clad" woman kissing a taller man.
Giving evidence, Woman B said that the alleged attack happened at the end of a meeting in Bute House after others had already left.
She said: "I was talking to him about policy issues and had my papers on the table. He immediately just said 'Come here, let's recreate the pose on the Christmas card.'"
"He grabbed my wrists and pulled me towards him. I was shocked.
"It felt like every time I managed to get a hand off another hand appeared.
"He was very persistent. It felt like I was wrestling with an octopus."
Woman B said that she threw a charity wristband she was wearing at the time in the bin when she got home – explaining that she felt like it had been "contaminated".
She added that she did not pursue a formal complaint against the then first minister at the time due to the relationship between the civil service and Scottish Government and said she feared she would be "removed" if she did so.
During cross-examination Woman B told defence counsel Shelagh McCall she remembered a discussion where Salmond recalled the women he was "scared" of were herself, his wife and Ms Sturgeon.
She also rejected a suggestion from Mrs McCall that the encounter in Bute House could be considered as "high jinx".
Meanwhile, three civil servants took to the stand to give evidence about the steps taken by the Scottish Government following complaints being made about alleged incidents.
Chris Birt, Joe Griffin and Mike McElhinney all said they had been made aware of concerns raised by Woman F and Woman G about encounters that happened in Bute House.
Mr Griffin told the jury Salmond expressed "remorse" when the incident involving Woman F was raised with him in December 2013 and said that the first minister offered to apologise.
Advocate depute Alex Prentice QC, prosecuting, asked Mr McElhinney: "Was that to be the end of the matter if an apology were achieved?"
Mr McElhinney answered: "We considered the operational implications for the team and from them we started to introduce practices that meant that we would double-up in cover at night – or avoid single female contact cover with Mr Salmond after certain times in the evening.
"So it was both to the effect of getting an apology but also to put in place operational steps to minimise a risk of recurrence."
Mr McElhinney added that further steps were also put in place following concerns raised by woman G following a further alleged incident in April 2014.
Both Mr Birt and Mr McElhinney said the changes never became "policy" but said the steps were taken.
During cross-examination, Mr Birt, who said staff were "frightened" of Salmond, said he would not have "trusted" civil service procedures of the time to handle the complaints from the women.
The trial continues today when the defence will begin their case.