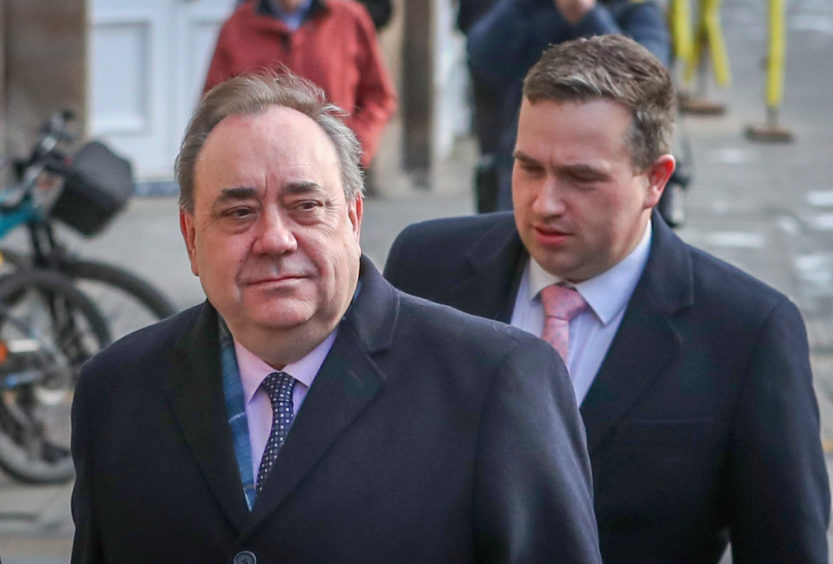 A businesswoman told a court she did not recall seeing a woman who has accused Alex Salmond of trying to rape her at "any point" on the night in question.
Woman H, a former Scottish Government official, previously told the High Court in Edinburgh that she was attacked by Salmond at Bute House in Edinburgh following a dinner in June 2014.
The former first minister denies the alleged incident, saying the woman was not there on the night in question.
He has told the High Court in Edinburgh he and Woman H had a "consensual sexual liaison" the previous year.
Salmond, 65, of Strichen, is accused of a total of 13 alleged sexual offences against nine women, all of which he denies.
The defence witness, a company director, said she was at the dinner with Salmond and another guest, a Scottish actor.
Shelagh McCall QC, defending, asked the businesswoman: "At any point during the evening did you see Woman H?"
She  replied: "No, I did not."
It was also heard the complainer said it "would be great" to work with Salmond again – a year after she alleges he attempted to rape her.
Jurors were shown a text message exchange between Woman H and former SNP MP Tasmina Ahmed-Sheikh.
Part of one message sent by the complainer in June 2015 – a year after the alleged attempted rape – read: "Would be great to be working with him again."
Ms Ahmed-Sheikh also said she was watching Woman K at the time she alleges the former first minister touched her bottom while photographs were being taken in November 2014 – denying she had seen any "discomfort" from the woman.
Salmond's former chief-of-staff, Geoff Aberdein, also gave evidence during yesterday's hearing and said he held talks with Nicola Sturgeon and one of the complainers at Holyrood.
He said the woman told him she believed "two retrospective complaints" were being made about Salmond during a meeting between the two of them on March 9, 2018.
However, Mr Aberdein repeatedly stressed that the woman never divulged to him that she had or would make a complaint herself.
Mr Aberdein told defence counsel Gordon Jackson QC that after the woman had told him of the complaints it was decided there should be a meeting between Salmond and Sturgeon – but confirmed that additional talks were held with the complainer and current first minister before that.
Mr Jackson asked: "There was a meeting with you, (the woman) and Nicola Sturgeon on March 29, 2018. Where was that meeting?"
Mr Aberdein replied: "At the Scottish Parliament in the first minister's office."
Mr Jackson asked: "And (the woman) never gave any hint of her possible involvement?"
Mr Aberdein replied: "Never."
Mr Aberdein said further talks then took place with Salmond present at Ms Sturgeon's Glasgow home on April 2, which is when she says she was first informed about the complaints.
Alexander Anderson, a former SNP worker and special adviser to Salmond, and civil servant Lorraine Kay told the court that the former Aberdeenshire East MSP was a "touchy feely" person.
Mr Anderson said: "You only need to look at the end of his party conference speeches. All along the front row there would be hugs and kisses for everyone."
The trial continues.