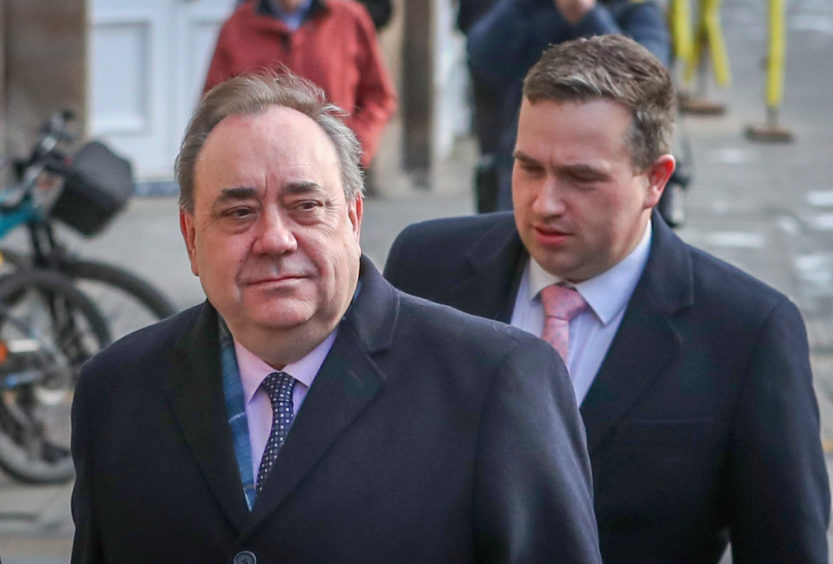 The trial of Alex Salmond was always expected to be a hearing like no other.
When the former first minister walked into the court on the first day two weeks and a lifetime ago, the media scrum to get photographs was bolstered by passers-by.
The Six Nations was still in full flow with travelling French fans on Edinburgh's Royal Mile, other tourists walking past the high court stopped to see what was going on and there was a steady flow of commuters ignoring the crowd completely.
But yesterday only the cameras remained to hear the result with the streets deserted apart from a four-man work crew digging up the old cobbled street outside shops locked up as a result of coronavirus.
Inside the building, the atmosphere had changed too.
The steady stream of announcements that informed people of court business had ceased with all business either concluded or suspended.
Only the fate of the former first minister remained with the echo of about 20 reporters and 10 members of the public the only noise to be heard.
Where there had been scrums of intense speculation during recesses there were instead groups spread out over the first floor.
Any resemblance to a working building had gone, with members of the public rearranging chairs into circles outside what is normally a walkway to another courtroom while many others sat on the floor to wait.
After two weeks of the jury being in close quarters changes were made on the final day of their deliberations with the 13 remaining men and women moved from the normal jury room to a larger space to finalise their decision.
Anticipation had been building for a possible verdict on Friday with the largest press presence since the opening day.
Only a sparse number returned yesterday to listen to the result of one of the most anticipated trials in Scottish history.
The scrum outside the front door returned though when the former first minister walked out of the door to make after the jury reached its decision.
His statement – shorter than any one could have anticipated – was to the point: "Go home and take care of your families. May God help us all."