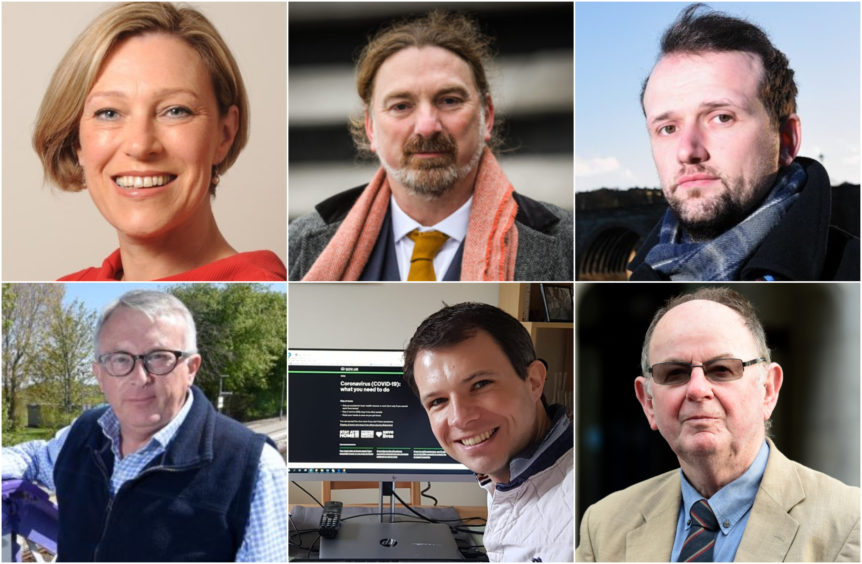 As we enter the second week of the coronavirus lockdown, we caught up with some of our local MPs and MSPs to find out how their lives and working environments have changed dramatically.
Politicians used to be criticised for having second jobs. Now they are taking on several.
Because many elected representatives, like thousands of others from every walk of life, are keen to help out in ways that would have seemed almost unimaginable just a few weeks ago.
Jamie Stone is one of those who is poised to play his part during the coronavirus crisis.
The Liberal Democrat MP set up a community support group and is due to become a local delivery driver in his sprawling Caithness, Sutherland and Easter Ross seat, picking up prescriptions and delivering shopping to vulnerable residents in the rural north.
Mr Stone is also establishing a phone bank so he can check in on people over 70 in the area, and is investigating whether he can conduct his surgeries via a radio phone-in.
"I have a car and can drive, so I'm very happy to offer my services to help people in remote parts of my constituency," he said.
"It's not the easiest place to get about in and I know a lot of vulnerable people are stranded. I will do whatever I can to help."
Liam Kerr, a north-east MSP and Scottish Conservative Party deputy leader, is another who has been helping out in his local community.
He set up a WhatsApp messaging group for his neighbours, which he said was "working wonders" by providing a link to several households of older or more vulnerable people.
After just a week my daughter is more than fed up with me. I'm not sure I'd be a very popular teacher."
Mr Kerr is also among the many parents who have been drafted in as temporary teachers, home schooling his daughter while her primary school is closed.
"It's been difficult but rewarding having to bridge the gap between work and family, doing my parliament and regional work at the same time," he said.
"Home schooling has been very interesting. I am quite a harsh taskmaster and I aim to fit in as much school work as possible before the Easter holidays.
"So after just a week my daughter is more than fed up with me. I'm not sure I'd be a very popular teacher."
Of course, not every politician is able to involve themselves in active community work, because many are in self-isolation.
Aberdeenshire East SNP MSP Gillian Martin has been in self-isolation after developing mild symptoms.
Although she is starting to feel better, she will be isolating until she has fully recovered, while still working remotely.
That's me 9 days in isolation. Symptoms abating in last 2 days. Looking forward to walking my wee dug soon. Have made my own mask using a Hepa-Flow vacuum cleaning bag just in case. Was easy for those with basic sewing skills. Social distancing all the way no matter what. pic.twitter.com/Xi2co93peS

— Gillian Martin (@GillianMSP) March 28, 2020
Orkney MSP Liam McArthur is another who has been in self-isolation.
Like many, he has been keen to ensure he keeps his fitness levels up during the shutdown,  and has been taking part in a daily "planking" challenge every morning with friends.
The Lib Dem reported that he can now do the core strength exercise – which involves maintaining a position similar to a push-up for the maximum possible time – for 2 minutes and 10 seconds, up from 1 minute when he started.
His colleague Alistair Carmichael, the MP for Orkney and Shetland, has also been self-isolating as a precaution, having returned north from London via a train, a hire car and ferry.
For north-east Conservative MSP Tom Mason, the lockdown has brought a health scare beyond just the coronavirus, however.
As a 77-year-old, he had been following official guidance and self-isolating, but suddenly went blind in one eye on Monday after suffering a suspected stroke.
He recovered full sight within three hours and has been in good health since, working from a home office equipped with four computer monitors.
Mr Mason said: "I've always admired the job done by our NHS staff and the allied professions, but I was astounded by the extraordinary standard of care during these very difficult times.
"It is reassuring that the care pathway is very much open despite the impact of the pandemic.
I was astounded by the extraordinary standard of care during these very difficult times."
"Loss of sight could be one of the symptoms of a stroke so the GP and hospital took it very seriously.
"They looked to see if I had any 'furring' of the arteries but didn't find anything.
"My sight came back quickly but it was a very disconcerting experience."
Stewart Stevenson, the veteran SNP MSP for Banffshire and Buchan Coast, is another local politician who is aged over 70.
He has started his own blog, titled Diary Of An 8th Decade, during the crisis, to try to promote the important role the elderly have in staying safe, and to quash any idea that they are in some way a burden.
As well as self-isolating, home-schooling and community support efforts, politicians are also having to deal with a huge number of communications from concerned constituents.
Dundee West SNP MP Chris Law said: "These are challenging times for many people and businesses across Dundee, and this is reflected in the very high number of enquiries and correspondence we are currently receiving.
"Despite my office and I now working from home, per government advice, we are adapting as best as possible to provide the service that people need.
"All caseworkers have been provided temporary mobile phones to be able to assist constituents, and we are currently holding twice daily meetings via video conferencing to discuss priority issues and the best way forward to deal with enquiries.
"Because of the high number of correspondence we have received, we are currently having to prioritise essential casework, however we aim to respond to all enquiries whether by email or telephone as soon as possible."
West Aberdeenshire and Kincardine MP Andrew Bowie said he had been continuing "business as unusual" since returning home from Westminster.
The Conservative MP's office is now being run through popular mobile app House Party, which allows staff members to drop in and out of a continuous chat.
Social distancing doesn't mean the end of an MP's job. Just like everyone else, the work won't wait in the office for when life goes back to normal."
Although his scheduled contact days with constituents have given way to "virtual surgeries", the amount of casework to Mr Bowie's office has only increased.
"Across the UK, people are getting used to using technology instead of meeting in person," he said.
"It is definitely business as unusual but I suspect some practices we adopt now will stay with us.
"Social distancing doesn't mean the end of an MP's job. Just like everyone else, the work won't wait in the office for when life goes back to normal."
Meanwhile, Aberdeen South SNP MP Stephen Flynn said he had been "watching on in awe as communities across Aberdeen have come together" to put in place support for the vulnerable, elderly and those living alone.
"My immediate focus has been on trying to ensure that the countless number of constituents and employers who have contacted me get a detailed reply as soon as possible and my small team are all working round the clock at home to try and make that happen.," he said.
"On a personal level, with a three-and-a-half-month old son my house has been far from quiet and like many people we're spending a lot of time on video calls to family – particularly with my mum and sister who are both NHS nurses.
"All those working in essential roles across our city and country deserve our admiration and we can all continue to do our bit to support them by following government advice to stay at home."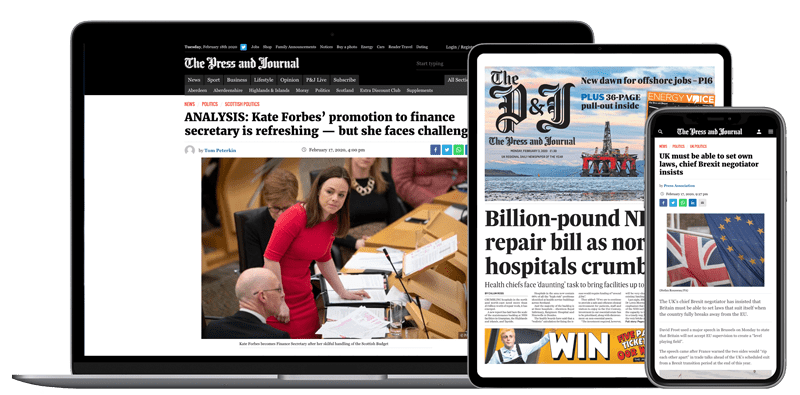 Help support quality local journalism … become a digital subscriber to The Press and Journal
For as little as £5.99 a month you can access all of our content, including Premium articles.
Subscribe