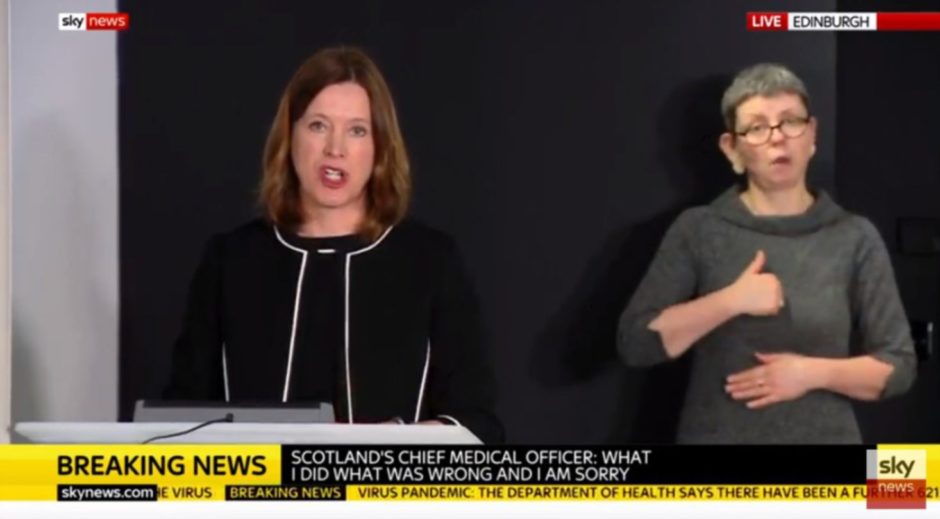 Scotland's chief medical officer Catherine Calderwood has admitted she did not follow the advice she is giving to others after being pictured visiting her second home in Fife.
She was speaking at a briefing after being photographed outside her second property in Earlsferry near Fife on Saturday.
Dr Calderwood reiterated her apology tweeted earlier today — but also confirmed this weekend's visit was not the first. She admitted she paid a similar visit last weekend
She said: "I did not follow the advice I am giving to others. I'm truly sorry for that.
"I've seen a lot of the comments from members of the public on twitter today. People calling me a hypocrite. People telling me about the hardships they have endured while following my guidance."
'She was wrong and she knows that': Nicola Sturgeon says she 'needs' CMO to steer government through crisis
She said  "people have told me I am irresponsible, that I have behaved as if my advice does not apply to me. I want people to know I have seen all of that".
"What I did was wrong. I'm very sorry. It will not happen again."
Dr Calderwood said she knows how important the advice she has issued is and does not "want my mistake to distract from that".
"I don't want to make the jobs of the police or my NHS colleagues any harder. And I apologise to them as well", she added.
"I have a job to do as chief medical officer to provide advice to ministers on the path of this virus and to support the medical profession as they work  night and day to save lives.
This was a mistake, human error and there are no excuses. I should not have done what I did. I'm very sorry about that."
Chief Constable Iain Livingstone revealed local officers have visited Dr Calderwood and spoken to her about her actions, reiterated crucial advice and "issued a warning about her future conduct, all of which she accepted".
"The legal instructions on not leaving your home without a reasonable excuse apply to everyone," he said.
Dr Calderwood apologised for taking up officers' time on this "when it could have been avoided".
"Having spoken to First Minister this morning, my intention is to focus on my job", she added.
In a statement she tweeted earlier today she admitted she did not have a "legitimate reason" for leaving her home.
She issued an "unreserved" apology but vowed to continue in her role, despite calls from parliamentarians for her to resign.
The MP and MSP for the second home of the Chief Medical Officer said that it is impossible for her to do her job advising the nation on COVID-19 after she flouted her own advice on non-essential travel.
Willie Rennie and Wendy Chamberlain said that tension in the East Neuk was already high with holidaymakers and second home owners flocking to the area over the weekend, but said the fact Dr Catherine Calderwood was one of them added "insult to injury".