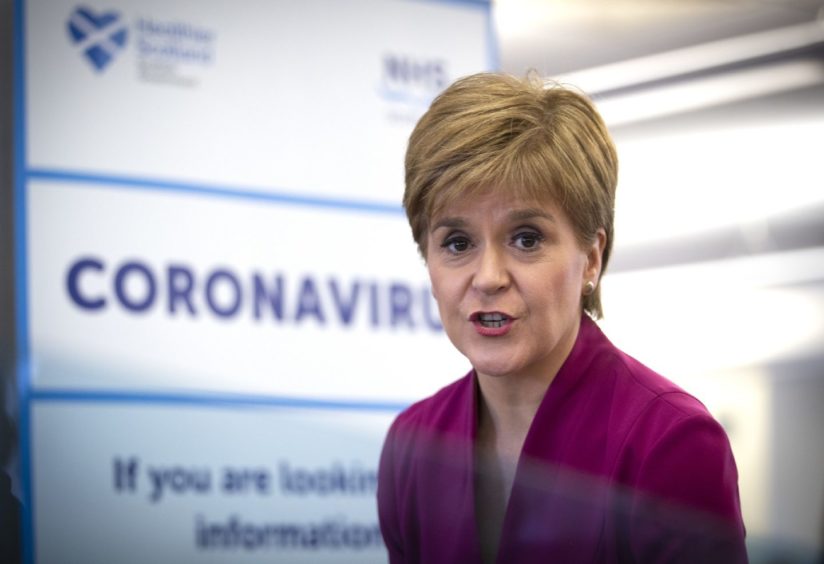 The prospect of a virtual First Minister's Questions (FMQs) with Scotland's political leaders quizzing each other on the internet gave rise to some levity before it was broadcast.
The thought of peering through a webcam for a sneaky glimpse inside their houses was too much for some. "Excited for this even if only to see what Willie Rennie's living room looks like," was how one seasoned observer put it on twitter.
Excited for this even if only to see what Willie Rennie's living room looks like https://t.co/OadYpZz4RT

— Philip Sim (@BBCPhilipSim) April 9, 2020
But the dreadful circumstances that forced Nicola Sturgeon and her opponents into making a small piece of political and online history with the first virtual meeting of Holyrood ensured the subject matter was very serious indeed.
As the first minister pointed out, it was held on the 100th day since the first confirmed coronavirus case was recorded in Wuhan, China. And with great sadness, Ms Sturgeon reported there had been another 81 Scottish deaths in the last 24 hours, taking the total to 447 – the biggest daily rise since Covid-19 came to Scotland.
In the absence of the hurly-burly of Holyrood, there was little sense of respectful discussion rather than confrontation as the first minister took questions from leaders in lockdown.
Against the backdrop of the rising death toll, Ms Sturgeon said there was "no prospect" of the restrictions being lifted for "weeks to come".
And with the end of the nightmare still on the distant horizon, it was left to Mr Leonard to bring home the truly tragic nature of the epidemic.
He paid tribute to front line workers Catherine Sweeney and Janice Graham who lost their lives helping others and made a call for "compassionate" testing for the bereaved.
Ms Sturgeon said she would consider Mr Leonard's plea for tests to prevent people from grieving alone as well as his request for tests to enable those receiving end-of-life treatment to be near their loved ones.
Earlier Mr Carlaw had focused on the logistics of getting Personal Protection Equipment (PPE) to frontline NHS and care workers, calling for the Army to be involved.
Despite widespread concern over PPE shortages, Ms Sturgeon insisted there were enough supplies and maintained an "effective" distribution system was in place and confirmed that guidance had been changed to give care workers the freedom to wear protective masks.
Carlaw calls for help for the most vulnerable
The delivery of food and medicines to the most vulnerable people was also on Mr Carlaw's agenda as he raised concerns that those being "shielded" from the outside world were still waiting for action.
The first minister promised priority supermarket delivery slots should be in place by early next week, adding that some were already receiving free food parcels.
But she admitted that of the 136,000 vulnerable people in Scotland only 21,000 had registered by text message to say they need help with food or medicine. Almost 6,000 food packages had been ordered of which 4,200 had been delivered.
In response to Patrick Harvie of the Greens, Ms Sturgeon emphasised no patient should be pressurised into signing a "Do Not Resuscitate" (DNR) order. Any who did so should contact their health board.
Mr Rennie claimed care homes were under "considerable pressure" to admit new residents from hospital without being sure if they were clear of the virus.
Ms Sturgeon replied that the Care Inspectorate were working with homes to address concerns.
With her final contribution, Ms Sturgeon moved to reassure Mr Rennie that helping people deal with the "mental health legacy" of the pandemic was a priority.
Incidentally, it proved impossible to tell what Mr Rennie's living room looked like, although Mr Leonard's chandelier caused some comment.
Genuinely astonished that discussion of the shade on Richard Leonard's big light isn't trending globally. #FMQs

— Kenny Stewart (@Kenny__Stewart) April 9, 2020
The online discussion of the Labour leader's impressive decoration was perhaps the only thing to light up what was a virtual FMQs for a very real crisis.