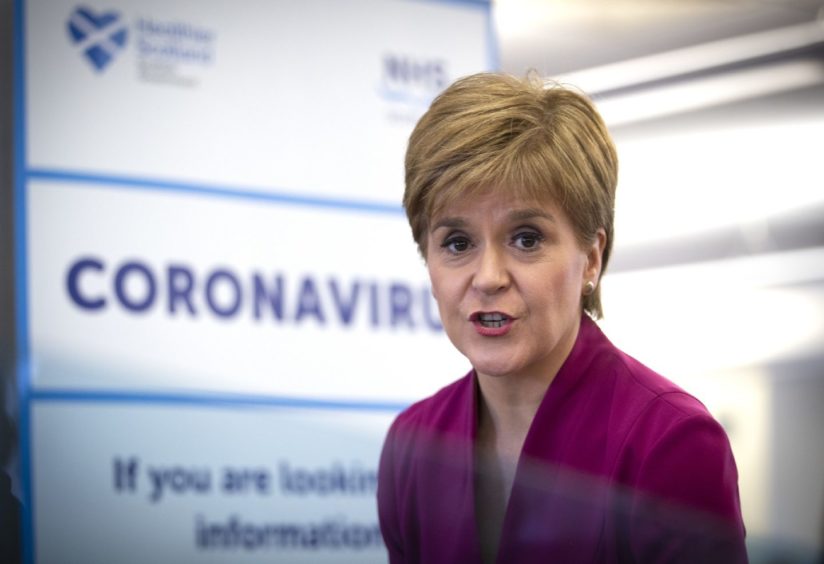 Nicola Sturgeon has been urged to increase financial support to Scottish businesses who are getting less help than those south of the border during the coronavirus crisis.
The Scottish Conservatives renewed their call to close the gap after it was raised at the first minister's daily briefing on the outbreak.
Ms Sturgeon was told of a business of 125 years' standing that was in danger of closing with the loss of 131 jobs.
Under the arrangements put in place to support firms, Scottish businesses in hospitality, leisure and retail have been offered a one-off grant of up to £25,000, even if they have several outlets.
But south of the border, businesses are given the cash for each property they own.
Ms Sturgeon said she was keeping business support "under review", but declined to make a specific commitment to bringing Scotland into line with England and Wales.
They will have been very disappointed to hear Nicola Sturgeon dodge this matter at her daily briefing."

Tory finance spokesman Donald Cameron
Scottish Conservative finance spokesman Donald Cameron said: "The SNP government needs to address this disparity as a matter of urgency. With every day that goes by without that pledge, the future becomes a little more bleak for firms across the country.
"The case has been made very clear, now the Scottish Government needs to mirror the support from the UK Government on this specific matter.
"They will have been very disappointed to hear Nicola Sturgeon dodge this matter at her daily briefing."
Ms Sturgeon said the situation was under review. She said all Treasury money for business was being passed on to business and was being used to help as many firms as possible.
"There are some businesses with a rateable value at a certain level that will get support in Scotland that they wouldn't get elsewhere in the UK," she said.
"We have also been able to give support to other sectors that's not available in the UK – the seafood sector, for example, the bus industry and we have given help with water charges. We are trying to make sure this funding helps as many businesses as possible."
Ms Sturgeon was also asked about claims that the road haulage industry was on the verge of collapse.
The first minister said discussions on how to help several sectors including road hauliers were taking place.
"I'm not able to say right now what that might look like, but we will continue to have those positive discussions," she said.  "I take very seriously, and I know the UK Government does as well, the responsibility in a situation where we are asking people to do unprecedented things, which is then having an unprecedented impact on our economy. That the help that comes from government therefore must be unprecedented as well."