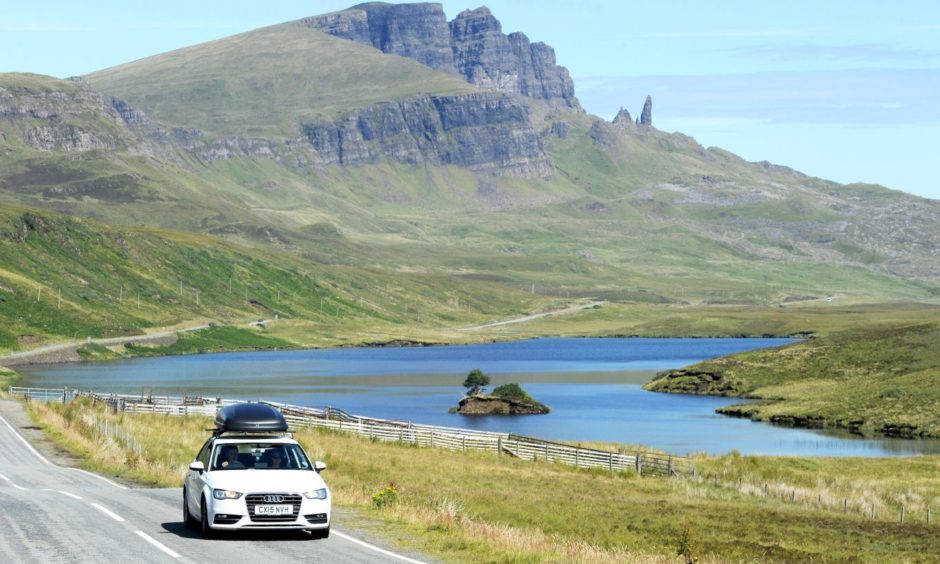 The multibillion-pound tourism industry in Scotland could take "several years" to recover from the coronavirus crisis, it is feared.
The warning is contained in a stark new report by the Scottish Government's chief economist, Gary Gillespie, who predicted GDP could fall by 33% during the pandemic.
Tourists spent almost £5.1 billion in Scotland in 2018, with international visitors representing 23% of overnight visitors, but 44% of expenditure.

The sector includes almost 15,000 registered businesses, employing around 8% of Scotland's workforce, but that proportion rises to as high as 15% of jobs in Argyll and Bute, and 12.8% in the Highland region.
The new report laid bare the "rapid and significant" impact of coronavirus and the lockdown on the industry, with hotel occupancy and room revenues in Scotland about 80% lower at the end of March when compared to the same week  last year.
Sector analysts suggest it may be several years before international tourism volumes return to 2019 levels."
The report said: "International organisations expect Covid-19 to significantly impact international travel and tourism during 2020.
"The OECD estimate declines of 45% to 70% in the international tourism economy in 2020, depending on the crisis' duration and the speed with which tourism rebounds.
"Sector analysts suggest it may be several years before international tourism volumes return to 2019 levels.
"Recovery will be influenced by the timing of relaxation of domestic social distancing and international movement controls, the timing of economic recovery, and by tourists' attitudes to travel.
"The OECD highlight the important role of domestic tourism in supporting recovery, but caution it may be difficult for this to fully compensate for reduced international visitor flows."
The downturn is already casting doubt over the future of some businesses, and fuelling demands for more long-term government support.
A spokesman for SkyeConnect, which brings together tourism business in Skye, said: "International visitors are hugely important to Skye, possibly more so than other areas of the Highlands.
"In 2019 the Moffat Centre visitor survey revealed that 72.7% of visitors to Skye during the year were from overseas with 13.9% coming from England and 12.6% from Scotland, with the balance from Northern Ireland and Wales.
"It is unlikely, even if travel restrictions are lifted partially, that overseas visitors will be rushing to come to Skye this year.
"There may be an increase in domestic visitors but this will in no way replace the fall in overseas visitors and we are already looking at how to make our pitch to them in an attractive and positive manner.
"The tourist economy is worth over £9 million to the self-catering sector on Skye alone and the loss of the overseas element of this emphasises the need for long-term support for the people of Skye."
Moira Henderson is owner of The Rings near Cupar, which is a building offering holiday accommodation for people with access requirements, and she is also the chairwoman of Cupar and North Fife Local Tourism Association.
She said: "I think the more immediate problem for a lot of people is going to be surviving the next few months.
"While I appreciate looking to the long-term position we're going to be in, I'm not sure some of us will survive the short term.
I'm not sure some of us will survive the short term."
"I do think we will probably have more home visitors or 'staycations' because I think people will be slightly wary of travelling abroad. Perhaps people will then appreciate the wonderful country that we do have.
"Whether the spend will be there that's coming from abroad I'm not too sure."
Ms Henderson warned that while tourism remains in a strong position in Fife, businesses urgently need support grants to help them survive the next few months.
"I fully appreciate we need to have a lockdown and I have no doubts at all about that but it's how we survive," she said.
"I think we're in a fairly precarious position but we're all putting a very brave face on it, all understanding why we're in the position we're in.
"There is no point in us discussing months down the line, next year or the next few years because actually many businesses won't survive.
"The money needs to come through and it needs to come through quickly."
Moray Chamber of Commerce chief executive Sarah Medcraf said she believed the figures in the Scottish Government report.
"There will have been a big knock in consumer confidence across all sectors, particularly where travel is concerned," she said.
"Money will also be tighter for some, too, never mind the addition of other countries' border controls.
"I know many businesses will struggle even with the financial support from both governments, many had thousands of pounds of bookings taken away overnight, they are not going to re-book as quickly."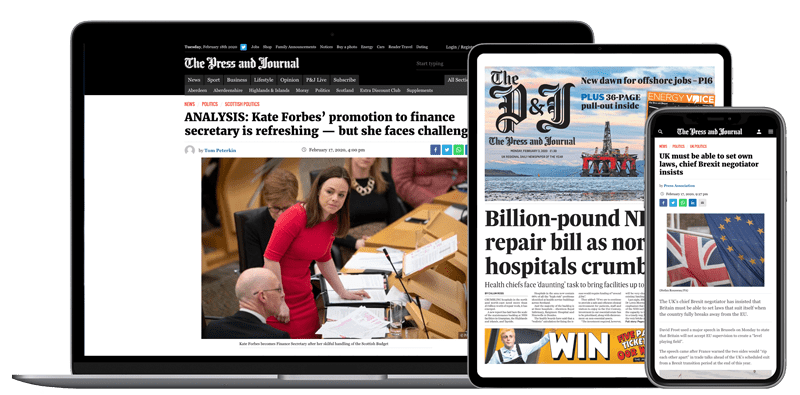 Help support quality local journalism … become a digital subscriber to The Press and Journal
For as little as £5.99 a month you can access all of our content, including Premium articles.
Subscribe