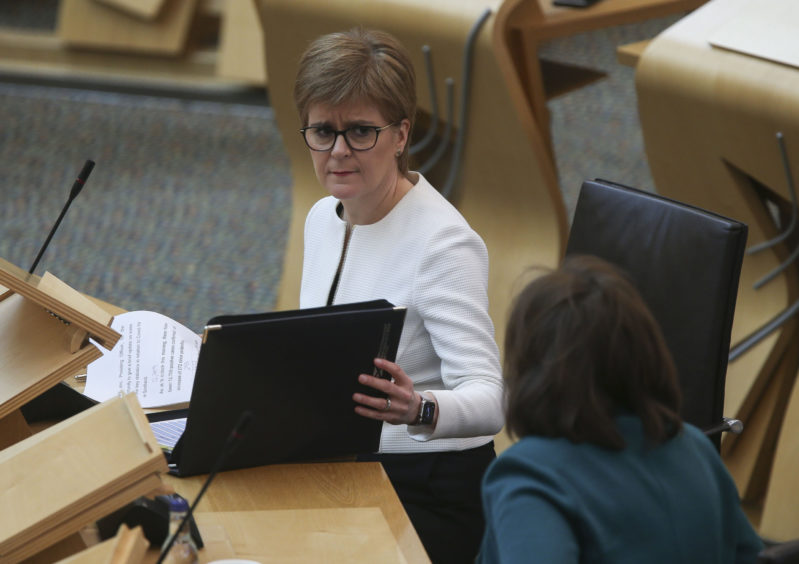 A visibly emotional Nicola Sturgeon said she was "deeply concerned" after it was revealed care homes now account for nearly six in 10 new coronavirus deaths in Scotland.
The first minister appeared to be close to tears as she took questions from MSPs and vowed all efforts were being taken to "do the right thing" for vulnerable and elderly residents.
Statistics published on Wednesday by the National Records of Scotland (NRS) show care homes are now the centre of the Covid-19 pandemic in Scotland, with 59% of deaths in the week up to May 3 being registered in such facilities.
Official records show 43% of deaths in Scotland from the virus have been recorded in a care home setting since the pandemic began, with the proportion rising each week to now overtake hospitals for a second time.
More than half of Scotland's testing capacity has not yet been taken up and Ms Sturgeon was urged at first minister's questions to focus all unused resources on those working and living in care homes.
The SNP leader appeared to choke back her emotions after Labour MSP Neil Findlay raised concerns for residents like his own mother over the discharge of hospital patients into care homes.
Under current guidance, all residents and workers at a centre where there has been a confirmed or suspected outbreak of Covid-19 can be tested, as well as any "linked" homes if there is a joint use of staff.
All new residents should be isolated for at least a week after entering the home.
Ms Sturgeon said: "Every single one of us is deeply concerned and moved by what is happening in our care homes, and that is particularly the case for people who have relatives in care homes.
"But I don't think there is a single one of us who does not find this a deeply and profoundly upsetting situation."
The first minister said she understands how "deeply distressing" the situation has been for relatives, staff and the wider public but said all testing must be "clinically driven".
"While testing is important, we must not – even inadvertently – oversimplify the situation to say that testing is the only thing that matters," she said.
"Basic infection prevention and control is the most important thing in care homes and in dealing with a situation for this infection, or with any infection."
Figures from the NRS also reveal a 38.9% rise in non-coronavirus-related deaths in care homes compared to the last five years.
Scottish Labour leader Richard Leonard said the figures were proof the Scottish Government had failed to protect the most vulnerable throughout the pandemic.
He said: "Scotland's crisis-hit care homes have been failed again and again during this pandemic, with both vulnerable residents and staff bearing the brunt of the virus.
"The Scottish Government moved far too slowly to act, and even now concerns persist over PPE availability and the level of testing in care homes.
"It is incumbent on the government to ensure that all those in care homes who require medical attention, get medical attention.
"We cannot tolerate a situation in which people are dying through want of medical attention, as today's damning statistics seem to suggest."
Mr Leonard called on the first minister to back to a pay rise of at least £2 per hour for key workers, as well as a death-in-service payment for all care staff.
Ms Sturgeon said ministers are able to commit to a death-in-service payment for NHS workers who die with coronavirus but private care workers are not directly employed by the Scottish Government.
Meanwhile, Scottish Conservative leader Jackson Carlaw called for more mobile testing to be deployed to staff and patients in care homes, and for the Scottish Government to consider making greater use of the Army if necessary.
"While thankfully the increases in fatalities look to be slowing, it is clear that care homes have not been given the support and protection they have needed," he said.
"The Scottish Government must ensure that care home residents and staff are no longer overlooked or feel regarded as second-class citizens.
"The SNP must now roll out more mobile testing to care homes without delay, for both staff and patients, and be prepared to utilise the considerable resources of the Army if that is what it takes to deliver urgent reassurance and support."
Mr Carlaw also warned of the potential for "confusion" if messages from the Scottish and UK governments on lockdown differ, adding it is vital for there to be a clear understanding of what action is being taken and why.
Ms Sturgeon said she wants "as much consistency of messaging as possible" but stressed any lifting of restrictions must be done at pace with whichever part of the UK is further behind on the infection curve.
The first minister's official spokesman later revealed she had made that "very point" on a call with Michael Gove and representatives from Wales and Northern Ireland.
"If there is to be a four nations approach – if that's to be in any way meaningful – it has to take account of all four nations," Ms Sturgeon's spokesman said.
"That means if the preference is to go in lockstep and do things in a co-ordinated fashion, whereby all four nations of the UK move in unison coming out of this, that means all four will have to be ready.
"If you have any constituent parts of the UK that are moving in a direction before other parts are ready that undermines the whole ethos of a four nation approach."