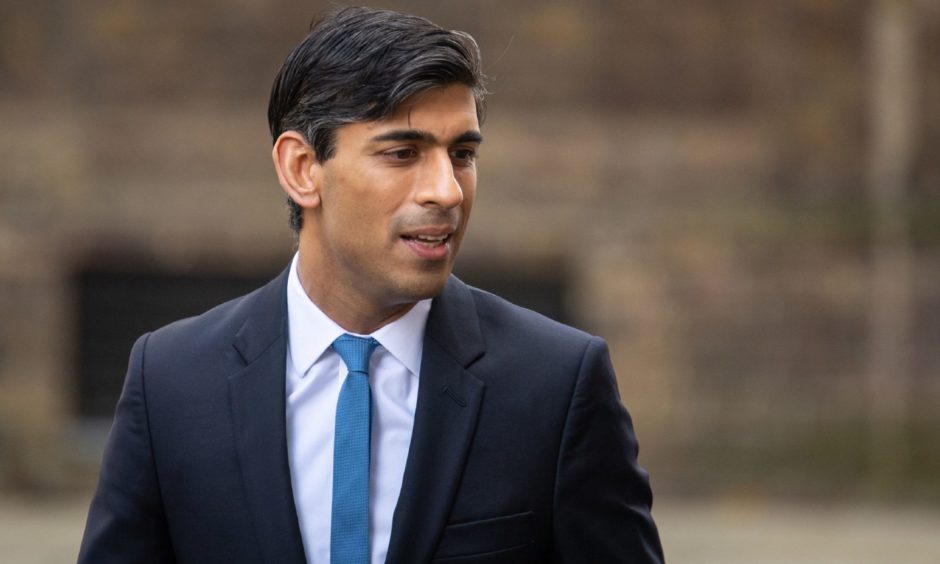 A key scheme helping to pay the wages of more than a quarter of UK workers during the coronavirus crisis will be extended until October.
Chancellor Rishi Sunak's announcement ended fears that support for the "furlough" programme would be cut off in a "cliff-edge" way that would trigger mass redundancies.
But while the four-month extension was widely welcomed by opposition politicians and business leaders, critics warned that the "devil will be in the detail", with companies now being expected to pay a larger share of staff salaries from August.
Mr Sunak said his plans would give "flexibility to businesses while protecting the livelihoods of the British people and our future economic prospects".
However, the chancellor dodged questions on whether he would deliver any specific support measures to help the North Sea oil and gas sector, or whether Scotland could continue furloughing workers beyond October if it imposed a longer lockdown.
SNP Economy Secretary Fiona Hyslop welcomed the extension, but said she would be seeking "more clarity" from UK ministers on a range of issues in the coming days.
Known as the coronavirus job retention scheme, the unprecedented government intervention was aimed at avoiding millions of job losses and business closures during the crisis caused by the devastating coronavirus pandemic.
Under the system, workers who are "furloughed" remain employed even though they are not working, with the UK Government paying 80% of their salary up to £2,500 each month.
It came into effect on April 20 but claims could be backdated to March 1, and it had already been extended from the end of May to the end of June.
New figures show that the scheme has now helped support about 7.5 million workers, close to 30% of the UK workforce, and one million businesses.
BREAKING: The govt has listened to unions and extended the job retention scheme till autumn.

Govt will still cover 80% of wages and has changed the rules to support short-time working, which is key to a gradual, safe return to work.

A big relief to millions of working families.

— TradesUnionCongress (@The_TUC) May 12, 2020
29% of the country's employees have now been furloughed and whose wages are now being paid for by the government.

No one could accuse the Chancellor of sticking rigidly to Conservative economic orthodoxy. It's unprecedented levels of intervention in the labour market.

— Lewis Goodall (@lewis_goodall) May 12, 2020
Amid pressure to scale back the programme from some government figures who believed UK firms were becoming "addicted" to the support, Mr Sunak had been expected to cut the lifeline from 80% to 60% of wages, and end the scheme in September.
Instead, he revealed on Tuesday that it would be extended until the end of October, although the initiative would only continue in its current form until the end of July.
Changes, due to be confirmed this month, would be introduced in July to allow "more flexibility" from August, which is expected to involve businesses paying a greater share of wages to staff.
It could enable a worker to work part of the week and have the government pay their wages for the rest of the week, for example.
Rishi Sunak deserves credit for extending furlough scheme to Oct. and keeping 80% subsidy. He has faced down those in govt. who insultingly briefed that workers were "addicted". 1/2

— George Eaton (@georgeeaton) May 12, 2020
More on furlough change

ALL businesses will have to pay some of the 80% guaranteed salary from Aug, even if they remain completely shut like pubs and gyms

Gvt justifies this by saying firms have had help elsewhere, like biz rates, & gvt will shoulder majority of furlough salary

— Sam Coates Sky (@SamCoatesSky) May 12, 2020
Anneliese Dodds MP, Labour's shadow chancellor, said: "The furlough scheme is a lifeline for millions. The government was right not to pull it away.
"It is welcome that the chancellor has heeded the call by Labour, trade unions, and businesses for more flexibility in the scheme, to support employees to go back to work part-time."
She added: "The government must clarify today when employers will be required to start making contributions, and how much they'll be asked to pay.
"If every business is suddenly required to make a substantial contribution from August 1 onwards, there is a very real risk that we will see mass redundancies."
Mel Stride MP, chairwoman of the Treasury committee at the Commons, said: "The extension of the furlough scheme, allowing furloughed employees to work part time, and with employers asked to contribute are all welcome steps from the chancellor.
"The devil, though, will be in the detail, which will be set out later this month when the Treasury committee looks forward to carefully scrutinising these changes.
Liz Cameron, chief executive of the Scottish Chambers of Commerce, described the chancellor's announcement as "great news".
"Businesses and employees across Scotland will be extremely relieved by the chancellor's decision to extend the furlough scheme to October rather than face a cliff edge with its originally planned withdrawal at the end of June," she said.
"This direct employee financial support has been a lifeline which has enabled many jobs to be retained rather than businesses having to face making massive redundancies."
Andrew McRae, the Federation of Small Businesses Scotland policy chairman, said: "Today's shrewd decisions from the chancellor will give thousands of large and small Scottish employers the right sort of flexibility.
"The move to allow operators to partially furlough their staff while they consider how to get back up to speed should mean more businesses have the right tools at their disposal.
"In the coming weeks, smaller firms will want to understand the next steps for the scheme.
"Policymakers will need to carefully consider how to co-ordinate financial support for businesses with advice to firms about how and when to reopen safely."
Roz Foyer, general secretary of the STUC, said: "The extension of this scheme is absolutely vital but its detail will be all-important.
"Being able to use the scheme to support phased return to work through reduced hours is also an important step."
She added: "However, we have seen some major companies announcing redundancies over recent days.
"There must be nothing in the amended scheme that exacerbates this problem, which is causing misery for thousands of workers."