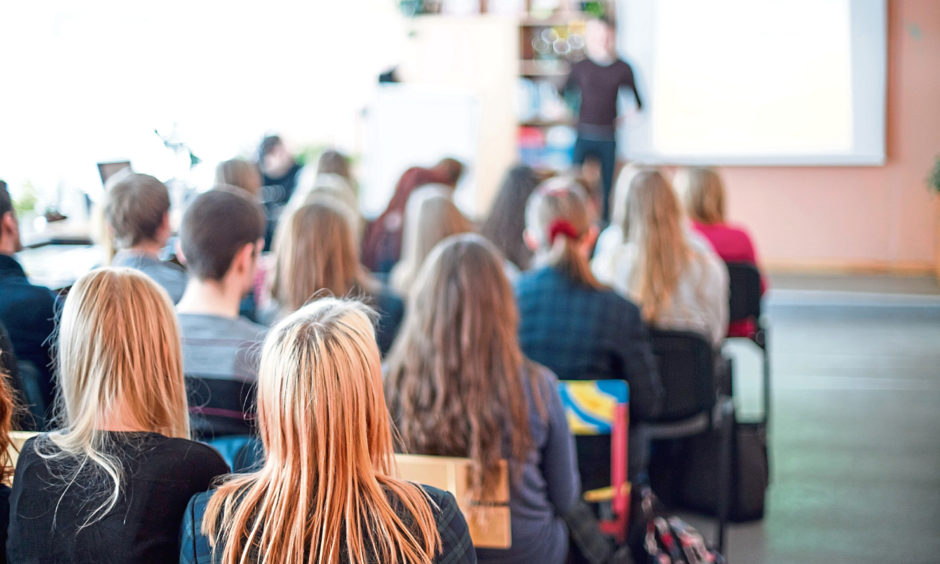 Calls have been made for "urgent government action" to protect teachers amid the steep rise in coronavirus cases among children in Scotland.
The Teachers' Union said last night it was "deeply concerned" at new figures recorded in September in the Covid-19 statistical report.
They show a sharp increase in the percentage of secondary age children testing positive for coronavirus.
This comes just weeks after 240 staff absences were being logged at Aberdeenshire secondary schools each week due to coronavirus.
Data on those calling in sick for pandemic related reasons included people who were self-isolating, shielding, quarantining after travel or caring for someone else.
The total amounts to around 5% of its education workforce when calculated by averaging weekly absences for the 13 weeks to September 15.
General secretary of the Teachers' Union, Dr Patrick Roach, said Deputy First Minister John Swinney urgently needs to review the situation and identify what measures can be taken to mitigate the risks posed by the increase.
He said the rise could "potentially increase the risk to teachers and other education staff".
He added: "At a time of significantly increased risk of virus transmission within the wider population, the data on the number of cases and testing among children strongly indicates a deeply concerning trend within the secondary school age population.
"The sharp upward trend in the data is a major concern for our members and secondary schools increasingly appear to be high-risk environments for coronavirus.
"This situation urgently requires attention by the government and further mitigating measures need to be identified and implemented."
Conservative MSP for the north-east, Tom Mason, said the recent increase was worrying as he urged experts to "seriously look" at additional measures to tackle transmission rates.
"The increase in numbers both locally and nationally is very concerning. At this stage, we need to take additional action but it is difficult to say what that action is," he said.
"Teachers are very worried – we're all very worried.
"We don't want to have a situation where we're back in full lockdown. The experts know best but we can't let it get out of control.
"They must seriously look at any additional constraints that need to be put on."
Aberdeenshire East SNP, MSP Gillian Martin, said if any additional measures were needed, it would be informed by clinicians advising the government.
She added: "At the heart of the government's response are mitigation measures and testing programmes that are designed to ensure that our schools stay open.
"I am confident that these measures are continuously reviewed along with the infection data."
Last night the Scottish Government did not rule out a blended learning contingency plan to tackle infection rates if there was an increase and action was required.
A spokesman said the safety and wellbeing of staff and pupils was "paramount" and the guidance published ahead of schools re-opening "set out clearly what health mitigations should be in place".
But added the guidance was being "kept under close review" as scientific evidence emerged.
A spokeswoman said: "Where there is a need to take action, either by updating our guidance or ensuring it is being given practical effect, we will work with teachers, parents, trades unions, local authorities and young people's representatives to do so."