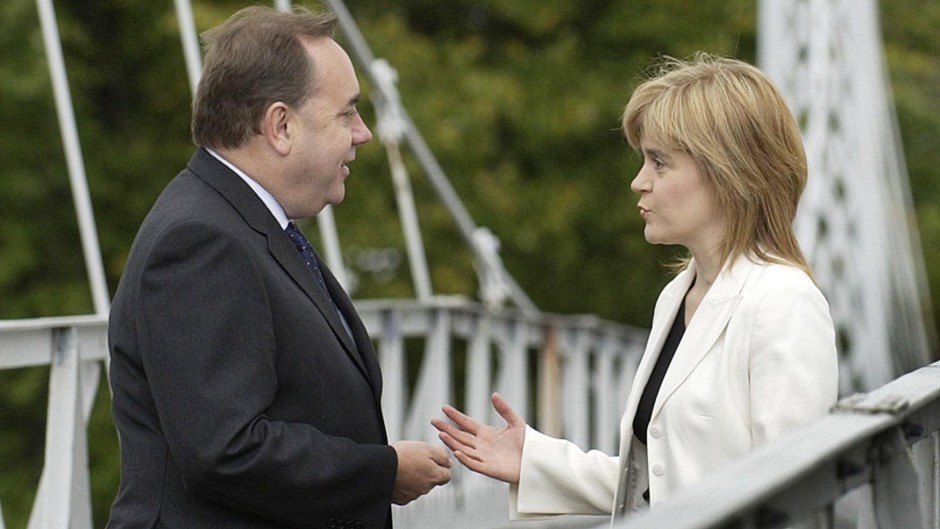 Nicola Sturgeon is about to achieve her long-held ambition of becoming first minister.
In recent years she has made no secret of her desire to follow in the footsteps of her mentor Alex Salmond.
When John Swinney announced his intention to step down as SNP leader in 2004, Ms Sturgeon announced her intention to contest the post.
At the time, Mr Salmond, who resigned as party leader in 2000, was expected to stay out of the fight.
However he unexpectedly threw his hat into the ring.
Ms Sturgeon withdrew from the leadership contest and instead ended up on a joint Salmond-Sturgeon ticket as deputy leader.
Thus began a long working relationship with Mr Salmond and her rise through the ranks of the Scottish Government, serving as health secretary and then deputy first minister, while also holding the investment, infrastructure and cities portfolio.
As the new deputy leader, Ms Sturgeon honed her political skills.
Mr Salmond was not an MSP at the time, and it fell on her to take on Labour first minister Jack McConnell every week in the Scottish Parliament.
The darling of SNP conferences, Ms Sturgeon has proved herself a wily political operator, never more so than during the referendum campaign.
Born in the North Ayrshire town of Irvine, she joined the SNP aged 16 before studying law at Glasgow University and then working as a solicitor.
After two unsuccessful attempts to win a seat at Westminster, she became MSP for the Glasgow region in the first Holyrood elections and later Glasgow Govan then the Glasgow Southside seat in 2007 and 2011 respectively.
As SNP leader the family grip on the party will be hard to undo.
Ms Sturgeon is married to SNP chief executive Peter Murrell, who was formerly Mr Salmond's office manager in Peterhead.