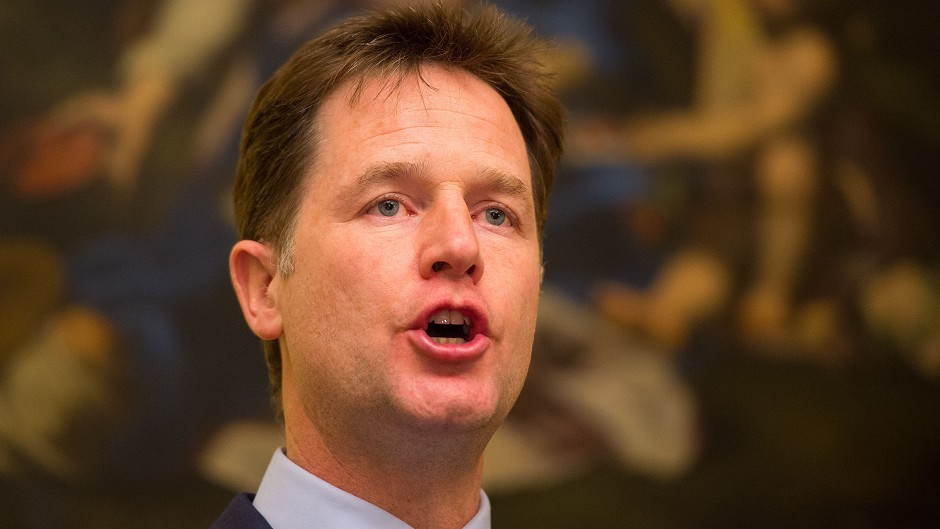 Nick Clegg has dismissed polls showing that the Liberal Democrats face electoral wipe-out in the north and north-east as "patent nonsense".
The deputy prime minister launched an attack on what he branded "wild predictions" about his party's prospects at the Westminster election in May.
But Mr Clegg blundered as he appeared to temporarily forget the name of the candidate he hopes can hold-off Alex Salmond's challenge in Gordon, referring to Christine Jardine as "Justine".
A UK poll this week put Lib Dem support at just 8%, while Scottish surveys have suggested the party could lose all of its seats north of the border, including high-profile figures such as Danny Alexander and Charles Kennedy.
Asked by the Press and Journal about the party's prospects in its traditional stronghold in the Highlands and Aberdeenshire, Mr Clegg said: "It's not going to happen. These predictions of Lib Dem wipe-out – it's nonsense, it's just patent nonsense.
Thumping the table, he added: "Unlike this great cottage industry of pundits, I actually spend a lot of time in these seats and what will matter is how people locally vote for their own local MPs.
"None of that is picked up by this kind of fake science, where you take a snapshot view across the whole country.
"A snapshot poll doesn't say a thing to me about what people think about Bob Russell in Colchester, or Danny Alexander in Inverness, or me in South West Sheffield. None of that is picked up.
"I know we're going to do much better than the critics say, I just absolutely know it."
Mr Clegg turned his fire on former first minister Mr Salmond, who is standing against Ms Jardine in the Gordon seat currently held by retiring deputy Lib Dem leader Sir Malcolm Bruce.
"I mean the way Alex Salmond's candidature in Gordon is portrayed is as if it's a coronation," he said.
"The little matter of how people might actually vote or feel in Gordon is irrelevant because Alex has decreed regally that he must come down to Westminster to strut his stuff on the Westminster stage.
"I was speaking to Malcolm, he was right here this morning, and I was speaking to Justine…"
Corrected by the Press and Journal, he continued: "Christine, sorry, Jardine, regularly.
"And they're telling me that actually what they are getting on the doorstep is people saying 'hang on a minute, the SNP have been in charge for years and the state of the roads are shocking, the whole health board in Gordon resigned en masse a few weeks ago because of the mismanagement of the health system'."
Asked if be believed Ms Jardine would defeat Mr Salmond, he said: "I think she can, you bet, I think she can."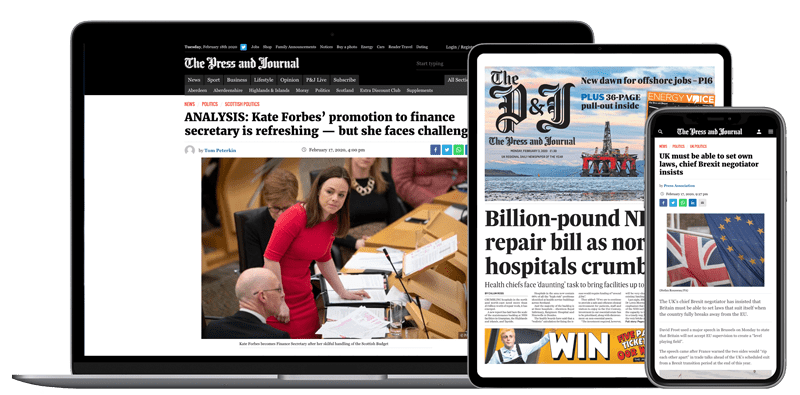 Help support quality local journalism … become a digital subscriber to The Press and Journal
For as little as £5.99 a month you can access all of our content, including Premium articles.
Subscribe