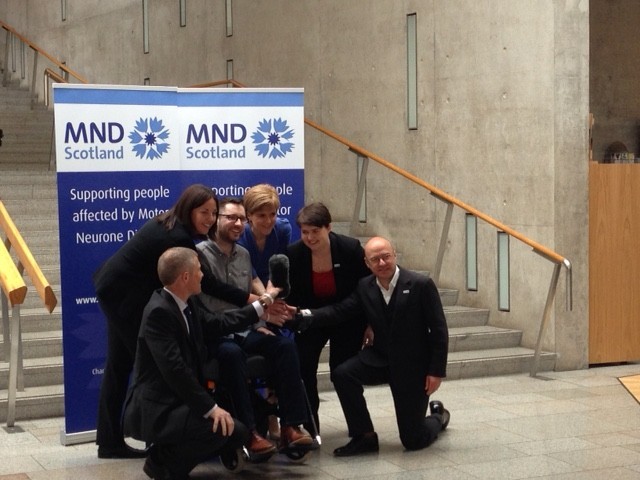 Scotland's political leaders have teamed up to try and improve access to communications equipment for Motor Neurone disease patients on the NHS.
First Minister Nicola Sturgeon, Scottish Labour MSP Kezia Dugdale, Green Party co-convener Patrick Harvie, Scottish Liberal Democrat leader Willie Rennie and Scottish Conservative leader Ruth Davidson made the commitment at Holyrood today.
They met up with campaigner Gordon Aikman, who used to work for north-east Labour MSP Richard Baker, to vow to speak with one voice to boost provision of similar equipment used by renowned physicist Stephen Hawking.
A total of 80-95% MND patients experience voice loss before they die, however there is currently no guarantee patients will get the equipment they need to communicate.
The MSPs examined so-called "eye-gaze" technology – which allows patients who have lost their voice to speak again – as part of MND Awareness Week.
The system has an inbuilt camera which tracks where the eyes are looking, enabling a person to move the mouse pointer around.
They can 'click' by blinking, dwelling – staring at the screen for a certain length of time – or using a switch.
A voice synthesiser can then be used to speak out the words written.
Charity MND Scotland is campaigning for the law to be changed to ensure all patients are provided with the equipment they need on the NHS.
Mr Aikman was diagnosed with the condition last year at the age of 29 and has raised nearly £300,000 to improve patient support and to fund research to find a cure.
"Imagine losing your voice – forever," said the wheelchair-bound campaigner who has been awarded the British Empire Medal and a honorary degree from Edinburgh University in recognition of his work.
"It is so terrifying a prospect that it does not bear thinking about.
"The chances are the only thing protecting me from the frightening reality of losing my voice will be a machine, but too many people don't get the equipment they need.
"It is encouraging to see our politicians uniting to tackle this important issue.
"It is time to change the law so that no one dies without a voice."
Ms Sturgeon said: "Losing your voice, your ability to tell your friends and family how much you care for them, is such a cruel part of MND.
"Communication equipment like eye-gaze is a lifeline for people going through this disease.
"The Scottish Parliament can and must speak with one voice when it comes to improving access to communication aids."
Ms Dugdale, who hopes to become the next leader of Scottish Labour and is a personal friend of Mr Aikman, said: "To lose your voice through MND is a tragedy, to die without a voice because you can't get access to the services you need is an injustice.
"We all need to come together to fix this problem."
Ms Davidson said politicians always encouraged people to use their voice to help them make better decisions.
"In this instance the decisions we make could give people with MND their voice back," she added.
Mr Rennie said the ability to communicate with loved ones was fundamental.
"This technology has the potential to make an enormous difference to people suffering with MND," he added.
Mr Harvie added: "To see new technology which can help people keep communicating with their friends and family is wonderful, and we should make sure that it can be accessed by everyone who needs it."
Craig Stockton, chief executive of MND Scotland, said many disabled people who have lost the power of speech depended on communications equipment, ranging from eye-gaze technology, iPads to text-to speech synthesisers.
"We have found that many people with MND in Scotland have to buy their own equipment or rely on charity services, such as our own communications equipment loan service," he added.
"Since 2012, meeting communications needs in England is the clear responsibility of the NHS.
"It's time Scotland did this too.
"We need a similar statutory duty on the NHS to fund communication equipment in Scotland."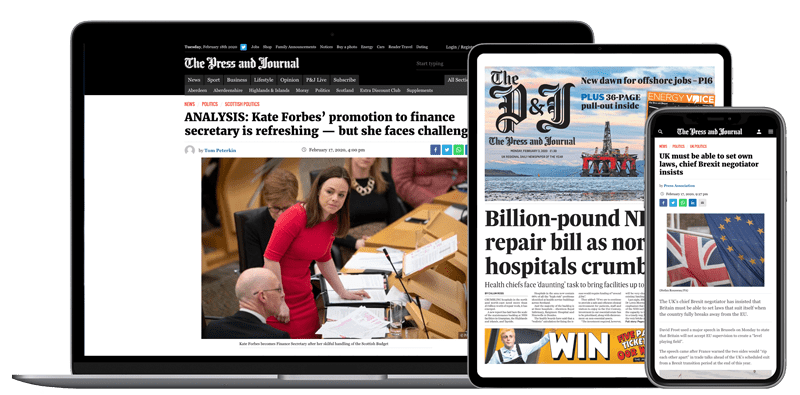 Help support quality local journalism … become a digital subscriber to The Press and Journal
For as little as £5.99 a month you can access all of our content, including Premium articles.
Subscribe