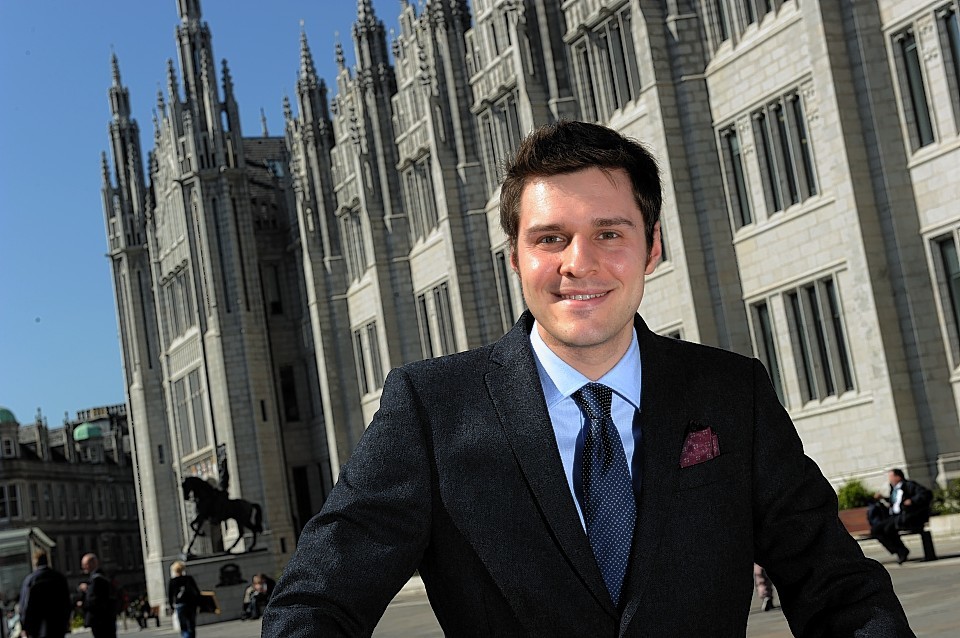 Aberdeen councillor Ross Thomson has been selected by the Conservatives to stand in next year's Holyrood election.
The Hazlehead/Ashley/Queen's Cross ward representative will contest the Aberdeen South and North Kincardine constituency which is currently held by SNP MSP Maureen Watt.
Mr Thomson, who became a councillor in 2012, faces an uphill battle to overturn the public health minister's 6,323 vote majority, especially if the tidal wave of support for the nationalists witnessed at the recent general election continues next May.
Speaking after being selected by local party members on Thursday night, Mr Thomson, 27, said: "As a born and bred Aberdonian, I know our communities well.
"I understand the real challenges which face residents day in day out as I experience them too.
"I have a strong and proven track record of delivering for local people with a reputation for getting things done, going the extra mile for my constituents and making the communities I represent an even better place to live and work.
"If elected to Holyrood I will use that same drive, enthusiasm and determination to deliver change for the people of Aberdeen South and North Kincardine."
The Conservatives secured a 20.7% share of the vote in the Westminster Aberdeen South seat in 2010, increasing it to 22.8% at the general election in May.
Mr Thomson, who was the party's candidate in the recent contest and lost out to the SNP's Callum McCaig, claimed it was a "tremendous springboard" for potential success at Holyrood.
"It shows that we are the most credible challengers to the SNP here," he said.
"The upcoming election will be a very clear choice between the SNP who are forever driven by a desire for independence or the Scottish Conservatives – the only party you can trust to defend the decision to keep Scotland's place firmly within the family of the UK."
Scottish Conservative leader Ruth Davidson said she was delighted that Mr Thomson had been selected as the candidate.
"Ross is a committed councillor who has already delivered in spades for his community in Aberdeen," she added.
"He is also part of the next generation of Scottish Conservatives who will take our party – and the country – forward.
"Ross will make an excellent MSP, and I want him on my team for Holyrood next year."