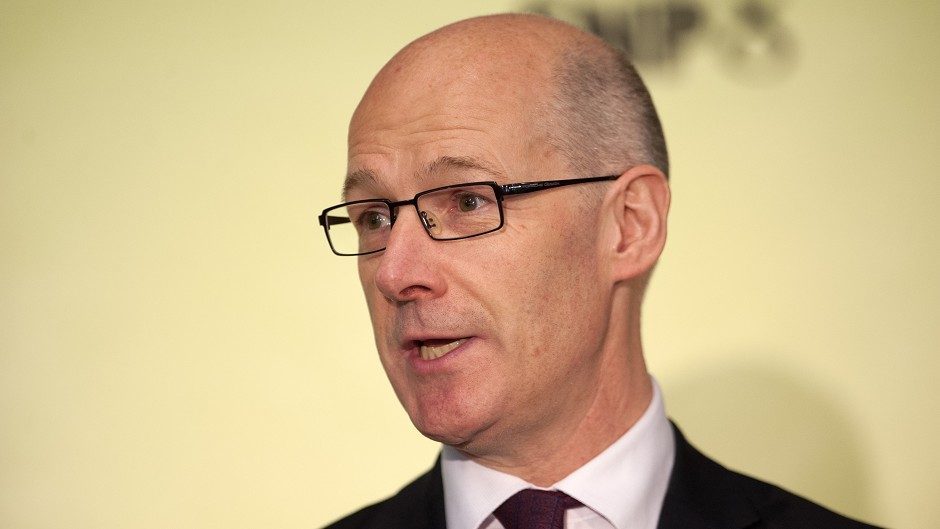 Scottish Labour's 11th hour bid to raise income tax has been shot down by the SNP in a fiery Holyrood debate.
Kezia Dugdale's party had attempted to convince Finance Secretary John Swinney to raise rates by 1p – a move they claimed would generate about £500million and avoid swingeing cuts to council budgets.
But Mr Swinney rejected the move yesterday, claiming it was "damaging to the incomes of low-paid workers".
The Scottish Government has faced criticism over its Budget, which includes a 3.5% cut to funding for local authorities.
Mr Swinney said: "This government will freeze income tax and we will deliver a pay rise to around 50,000 of the lowest paid workers in Scotland.
"The uprating of the living wage, its extension to social care workers and an uplift of £400 for those covered by public sector pay policy earning £22,000 or less will see tens of thousands better off because of this Budget.
"That's the difference between the SNP and Labour – we want to give the lowest paid a pay rise, Labour want to give them a tax rise."
But Scottish Labour's Jackie Baillie, who was leading the debate for her party, said the SNP was putting forward an "austerity Budget".
She told parliament: "Make no mistake, the big losers in John Swinney's Budget are local communities, local schools and the local public services that people value.
"The budget cut to local government is hundreds of millions of pounds.
"The UK Government has cut the Scottish Government Budget but John Swinney has taken that cut and doubled it before passing it on to local government.
"That is austerity on stilts and it is John Swinney's choice to do that.
"It is not too late for the SNP, we could work together to end Tory austerity in Scotland.
"Let me say to John Swinney, do not persist with the cuts. For all his noise, he knows how painful these cuts are and he knows he does not have to do this.
"Let's use the powers we have, because faced with the choice of using our powers to invest in the future of Scotland or continuing Tory austerity – because that is exactly what he is doing – there is no contest. We choose to use our powers."
The Scottish Liberal Democrats have also advocated raising income tax by 1p to protect education services from cuts, but their amendment was not selected at the stage one debate yesterday.
Scottish Labour officials claimed a 1p income tax rise, which would mean the annual bill for someone earning £144,687 increasing by £1,447, was "progressive".
But Mr Swinney said it was lower paid workers, including teachers and nurses, who would bear the brunt of the increase.
The finance secretary said Scottish Labour's planned £100 rebate for those earning between £11,000-£20,000 was evidence that the tax rise was "damaging" to the incomes of the lower paid.
He said: "The immediate conclusion to draw from the rebate proposal is the recognition that this tax rise is damaging to the incomes of low-paid workers.
"Then there are the legislative and practical issues which would need to be overcome – and overcome quickly – to make that concept a reality from April this year."
Mr Swinney's motion agreeing to the Budget in principle was passed and it will now be considered at committee.