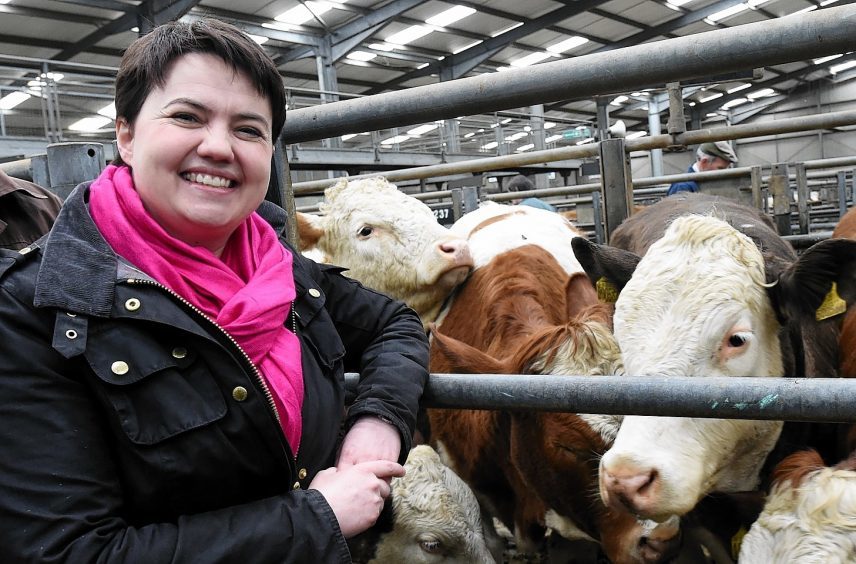 The leader of the Scottish Conservatives has warned that families in the north-east face a "double whammy" of tax hikes ahead of the election on May 5.
In an interview with the Press and Journal, Ruth Davidson claimed middle-income families are "quite rightly scared" about the SNP and Labour's tax plans.
Ms Davidson, whose party are targeting a "big improvement" in the north-east, said the Scottish Parliament risked being dragged "ever further into tax and spend" without the Conservatives to "pull it back to the centre".
Polls have suggested the Tories are locked in a battle for second place with Kezia Dugdale's Scottish Labour, who have made questions over how to use major new tax and welfare powers the focal point of their campaign.
Ms Dugdale has argued for a 1p increase in income tax, as well as the introduction of a new 50p top-rate of tax, which would raise around £1.1billion for the Scottish Government's coffers.
She has also proposed scrapping the council tax and revaluing homes in order to the make the local government levy "progressive".
But Ms Davidson, who visited Aberdeenshire last week, warned that any such move could adversely hit the north-east.
She told the Press and Journal: "The issue in Aberdeen City and some of the commuter belt of the shire is the double whammy.
"It's not just the income tax rises that are going to hit people – but it will. But is also things like the council tax rise.
"The Labour Party wants to revalue every single home in Scotland and there are lot of people who are rightly quite scared about what that means for them. And they want to rack up council tax charges – an ongoing monthly cost.
"A £300,000 home where I grew up in Fife would be a big mansion, but actually up here (Inverurie) that's a three-bedroom semi, a three-bedroom bungalow.
"That's not the super-rich that is owning a £300,000 home, but you're still getting hammered."
The SNP have also said they will increase council tax rates for those in higher value homes.
Nicola Sturgeon's party have rowed back on the introduction of a 50p top-rate of tax – claiming it could lead to increased tax avoidance – but have said they will not introduce George Osborne's raising of the 40p tax threshold to £45,000.
Ms Davidson added: "There's a real whammy coming if you've got not just the SNP getting in but a main opposition party like Labour who are trying to drag them ever further into tax and spend.
"What we want to do is put a break on that and be the strong opposition our country needs."
The Conservative's only retained one Scottish seat at the General Election last year – in the Borders – but Ms Davidson is up beat about her party's chances on May 5.
She said: "We're looking to put on a big improvement in the north-east.
"We know from last year that if we'd run the general election result through the machine we would have doubled the number of MSPs here (in the north-east) for us.
"That's the challenge."