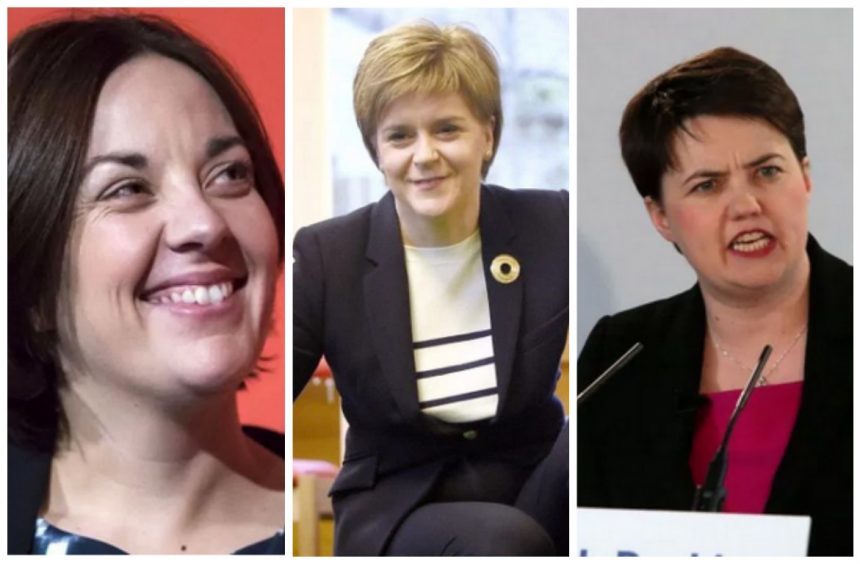 A poll has shown Scottish Labour in second place among voters in the Holyrood election, with the SNP maintaining a clear lead.
The BMG Research survey carried out for The Herald showed Nicola Sturgeon's party on 43% in the constituency vote, ahead of Labour on 17%, the Scottish Conservatives on 13% and the Liberal Democrats with 5%.
In the second regional list vote, the SNP was on 37%, Labour on 16%, the Conservatives on 13%, the Greens 6%, Lib Dems 5% and Ukip 3%.
However, nearly one in five voters said they were still undecided ahead of the May 5 election.
It comes after a Panelbase poll for the Sunday Times put the Scottish Conservatives and Labour neck and neck in the race for second.
The survey of 1,021 people suggested Ruth Davidson's party could overtake Kezia Dugdale's.
Support for Labour in the constituency vote was at 19%, slightly ahead of the Tories on 18%. In the regional list vote, the Conservatives edge ahead of Labour, on 19% and 18% respectively.
Backing for the SNP was at 51% and 47%.
In the BMG Research poll of 1,013 Scots, those surveyed were also asked about Scottish Labour's proposal for a 1p rise in income tax to be spent on protecting education and other services.
Support for the policy was at 51% compared with 21% opposed, but that backing dropped eight percentage points when voters were told it was a Labour proposal. The biggest falls were among SNP and Conservative backers, with a a rise among Labour supporters.
The poll also found 55% of Scots want to stay in the EU compared with 35% who want to leave.
Asked whether a second referendum on independence should be triggered if Scotland was taken out of the EU against the will of Scottish voters, 43% were in favour and 45% against.
A Scottish Labour spokesman told The Herald: "This poll confirms strong support for Kezia Dugdale's plan for fairer taxes, including a 50p top rate of tax for the richest 1%, to stop the cuts and invest in education.
"Faced with the choice between using the powers of the Scottish Parliament to invest in our economy or carrying on with the SNP's cuts, Labour will use the powers."
A spokesman for the SNP said: "This is another very encouraging poll for the SNP, and we will step up our campaign right across Scotland this week as we launch our manifesto."