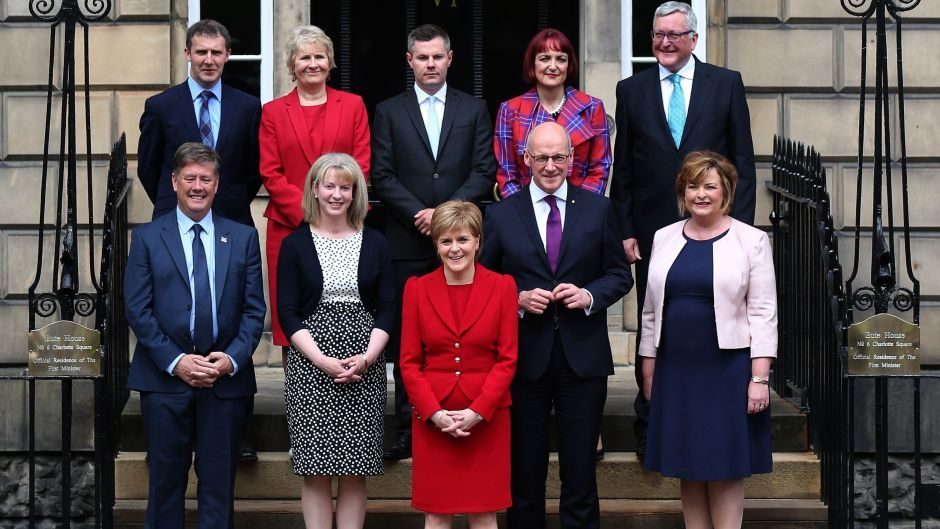 Nicola Sturgeon has announced she will be appointing a panel of international education experts to help improve the troubled sector.
The commitment came as the SNP leader held her first cabinet meeting since the election.
Opposition politicians have criticised the Scottish Government over its handling of education, amid accusations of a widening attainment gap and cuts to college places.
But Ms Sturgeon said her announcement showed her willingness to "learn lessons" to ensure "Scotland is a global leader in education".
The new panel of international experts will advise the cabinet on improvements to education policy.
Justice Secretary Michael Matheson also updated ministers on the fallout from the violence at Saturday's cup final at Hampden – and has urged the Scottish Football Association (SFA) to publish its investigation into the incident before the start of next season.
The first minister said: "Education is my focus and this announcement demonstrates our determination to learn lessons from around the world to ensure that Scotland is a global leader in education.
"Giving every child in Scotland an excellent education and improving prospects for all out young people is at the heart of the Scottish Government's priorities for this term.
"This independent body of international experts will challenge and scrutinise our plans as we look to return Scotland to the top of the class."
Ms Sturgeon has faced criticism from some after she initially failed to condemn the pitch invasion at Saturday's Scottish Cup Final.
She later issued a statement denouncing the violence and was updated on the situation by Mr Matheson.
Speaking after the meeting at Bute House, a spokesman for the first minister said: "Michael Matheson updated cabinet on some of the talks that have been had since Saturday with the police and SFA in the wake of the pitch invasion at Hampden following the cup final.
"The investigation is being taken forward primarily by Police Scotland but also by the SFA and Hampden authorities themselves.
"I think the SFA have announced their own review and Michael Matheson has encouraged the SFA to try and ensure that review is complete before the start of the new season to ensure any and all lessons learned are properly applied and in place."