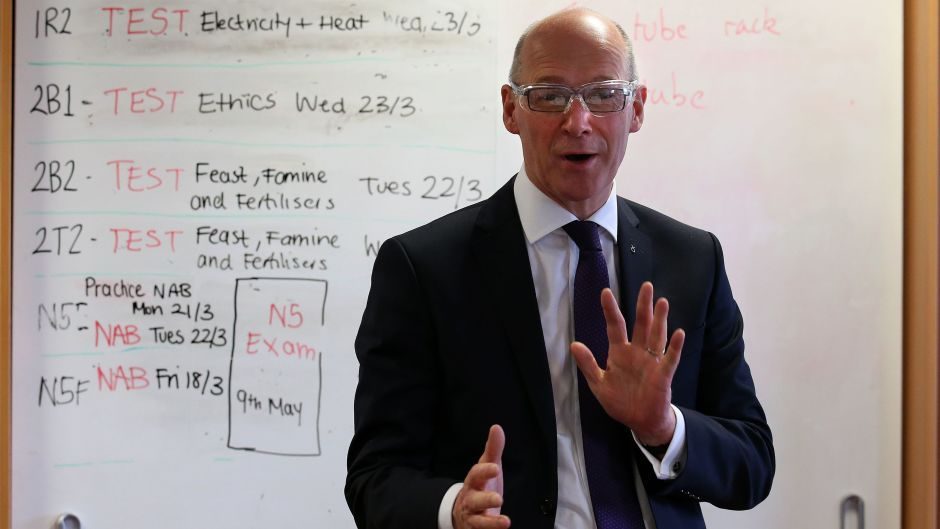 John Swinney has accepted that Scottish ministers were not clear enough in stressing that literacy and numeracy must remain at the heart of Scotland's revamped school curriculum.
The Education Secretary's admission came as official statistics revealed just two-thirds of P4 and P7 pupils perform well or very well when it comes to numeracy.
That number plummeted to only 40% by S2. And more than a third of youngsters at the beginning of secondary school, 36%, are not working at the expected level for their age group.
The Scottish Survey of Literacy and Numeracy confirmed that the number of Scottish P4 pupils performing well or very well had fallen for the third time in a row.
It decreased between 2013 and 2015, having done the same between 2011 and 2013.
Performance at P7 stabilised after an initial fall, while there was another slight dip in S2 levels, although statisticians concluded the difference was so small it should be regarded as a steady performance.
Mr Swinney, who is also the Deputy First Minister, conceded there "hasn't been sufficient, clear guidance given about the centrality of literacy, numeracy and wellbeing" in implementing Curriculum for Excellence after it came into force in 2010/11.
He said: "I think, as a consequence, the teaching profession has been asked to cover a really broad range of different subjects, specialities, key skills and they have been trying to do that.
"But they haven't had sufficient clarity that we need our young people to have the strongest foundation in literacy and numeracy because these will be the two skills that will give them the absolute foundation for life.
"That, to me, is what's emerging as the challenge. How we go about that is by giving much clearer guidance and clarity to the teaching profession to allow them to operate on that basis."
Asked if the lack of clarity was the fault of the curriculum or the government, the Perthshire North MSP delivered a verdict which did not reflect well on his predecessors, Angela Constance, Mike Russell and Fiona Hyslop.
He said: "What we've got to make sure is we have got that clarity, that's what my job is about, to make sure we have got that clarity."
Boys outperformed girls in numeracy at S2, but there was no difference in the proportion of boys and girls performing well or very well in either P4 or P7. There was a fall in the performance of S2 girls between 2013 and 2015.
The performance gap between the most affluent and most deprived pupils increased at P4 and remained the same for P7 and S2 pupils.
First Minister Nicola Sturgeon has said closing this attainment gap is her main priority.
During a visit to Dundee, Mr Swinney, who was appointed Education Secretary in last month's Cabinet reshuffle, insisted "several measures" had been introduced which would not have shown up in the most recent stats.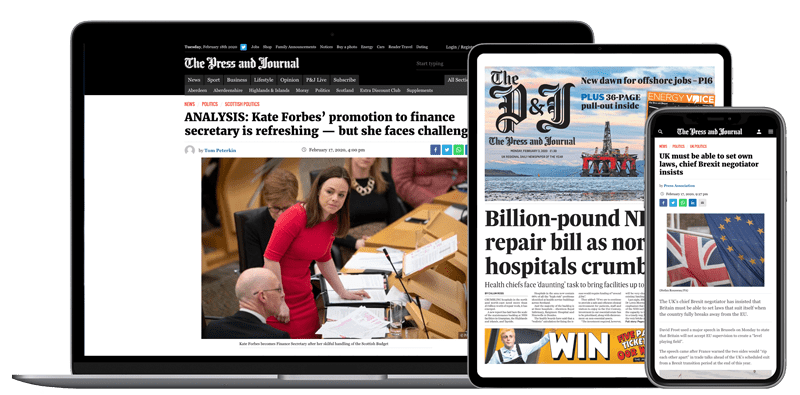 Help support quality local journalism … become a digital subscriber to The Press and Journal
For as little as £5.99 a month you can access all of our content, including Premium articles.
Subscribe