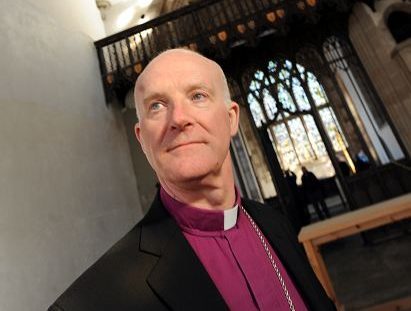 The Bishop of Aberdeen and Orkney has claimed the liberal West is "out of step" with the global consensus on marriage amid a bid to block same-sex ceremonies in Scotland.
Scottish Episcopalians will clash tomorrow over the attempt to allow gay weddings in their churches at the General Synod in Edinburgh.
Members will debate whether the definition of marriage as the "physical, spiritual and mystical union of one man and one woman" should be scrapped from The Canon.
But the Rt Rev Dr Bob Gillies, who leads the diocese of Aberdeen and Orkney, has launched a counter-attack against the move, suggesting some in the Scottish Episcopal Church view same-sex marriage as an "anathema".
He has lodged a "positive" motion calling for the body to reaffirm marriage as being only between a man and woman.
The Rt Rev Mark Strange, Bishop of Moray, Ross and Caithness, said the motion against same-sex marriages risked "creating stumbling blocks when we should be making stepping stones".
But the Rt Rev Gillies told the Press and Journal: "(Our motion) acknowledges the legitimate views of people who hold a traditional view of marriage as being between a man and woman.
"It is designed to give space for people of the traditional view to argue their case.
"If there view is there, in writing, they can argue for something rather than against something.
"It is a way to make the positive case."
Scotland was among the first countries in the world to legalise gay marriage when MSPs approved the move in 2014 – but The Rt Rev Gillies dismissed suggestions his motion is at odds with modern thought.
He said: "The largest part of the world acknowledges marriage as between a man and a woman.
"I accept that is not the case now in some parts of western Europe and North America, but it is they who are out of step with the rest of the world.
"Our view isn't out of step with elsewhere. We have lots of Nigerian ministers in Aberdeen, for instance, who view this sort of thing as an anathema."
The Bishop of Aberdeen and Orkney added that he "doesn't have a clue" what the outcome of tomorrow's vote will be, but suggested that "diversity" adds to the strength of the church.
If the move to change the marriage canon in favour of same-sex marriage is approved, it would require a two-thirds majority at next year's Synod to be approved.
Even if it is approved in 2017, individual ministers would be able to choose whether or not to carry out same-sex ceremonies.
The Rt Rev Strange, said: "I can understand where people who are anxious about this are coming from, but love should be shown and revelled in.
"I can't say that it is wrong for these relationships – love should be something that is celebrated. We're creating stumbling blocks when we should be making stepping stones."