A UK minister has been left "red-faced" after she appeared to forget having been contacted by the Scottish Government over unfair delivery charges.
A row broke out yesterday after the SNP produced documents showing that Margot James, the Conservative minister for digital and the creative industries, was incorrect to suggest that Scottish ministers had not been in touch.
Moray MP Douglas Ross had questioned Ms James on the issue during a Commons debate last month, with the minister responding that she was "not aware of any contact" by the Scottish Government on the issue of delivery charges.
But it has now emerged that Scottish Business Minister Paul Wheelhouse had written to the UK Department for Business, Energy and Industrial Strategy about the controversial practice a year earlier.
In a response in January last year, Ms James thanked the SNP minister for bringing the issue to her attention.
Banffshire and Buchan Coast MSP Stewart Stevenson said: "I am pleased to see the issue of delivery charges being brought to the attention of Westminster.
"But I am disappointed by the woeful attempt of Mr Ross and his Conservative colleagues to try and bring into dispute the hard work which has been going on for too long by my SNP colleagues both at Holyrood and Westminster.
"It is the UK Government who have the power to make the changes to delivery charges and they must do so now, rather than using the issue as a political football.
"Margot James has been left red-faced by her denial of any communication from the Scottish Government."
In recent months, both Mr Ross and Moray's SNP MSP Richard Lochhead have repeatedly raised the issue of consumers in the north and north-east having to pay millions of pounds each year in additional charges to have goods delivered.
Last night, Mr Ross said: "The reality is I was asking about contact from the Scottish Government on a particular matter and in the debate the minister responded that she was not aware of any contact.
"Sadly this again shows the SNP are less interested in working with the UK Government to get a result and are more interested in these petty party political stunts."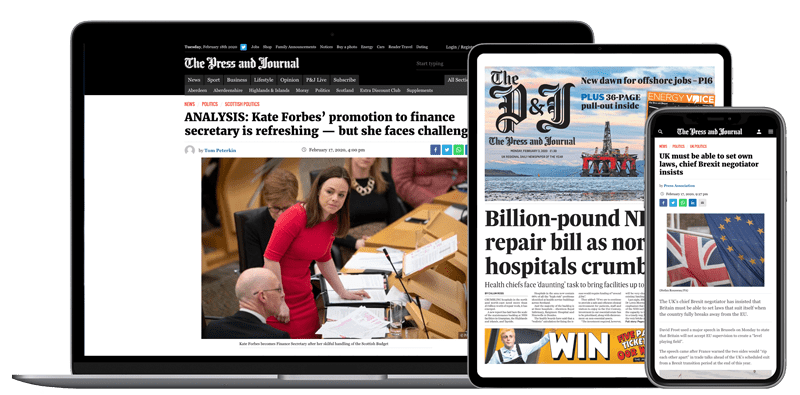 Help support quality local journalism … become a digital subscriber to The Press and Journal
For as little as £5.99 a month you can access all of our content, including Premium articles.
Subscribe