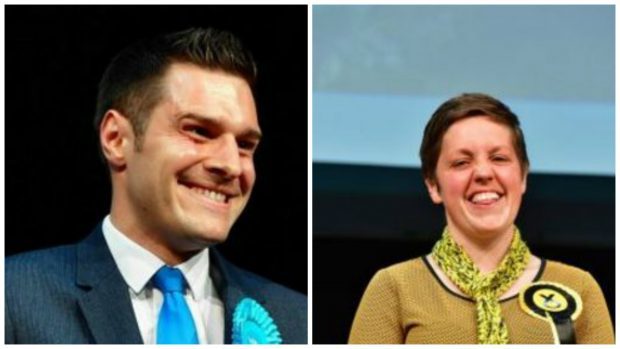 Aberdeen South MP Ross Thomson faced criticism last night after taking part in a "bizarre" Brexit stunt in which dead fish were flung into the River Thames.
The Conservative politician was accused of letting down his constituents but insisted he would not apologise for "standing up for Scotland's fishing industry".
Former UKIP leader Nigel Farage helped to dump a tray of haddock into the river outside the Houses of Parliament, ahead of prime minister's questions.
Mr Thomson joined prominent Brexit-backer Jacob Rees-Mogg in central London for the early morning demonstration, with Mr Farage boarding the trawler later.
The protest aimed to highlight frustration at the UK Government's transition Brexit deal with the EU, which will extend Britain's membership of the Common Fisheries Policy for an extra 21-months.
But the SNP's Aberdeen North MP Kirsty Blackman said: "Ross Thomson is making a fool of his constituency by ignoring the clear message of his constituents who overwhelmingly voted Remain and is instead aligning himself with the extremely right-wing Jacob Rees-Mogg, whom he tagged along beside all morning as part of this bizarre stunt.
"It has never been clearer that Ross Thomson is in Westminster to push the agenda of the hard-right Conservatives and prop up the likes of Jacob Rees-Mogg, rather than serve his constituents and represent the real views of folk in Aberdeen."
Responding last night, Mr Thomson: "Unlike the SNP, I respect the democratic outcome of the EU referendum as well as the emphatic vote by Scots to stay in the UK in 2014.
"We are leaving the EU, but we must make sure that we get the best possible deal for our fishermen.
"That means leaving the Common Fisheries Policy (CFP) and taking control over our waters out to 200 miles.
"I will not apologise for standing up for Scotland's fishing industry.
"In contrast, the SNP want to drag our fishermen back into the EU, where they would remain shackled to the disastrous CFP in perpetuity."