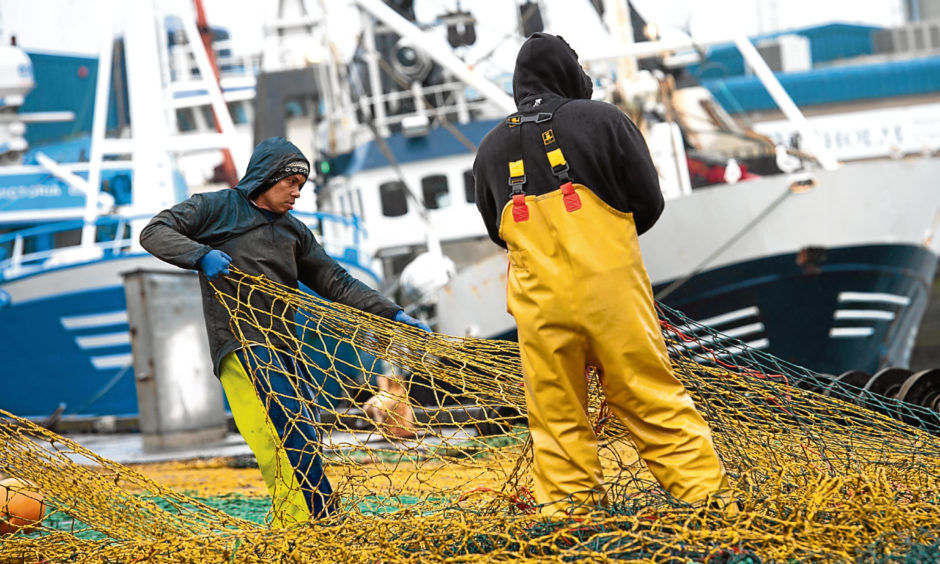 A new vision of how fishermen can "take back control" of Scottish waters after Brexit has been unveiled by the UK Government.
The blueprint proposes a series of measures to take advantage of the "historic opportunity" envisaged by ministers, including potential charges to end controversial discards, and new models of quota allocation.
And it outlines how the UK will try to ensure that EU states do not demand access to British waters in exchange for allowing fish to be sold in European markets.
Sector leaders last night welcomed the proposed fisheries white paper as containing "important elements of a sustainable future for our industry".
But the Scottish Government said it had "significant concerns" about many of the proposals, while claiming the white paper was drawn up without meaningful engagement, and that it "completely ignores" the seafood processing sector.
The Conservative government at Westminster was accused of a "betrayal" of the sector earlier this year after agreeing to keep current quota arrangements during the Brexit transition period, to December 2020.
But the white paper outlines a post-Brexit legal framework and policies, as well as potential negotiating positions, for when the UK enters fisheries talks as an "independent coastal state" in 2021.
The UK Government will seek to move away from the "relative stability" principle of the Common Fisheries Policy, which allocates on the basis of historic fishing patterns, towards a "total allowable catch" system, which it says is more scientific and fair.
This will be a condition of future access to UK waters, and the Westminster government will initially try to secure increased fishing opportunities through the process of "annual exchanges", before moving to multi-annual agreements for some stocks.
It will also argue that access to European markets for fisheries products should be agreed as part of the overall Brexit economic deal, and separate from negotiations on fisheries.
The principle of "maximum sustainable yield" would be kept when setting total allowable catches, and new initiatives considered to cut discards, such as a charge relating to the market value of the fish caught.
UK ministers do not intend to change the method for allocating existing quota, but any additional fishing opportunities could be allocated in a different way, including "zonal attachment" based on stocks rather than historical data.
And as part of a new 25-year environment plan, it will also make clear that vessels will only be allowed to fish in UK waters if they adhere to high environmental standards, and will commit to publishing an annual fish stocks statement.
Scottish Fishermen's Federation chief executive Bertie Armstrong said: "The white paper enshrines the important elements that we have been arguing for to forge a sustainable future for our industry: allowing the UK to become an independent coastal state, to take charge of who catches what where and to resist any and all attempts to link access to our waters to access to EU markets.
"Of course, there is a long way to go, and we now need our governments to show real backbone in the Brexit negotiations to ensure that these aspirations become reality."
Environment Secretary Michael Gove said: "Our vision for UK fisheries can only be delivered if all four parts of the UK work in partnership with one another. The UK Government will continue working closely with the Scottish Government and other Devolved Administrations to develop a fishing policy that works for the whole of the UK."
However, Scottish Rural Economy Secretary Fergus Ewing said the Scottish Government had "significant concerns" about proposals such as charging for fish caught in excess of quota, it was "deeply concerned" the paper does not recognise the European Maritime and Fisheries Fund, and that it "completely ignores" the critical importance of ongoing access to labour for the seafood processing sector.