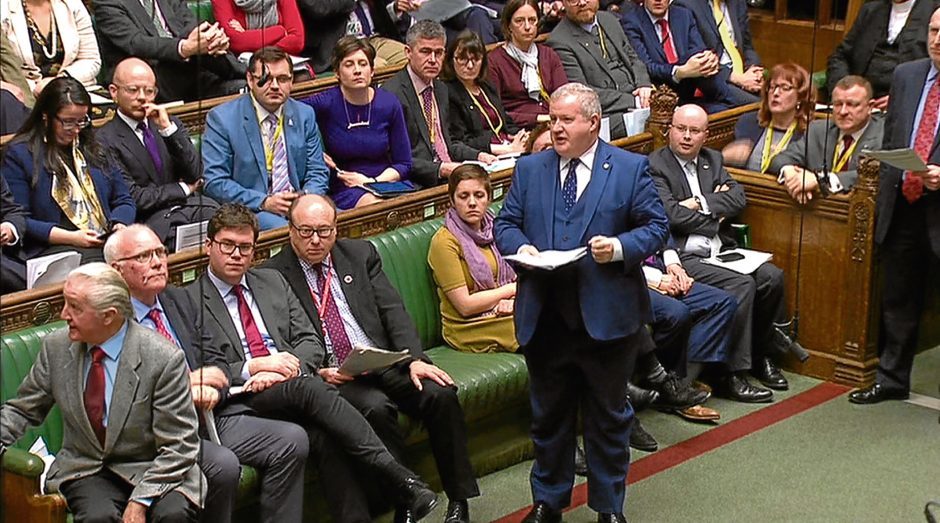 Pensioners in Scotland have consistently been "short changed" by the Tories in Westminster, MPs have heard.
SNP Westminster leader Ian Blackford used Prime Minister's Questions to hit out at pension reforms which could see thousands of UK pensioners losing up to £7,000 a year in top-ups.
The changes, announced last month, mean that from May 15 new pensioners whose partners are younger than the state retirement age of 65 can no longer claim a means-tested top-up called pension credit.
Mr Blackford said the changes would leave up to 300,000 people worse off, adding: "Whilst the chaos of the UK Government's shambolic Brexit negotiations have dominated the headlines, this government has sneaked through a cut in pensions credit which will see some couples up to £7,000 a year worse off."
---
>> Keep up to date with the latest news with The P&J newsletter
---
Cabinet Office Minister David Lidington, who was responding to PMQs on behalf of Theresa May who is currently in Northern Ireland, said the reform was "perfectly logical and in line with the intention of the benefit system".
Mr Blackford responded: "It is the Tory Government that is allowing a proposal to take free TV licences away from pensioners, it is this Conservative government that is denying women born in the 1950s the full rights and state pensions and it is this Tory government that presides over the lowest state pension age in any developed country, pensioner poverty is not a myth it is a reality.
"With Scottish pensioners being short-changed by the UK Government the minister must agree that the only way to end pensioner poverty in Scotland is to put fairness back into our pension system and to give older people the dignity that they deserve in retirement."
Mr Lidington said the SNP had "some nerve", he added: "He knows that it is in the power of the Scottish Government under devolution legislation to top up social security benefit."
.@IanBlackfordMP raises a Point of Order on Lidington's repsonse to his #PMQ on pensions: "The Minister will know that Pensions are reserved."

— Catriona Matheson (@_cmatheson) February 6, 2019
He concluded by saying the SNP Budget in Holyrood had left Scots "more highly taxed than people in any other part of the United Kingdom", adding: "That is in a year when the Scottish Government block grant, as a result of the Chancellor's Budget decisions, was increased by £950million, the SNP has squandered that union dividend."