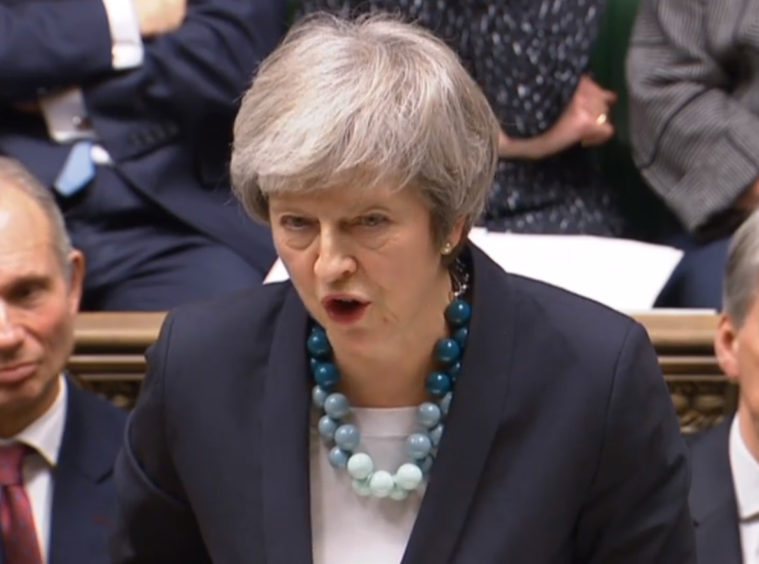 Theresa May has warned that Britain will have to endure a "slow Brexit" if MPs continue to oppose her deal and no-deal.
The warning came as MPs were set to vote on a proposal which would effectively hand backbenchers the power to tell the government what form of Brexit to pursue.
The prime minister, while conceding there was still not enough support for her deal and acknowledging Parliament's rejection of no-deal, said she could not support the move which would allow MPs to take control of the parliamentary timetable and carry out a process of "indicative votes".
Mrs May, speaking in the Commons, said: "I must confess that I am sceptical about such a process of indicative votes.
"When we have tried this kind of thing in the past, it has produced contradictory outcomes or no outcome at all.
"No government could give a blank cheque to commit to an outcome without knowing what it is."
Mrs May, in anticipation of what options would be tabled by MPs if they were to get control, said it could result in a "slow Brexit".
She said: "We must confront the reality of the hard choices before us. Unless this House agrees to it, no-deal will not happen. No Brexit must not happen.
"A slow Brexit which extends Article 50 beyond May 22, forces the British people to take part in European elections and gives up control of any of our borders, laws, money or trade is not a Brexit that will bring the British people together."
SNP Westminster leader Ian Blackford said voters were "ashamed" of Parliament, the UK Government and the "embarrassment that British politics has become".
He asked Mrs May to reject a no-deal Brexit, adding: "What is the point of all of us sitting in this chamber and voting on debates when the Prime Minister thinks she can ignore parliamentary sovereignty?
"What a disgrace – because if our votes don't count, then, frankly, we may as well just go home.
"The day is coming that the people of Scotland will vote for independence and we will be an independent country in the European Union."
As Mrs May referred to the 2014 Scottish independence referendum, Mr Blackford shouted "give it a rest".
Mr May went on: "He stands up here proclaiming the benefits of democracy and yet tells me to 'give it a rest' when I point out that the people of Scotland voted to remain part of the United Kingdom."
Mrs May said votes in the Commons do count, adding: "But so do the votes of 17.4 million people who voted to leave the European Union."