Fergus Ewing has said Brexit poses a major risk to rural Scotland, warning of the impact of tariffs and the loss of EU workers.
The Rural Economy Secretary, who repeatedly clashed with Tory MPs during his appearance at the Commons Scottish Affairs Committee, said Brexit had become a "deterrent to people coming to the UK because of the sense of disrespect".
Mr Ewing also used the hearing to hit out at Michael Gove's proposal to allow UK ministers to spend cash in devolved areas following the UK's exit, which he said came "out of the blue".
"There's been no discussion at all about the possibility of the UK Government exercising decisions over spending matters in relation to the devolved competencies," he said.
"Were it raised, then we would have replied by saying this is completely out of order, it's a breach of the Scotland Act, an infringement on devolved competency and you're not on."
On Brexit, he said: "The loss of markets, loss of trade, imposition of tariffs, the threat of non tariff barriers, causing real risk of consignments of perishable goods such as shellfish being held up at Dover, Calais or elsewhere becoming valueless is a very real concern.
"It does seem to me that the disadvantages are very, very clear and the blithe promises that were made by Mr Gove on the side of that bus have been shown to be naive at best and disingenuous at worst."
Banff and Buchan MP David Duguid, and fellow Scottish Tory John Lamont, then repeatably attempted to steer the evidence session onto the Scottish Government's record on agricultural policy.
In a testy series of exchanges, Mr Lamont accused the minister of "bluster" and quoted from a Press and Journal interview with NFUS director of policy, Jonnie Hall, in which he said Holyrood had "no vision in terms of where it wants to be" with agricultural policy.
Mr Ewing hit back saying he "did not accept that characterisation" and doubted whether the view expressed by Mr Hall was "shared by many others in the NFUS".
The hearing then descended into a row between the SAC chairman Pete Wishart and Mr Lamont after the SNP MP noted that Mr Hall's comments had been made at the Tory conference in Aberdeen.
Mr Lamont, who raised a series of points of order, accused Mr Wishart of "undermining" him.
Mr Duguid, speaking after the hearing, said: "This was typical of Fergus Ewing – all bluff and bluster to cover up his own party's failure to produce a post-Brexit farming policy.
"Unfortunately, there was nothing of substance to help Scottish farmers, who will be none the wiser after today's session as to what the future holds."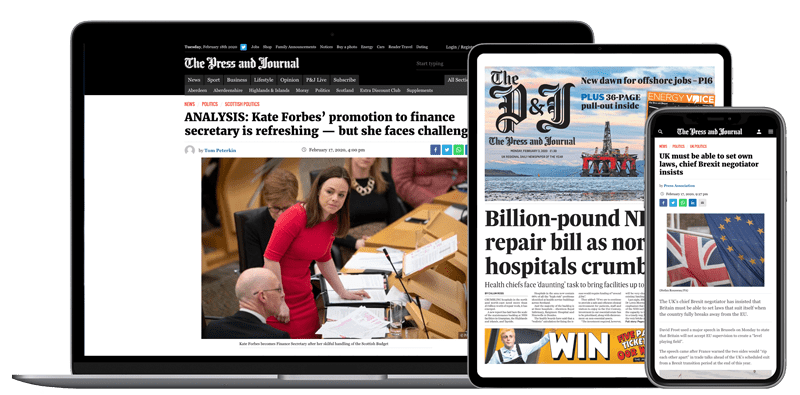 Help support quality local journalism … become a digital subscriber to The Press and Journal
For as little as £5.99 a month you can access all of our content, including Premium articles.
Subscribe