Boris Johnson will again attempt to get approval for an early general election tonight in a bid to break the Brexit deadlock.
The prime minister needs two thirds of MPs to back him under the Fixed-term Parliaments to call an early election, but is likely to face strong opposition due to his refusal to rule out a no-deal exit on October 31.
MPs fear that if they give Mr Johnson permission to dissolve Parliament and hold an election he will simply slate a date after the Brexit deadline has passed.
Opposition party leaders agreed this morning to continue to block Mr Johnson's election until he complies with a new law, due to pass today, which requires Brexit be delayed by a further three months.
Mr Johnson and a number of his Cabinet colleagues have suggested the Government will not comply with the law, something SNP Westminster leader Ian Blackford said was "beyond belief".
He said: "We are in a constitutional crisis the likes of which we have never seen. When you've got Amber Rudd walking out of government and confirming what we already knew, that there are no meaningful discussions taking place with the European Union, this is about Boris Johnson taking out of Europe on a no-deal basis at the end of October.
"I think what's striking is the language that has been used over the course of the weekend, and the clear indication that they are seeking ways to undermine the will of Parliament and the rule of law.
"It is an absolute outrage that the Government is sending a signal to the people of these islands that it's perfectly acceptable to ignore the rule of law.
"The fact that a Prime Minister thinks its reasonable to behave in such a way is completely unacceptable."
Mr Blackford also hit out at plans by Mr Johnson to suspend Parliament for five weeks from tonight.
He added: "It's really important that the people of the United Kingdom know the harsh reality, that this is not Parliament against the people, it's the prime minister shutting down the democratic institutions of the United Kingdom.
"There are real questions about the power of the executive, and the powers of a prime minister who at a whim, because he recognises he's in trouble, recognises he doesn't have support in Parliament, chooses to shut Parliament down. This is as big a crisis as we could possibly imagine."
Downing Street confirmed this morning that Parliament will be prorogued at the close of business today.
The prime minister's official spokesman said that while the Government would obey the law Mr Johnson would not be requesting another extension of the Article 50 EU withdrawal process.
"The Prime Minister is not going to seek an extension," the spokesman said.
"If MPs want to resolve this there is an easy way – vote for an election today and let the public decide."
Mr Blackford said when MPs return to Parliament on October 14 they would be voting down the Queen's Speech, which is the programme of legislation that the Government intend to pursue in the forthcoming parliamentary session.
He said: "There is not a cat in hell's chance of the government getting that Queen's Speech through. That in itself is going to trigger a general election."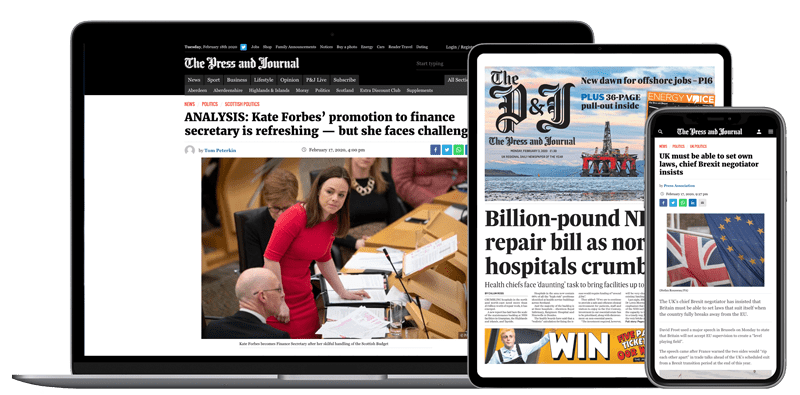 Help support quality local journalism … become a digital subscriber to The Press and Journal
For as little as £5.99 a month you can access all of our content, including Premium articles.
Subscribe