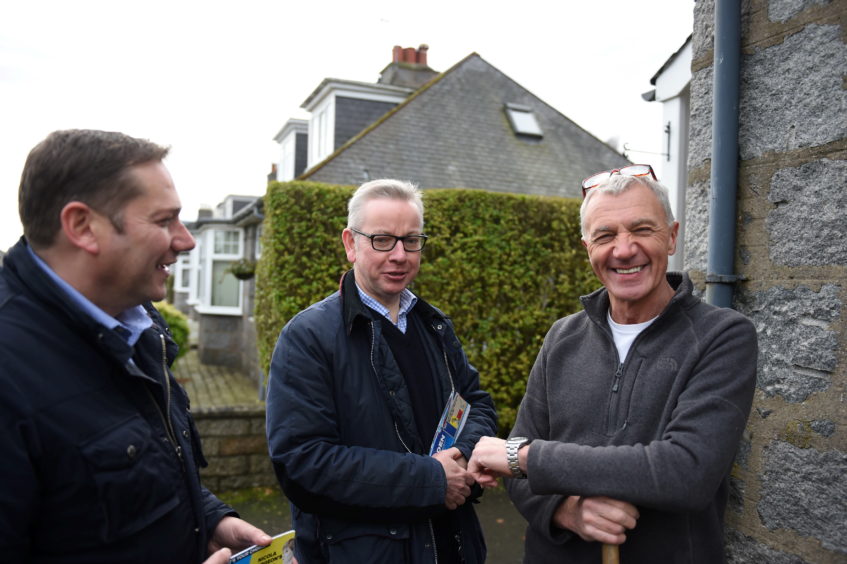 Michael Gove has insisted access to fishing waters would not be traded away in return for access to European markets after Brexit.
Boris Johnson's Cabinet Office minister said the UK would have the final say over who came into UK waters and on what terms after leaving the EU.
Mr Gove made the pledge as he campaigned in Aberdeen South with Conservative candidate Douglas Lumsden.
Fears that access to fishing waters could be dragged into wider trade talks were raised when the political declaration outlining Theresa May's deal was published last year.
Some Tories were concerned sovereignty over waters could be sacrificed for a trade deal, while the SNP have repeatedly accused the UK Government of selling out fishermen.
The assurance was made after Mr Gove met the Scottish Fishermen's Federation (SFF) when he returned to the city where he grew up.
Mr Gove argued that voting Tory was the only way to defeat the SNP and prevent Nicola Sturgeon from using the election as a mandate for a second independence referendum.
He said he was "clear" when he met fishing leaders "that we will not trade away access to our waters" to European markets.
"They are two completely separate things," Mr Gove said.
"We have a trade negotiation, you conclude a trade deal. But with fisheries there are separate negotiations every year.
"We would be an independent coastal state. We would decide who came into our waters and on what terms.
"On that basis, just like Norway, Iceland and the Faroes, we would have first call on additional quota and that would mean both the catching and the processing sectors would have an opportunity to grow."
Mr Gove quoted the Scottish Government's own analysis suggesting leaving the EU's Common Fisheries Policy would generate £540 million and generate 5,000 jobs for the sector through extra catch.
"The Scottish Government would throw that away because they would keep us in the EU and in the Common Fisheries Policy," he said.
"You can only get that bounty if you have a Conservative Government."
When asked if he could guarantee that access to waters would not be part of a trade-off, he replied: "Yes."
Elspeth Macdonald, the SFF CEO, said: "We have always been clear to all political parties that access to waters and access to markets should not be linked in any way.
"Over time, this will allow us to significantly increase the share of fish in our waters caught by our vessels."
Mr Gove also dismissed SNP claims that the UK Government are concocting a trade deal with Donald Trump that threatens "geographical indications (GIs)",  the EU quality mark that protects products like Scotch whisky and Stornoway black-pudding..
Mr Gove said the claims were "total fantasy" and a "scare story" designed to advance independence.
SNP candidate for Banff and Buchan, Paul Robertson, claimed Mr Gove was "not telling the truth" on fishing.
"The link between a trade deal and access to waters could not be clearer,"Mr Robertson said.
"The document on the future relationship between the UK and the EU agreed by Boris Johnson says:  'The context of the overall economic partnership the parties should establish a new fisheries agreement on, inter alia, access to waters and quota shares'."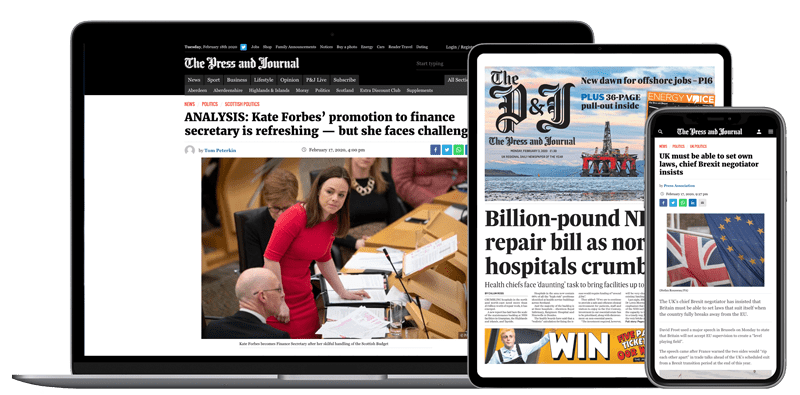 Help support quality local journalism … become a digital subscriber to The Press and Journal
For as little as £5.99 a month you can access all of our content, including Premium articles.
Subscribe