 Donald Trump launched himself into the election campaign today, offering praise for Boris Johnson and support for Brexit.
The US President, who is in London for a Nato summit, also dismissed reports that the NHS will feature in future US-UK trade talks, despite declaring earlier this year that "everything will be on the table".
The comments came during an impromptu 40-minute press conference this morning at which Mr Trump promised to "stay out" of the election, before immediately offering support for Mr Johnson.
"I'll stay out of the election. I'm a fan of Brexit, I called it. I'll stay out of it, but Boris is very capable and I think will do a good job", he said.
Asked about Jeremy Corbyn, he said: "I can work with anybody, I am a very easy person to work with", before later adding, "I know nothing about the gentleman."
Mr Trump was then asked if the NHS should be on the table in post-Brexit trade talks.
He replied: "No, not at all, I have nothing to do with it. Never even thought about it, honestly."
The president added: "I don't even know where that rumour started. We have absolutely nothing to do with it and we wouldn't want to if you handed it to us on a silver platter, we want nothing to do with it."
Mr Trump first sparked fears over his nation's interest in the health service earlier this year when he said: "When you're dealing in trade, everything is on the table – so NHS or anything else, a lot more than that, but everything will be on the table, absolutely."
The comments came as Mr Corbyn revealed he was preparing to confront the president over the issue at a Nato reception at Buckingham Palace last night.
The Labour leader, speaking ahead of the event, said: "If I see him, I will say: Look, welcome to this country. I hope you'll understand how precious our National Health Service is, and in any future trade relationship with the USA, none of our public services are on the table.
"None of our public services are for sale and investor state protection is not acceptable to our government when we've won this election."
The Press and Journal understands that SNP Westminster leader Ian Blackford and Lib Dem leader Jo Swinson both turned down invitations to the event at the palace to focus on the election campaign.
It is unclear whether Mr Trump will hold a one-on-one meeting with Mr Johnson on his visit to the UK this week.
Conservative campaign strategists fear that a major public engagement between the two could upend the election campaign.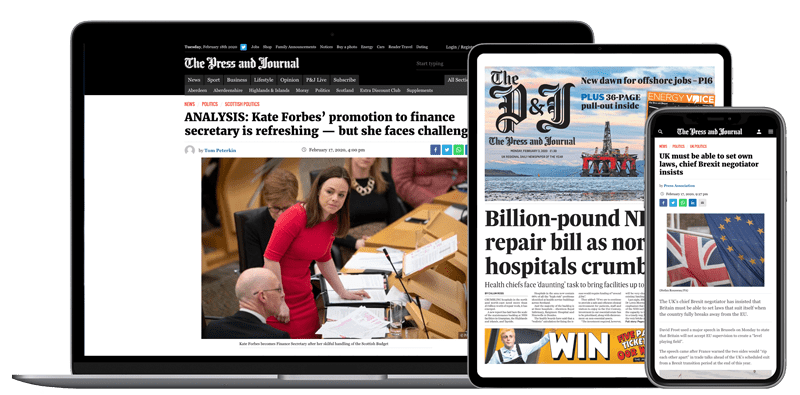 Help support quality local journalism … become a digital subscriber to The Press and Journal
For as little as £5.99 a month you can access all of our content, including Premium articles.
Subscribe