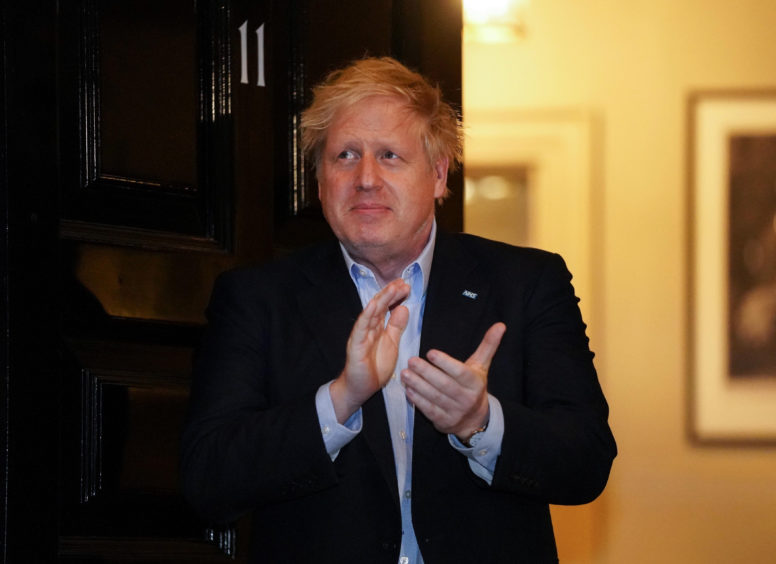 Boris Johnson remains in hospital under close observation after being admitted with "persistent coronavirus symptoms" last night.
The prime minister is understood to have had a "comfortable night" at St Thomas' Hospital in London and is in "good spirits" today, but Downing Street could not confirm when Mr Johnson would be discharged.
Mr Johnson's spokesman insisted this afternoon that the admission was "precautionary" and branded reports from Russian state media that the prime minister was on a ventilator "disinformation".
Mr Johnson, 55, tested positive for coronavirus 10 days ago and had been self-isolating in the flat above Number 11 Downing Street.
His spokesman said: "The prime minister was admitted to hospital for tests last night as precaution.
"The issue is that his symptoms have remained persistent.
"The prime minister had a comfortable night at St Thomas's Hospital and is in good spirits. He remains in hospital under observation."
Last night, on the advice of my doctor, I went into hospital for some routine tests as I'm still experiencing coronavirus symptoms. I'm in good spirits and keeping in touch with my team, as we work together to fight this virus and keep everyone safe.

— Boris Johnson #StayHomeSaveLives (@BorisJohnson) April 6, 2020
Asked if he had been treated with oxygen, the spokesman said the prime minister was "in hospital under observation".
Pressed on whether Mr Johnson had been diagnosed with pneumonia, the spokesman said "the issue is that the PM has persistent symptoms of coronavirus".
Downing Street made clear that the public would be informed if Mr Johnson's condition worsened.
Mr Johnson's partner, Carrie Symonds, who is pregnant, revealed on Saturday that she had also been suffering from the virus but is recovering.
The prime minister's spokesman declined to comment on Ms Symonds' health.
Number 10 insisted that the prime minister remained "in charge of the government" and continued to read and sign documents from his ministerial red box in hospital.
Asked whether the signing of papers presented a risk of spreading infection, the prime minister's spokesman said: "We ensure that we follow the advice of the medics to ensure that there is no risk".
Downing Street also hit out at "disinformation" after Russian state media reportedly claimed Mr Johnson was on a ventilator.
"That is disinformation. Our specialist government units have seen a rise in false and misleading narratives since the coronavirus pandemic started. It's vital that any disinformation is knocked down quickly.
"Ministers are continuing to work with social media companies to press for further action to stem the further spread of falsehood and rumours", the prime minister's spokesman added.
Number 10 also branded social media rumours that the roll-out of 5G, which will boost mobile phone connectivity, is linked to coronavirus a "crazed conspiracy theory".
---
Who is leading the Government?
The prime minister's spokesman has insisted that Mr Johnson remains "in charge of the Government" despite his hospital admission.
Has Mr Johnson been working since his diagnosis?
Boris Johnson has led several meetings via video conferencing since his diagnosis including the Cabinet.
He has shared several video updates from his Number 11 flat and stepped outside to join the nationwide clap for NHS staff on Thursday evening.
What if Boris Johnson becomes too ill to carry on?
Foreign Secretary Dominic Raab is Mr Johnson's "designated survivor," and will take on the prime minister's responsibilities if he becomes too ill to remain in charge of the government.
Mr Raab's designation has been contentious, with one unnamed minister telling the Sunday Times that: "If Boris can't do his job because he is incapacitated, a lot of people think that Michael Gove should be running the show, not Raab."