A leading end-of-life care charity has warned against using language implying patients should "fight harder".
Some of the vocabulary surrounding Prime Minister Boris Johnson's recovery following his admittance to intensive care earlier this week, has suggested the first lord of the treasury simply boxed coronavirus in to submission.
After it was announced the prime minister had been taken to ICU, political allies and opponents took to social media to paint Mr Johnson as a "fighter" who would "beat" the condition.
Dominic Raab, who was appointed First Secretary of State in the wake of Mr Johnson's absence, said the prime minister was "a fighter".
Health secretary Matt Hancock tweeted the prime minister would "fight through", with Tory MP Nadine Dories following similar suit.
I last spoke to Boris a few days ago and was in regular contact by phone. He's a fighter and it's fair to say, he was frustrated at not being able to bounce back quickly, but unsurprisingly, more concerned about the health of others who are suffering from #COVID19 #PrayForBoris

— Nadine Dorries 🇬🇧 (@NadineDorries) April 7, 2020
Others, meanwhile, asked for the language of "war" and "fighting" to end.
Coronavirus: Prime Minister Boris Johnson 'waves thanks' to intensive care doctors and nurses
Welsh Labour MP Chris Bryant, who survived skin cancer, said language like that implied "those who 'lost' did not fight hard enough".
Please please stop using this language about fighting through. It really upsets those of us who've known cancer. It implies that those who lost didn't fight hard enough.

— Chris Bryant (@RhonddaBryant) April 8, 2020
Marie Curie, which looks after terminally ill people across the UK and their families, said metaphors like "war, battle or fight" could suggest anyone suffering could have "fought harder".
"We don't use 'war', 'battle' or 'fight'
Richard Meade, Marie Curie Scotland's head of policy and public affairs, said: "At Marie Curie we don't use 'war', 'battle' or 'fight' metaphors to talk about people who have a terminal illness or at the end of life, regardless of the condition they have.
"We don't want to suggest, however inadvertently, that anyone could in some way have 'fought harder'.
"However, we do recognise that everyone is different and ultimately it is an individual's choice about how they prefer to look at and talk about what they're going through.
"As an end of life care charity, we very much focus on how we can best support terminally ill and dying people, and their loved ones, making sure that everyone gets the care, information and support they need with dignity and compassion."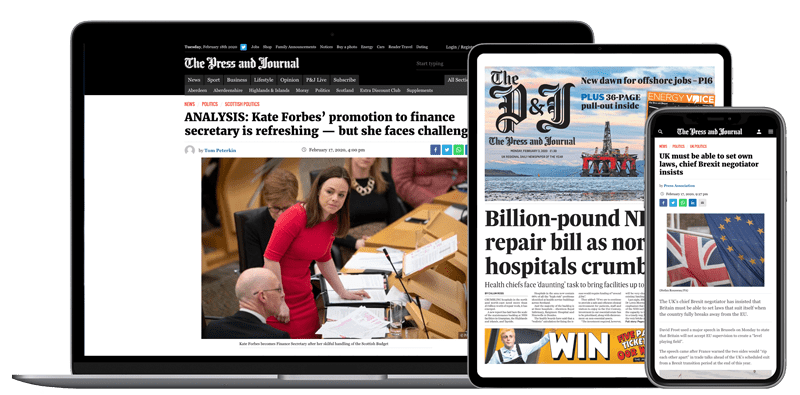 Help support quality local journalism … become a digital subscriber to The Press and Journal
For as little as £5.99 a month you can access all of our content, including Premium articles.
Subscribe