Nicola Sturgeon warned it is "very likely" lockdown measures will be extended beyond a scheduled review this week as she revealed Scottish officials were not involved in drafting a new UK plan to ease restrictions.
The first minister said although "real and significant progress" had been made to tackle the coronavirus pandemic, there remains too great a risk of it running out of control.
Speaking at her daily briefing on Monday, Ms Sturgeon admitted she "can't say for certain right now" whether she will be able to announce any easing of measures before May 28, the end of the next review period.
The first minister said she was also "pretty certain" she would be unable to announce any meaningful changes when the current period comes to an end on Thursday because the rate of transmission is still too high.
"We also know, as we see, that care home transmission continues to be a very significant challenge," Ms Sturgeon said.
"All things considered, decisions are yet to be formally taken, it is almost very likely that on Thursday I will be asking you to stick with lockdown for a bit longer. I know you understand why that is the case.
"I know that it is really hard and you do want to see the light at the end of the tunnel, so today and tomorrow, I want to share with you some of the work we're doing to make sure we will be able to make changes to the lockdown restrictions just as soon as the evidence tells us its safe to do so."
Ms Sturgeon said that while work is being done to ensure alignment with the rest of the UK where appropriate, divergence could still be possible.
Prime Minster Boris Johnson is expected on Sunday to set out a new strategy for how the lockdown should be eased, including a range of measures to help employees return to work where social distancing is difficult.
Ms Sturgeon was asked during her briefing how involved her government had been in creating the plan, and how closely she expects Scotland to follow it.
"The draft was only shared with the Scottish Government (on Sunday), so we are looking carefully at that," she said.
"We will want to do our own consultation with trade unions and with businesses in order to assess whether in its current form we would be satisfied to have that as guidance that the Scottish Government endorsed for Scotland or whether there were changes and adaptions we wanted to make."
Ms Sturgeon said the plan would contain "a lot of very good suggestions" but she had already seen concerns from trade unions that it needs to be stronger.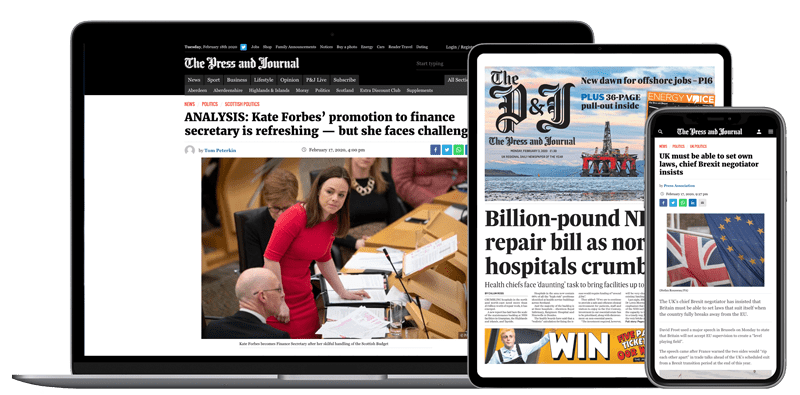 Help support quality local journalism … become a digital subscriber to The Press and Journal
For as little as £5.99 a month you can access all of our content, including Premium articles.
Subscribe