David Cameron's speech at the Conservative conference was branded "shameless" by opponents but hailed as "morally right" by supporters last night.
John Cridland, CBI director-general, welcomed pledges to stick to the UK Government's economic plans, but warned against any bid to change EU immigration rules.
"Businesses are ready to step up to the plate to make sure that growth is meaningful to everyone," he said.
Dr Mark Porter, chairman of the British Medical Association's council, was cautious about health spending commitments.
"Guarantees on investment are only good enough if they can truly keep up with rising demand, and if the NHS is to survive we need an evidenced, long-term solution to the funding crisis facing the health service," he said.
Jonathan Isaby, chief executive of the TaxPayers' Alliance pressure group, was delighted by plans for further tax cuts.
"Leaving more of people's money in their own pockets is not just morally right, but the best way to promote economic growth and long-term prosperity," he said.
Labour's shadow chancellor Ed Balls said the prime minister was promising tax cuts without explaining how they would be paid for.
"David Cameron's speech showed no recognition that working people are £1,600 a year worse off under the Tories, nor that the NHS is going backwards on their watch," he said.
"Instead, he tried to pull the wool over people's eyes. Nobody will be fooled by pie-in-the-sky promises of tax cuts in six years time when David Cameron cannot tell us where the money is coming from."
Chief Treasury Secretary Danny Alexander, a Liberal Democrat Highland MP and a member if Mr Cameron's coalition Cabinet – said: "The Tories' shameless attempt to copy Liberal Democrat tax policy will be utterly incredible to the millions of working people who they have made clear will be their main target for cuts in the next parliament.
"The Conservatives opposed increases to the tax threshold at the last election. The big tax cuts for 25 million working people in this parliament have only been delivered because of the determination and commitment of Liberal Democrats to fight for them every day."
Scottish Conservative health spokesman Jackson Carlaw called on the SNP to outline what extra funding it would commit to the NHS in Scotland.
"The SNP scare story in the run-up to the referendum has been nailed – the prime minister has promised once again to ring-fence health spending and increase it in each year of the next parliament.
"This demolishes claims by the opposition of big budget cuts being on the way – quite the opposite."
SNP MSP Jamie Hepburn said Mr Cameron had broken promises to pensioners over the rate of the new single tier pension.
"It is typical of this Tory government in Westminster – if they stick with Mr Cameron's £142 then this falls significantly short of what they had previously suggested and is far below the Scottish Government proposal of what our older people need to live comfortably on," he said.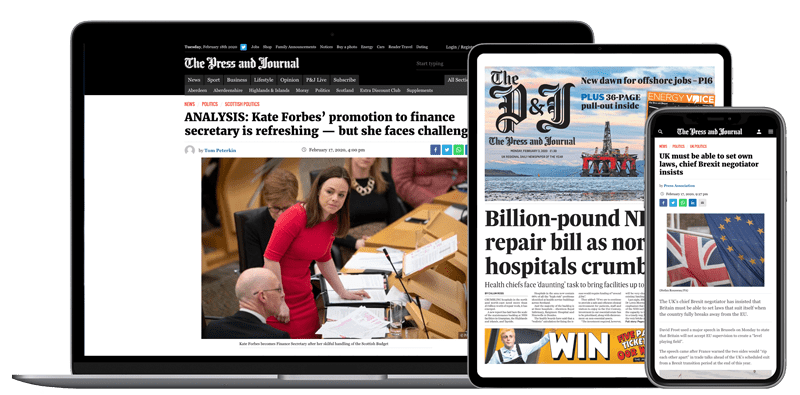 Help support quality local journalism … become a digital subscriber to The Press and Journal
For as little as £5.99 a month you can access all of our content, including Premium articles.
Subscribe