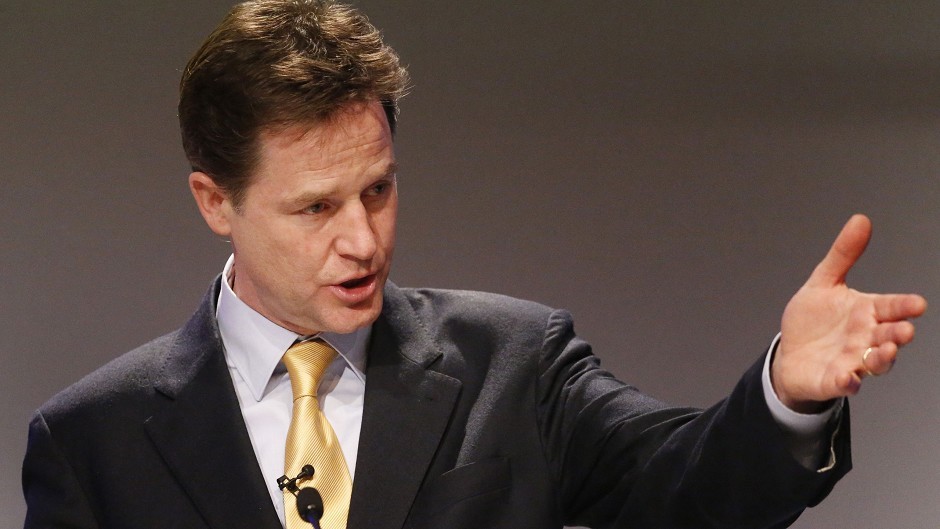 Nick Clegg has claimed that the UK would be "meaner, poorer and weaker" without the Liberal Democrats in power – as he warned of an "un-British" threat posed by the SNP and UKIP.
The deputy prime minister expressed fears about the growth of "us-versus-them" politics, arguing that people were blaming Brussels, Westminster, immigrants and benefits scroungers for their problems.
He cast himself as a beacon of hope, with the Lib Dems alone in "refusing to trade in fear", while at the same time detailing why voters should be afraid of the other parties.
Mr Clegg knew as he delivered his autumn conference speech in Glasgow that it could be his last while in office and as party leader, with most opinion polls showing the Lib Dems facing significant losses at the election in May.
But he staunchly defended the party's "extraordinary record" in government – and urged activists to go into the general election feeling proud of what they had done.
"Let our opponents say what they will, after all the knocks, setbacks and bruises we will go to the country with our heads held high," he told delegates.
"The only party refusing to trade in fear because we believe what the British people want desperately from their politics is hope."
Mr Clegg hailed the Scottish independence referendum as "momentous", saying it had proved the UK society's many identities made it the "most diverse and inclusive in the world".
However, he moved to contrast his vision of "hope" with what he claimed was a different kind of politics witnessed in the rise of the SNP and UKIP.
"Something very un-British is taking root in our politics. A growing movement of people who want to pull us apart," he said.
"Salmond, Farage, the bitter tribalism of left and right – in their different ways they're all doing the same thing. A growing pick-a-side politics, in a world of us-versus-them.
"Worried about your job? Your business? Your children's future? Your way of life? No matter, just blame Europe, Brussels, foreigners, immigrants, the English, the south, professional politicians, Westminster, big business, anybody claiming benefits, even onshore wind farms."
He added: "Dressed up as the politics of hope, it is in fact a counsel of despair."
Three new policies were announced during the closing speech of the five day event.
Mr Clegg said he would deliver new investment to introduce the first national waiting time targets for people with mental health problems, calling for the policy to be on the front page of the party's manifesto.
He also pledged to create "five green laws", committing the government to reducing carbon from the electricity sector, setting new targets for clean air and water, ensuring everyone has access to green space, prioritising the shift to green cars and bringing an end to coal power.
"It's not green crap to us," he said, referring to comments made by David Cameron about environmental levies.
The other key announcement, which had already been widely trailed and "plagiarised" by the Conservatives, was to increase the personal tax allowance from £10,000 to £11,000 in the first year of the next government, funded through a rise in capital gains tax. The threshold would subsequently rise to £12,500.
As well as new policies, Mr Clegg revisited old ones, including his infamous broken promise to scrap university tuition fees in England and Wales.
Accusing all politicians of thinking they can do too much, he said: "We've all done it. I've been there."
The party's more successful pledges were also highlighted, including the initial rise in the income tax allowance, gay marriage, pension and childcare reforms, and forming the first coalition at Westminster since World War II.
"I'm immensely proud of what we've achieved and I don't want the Tories claiming all the credit for everything we've done," he said.
"And because I never lose sight of the fact that simply forming a successful coalition unlocks the grip on power of the old, establishment parties.
"It undermines the soulless pendulum swing of red-blue, blue-red politics, and destroys once and for all their desperate claims that single party government is the only kind of government fit for our country."
Appealing to voters and activists ahead of the election, Mr Clegg added: "If the Liberal Democrat voice is marginalised in British politics our country will be meaner, poorer and weaker as a result.
"We must not and cannot let that happen. We must make our voice heard."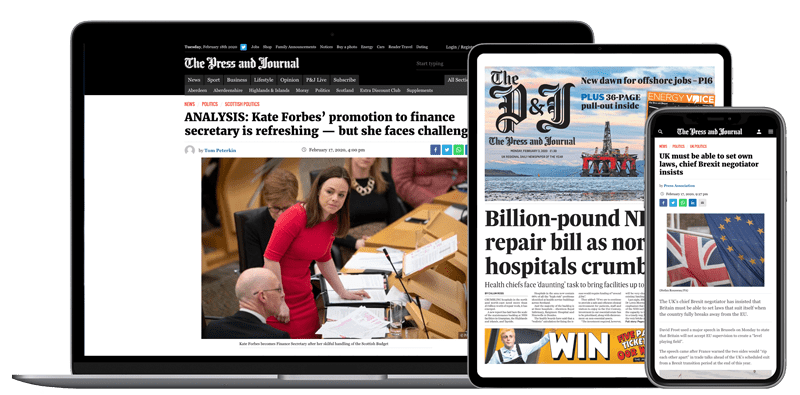 Help support quality local journalism … become a digital subscriber to The Press and Journal
For as little as £5.99 a month you can access all of our content, including Premium articles.
Subscribe